The marketplace at the Keeneland September Yearling Sale remained competitive Sept. 18 on the first day of Book 3, generating what retired director of sales Geoffrey Russell would term "a pretty good day at the office." Nine horses brought $500,000 or more from in-demand sires City of Light , Curlin , Good Magic , Gun Runner , and Practical Joke .
"The demand for quality stock from domestic end-users has continued to drive the market, and it is unrelenting," Keeneland vice president of sales Tony Lacy said. "There is a lot of positivity around the grounds with an influx of new buyers arriving daily. The sales pavilion has been busy every day, and we look forward to tomorrow when we have another exciting group on offer."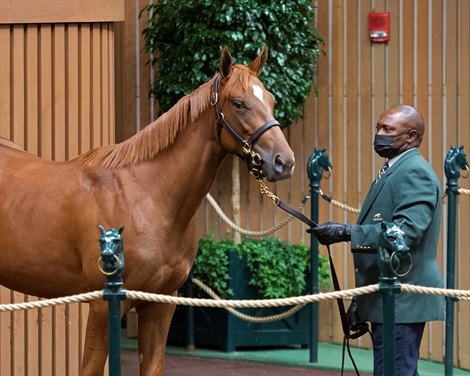 Saturday's sale topper was Hip 1455, a Curlin filly out of grade-3 placed Divine Elegance (by Uncle Mo ) that brought $800,000. The filly is from the family of grade 1-placed stakes winner Standard Deviation and 2012 Kentucky Oaks (G1) winner Believe You Can. She was purchased by bloodstock agent Donato Lanni for Karl and Cathi Glassman from the Eaton Sales consignment.
Eaton Sales' Reiley McDonald was not surprised by the strength of Saturday's market.
"Really solid, steady throughout. If you come in here with a horse that doesn't quite belong in Book 3, you learn a lesson," McDonald said. "It's always good to have your horses a little late than too early."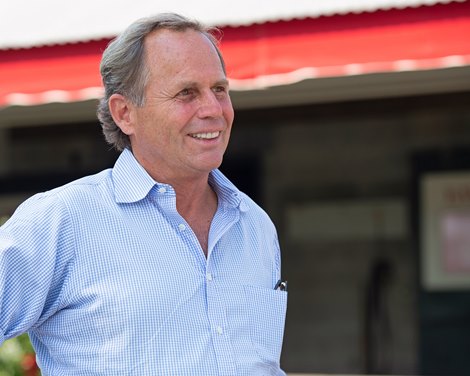 During the fifth session, Keeneland reported 270 horses sold for total receipts of $45,233,000, with an improved average price of $167,530, and a median price of $137,500 for the 361 horses offered. The RNA rate showed a decrease from 2020 to 25.2%.
In 2020, Keeneland reported 223 horses, including post sales, sold from the fifth session for gross receipts of $22,870,500, an average price of $102,558, with a median of $80,000, for the 334 horses under the hammer. The RNA rate was 33.2%.
Cumulative figures after the first day of Book 3, including post sales, show 928 horses have sold of the 1,249 offered so far this year, grossing $252,292,000, with an average price of $271,866, and a median of $200,000—all up from the same point in 2020. The cumulative RNA rate is 25.7%.
From the first five sessions in 2020, 866 horses, including post sales, sold from 1,309 offered, grossing $191,000,500, averaging $220,555, and resulting in a median of $95,000. The RNA rate was 33.8%.
Keeneland continues to update its statistics with post-sale purchases, which can cause later changes in overall numbers.
Consignors and breeders are reaping the rewards of an economy with many COVID-19 restrictions eased and buyers eager for new stock.
Peter O'Callaghan of Woods Edge said: "We're having a great day; we have sold 10 of our 11 today. It's an unbelievable market here, no question about it. Things have gotten rolling as the day has gone on; there are a lot of people with money to spend.
"Vettings have been strong; all of our horses have had multiple vets, as much as 12 on them each. The market is outstanding, as long as you are good, if you can pass the vetting.
"The market is prize-money driven. What Ron Winchell (co-owner of Kentucky Downs) is doing at Kentucky Downs and all the money funneling into Keeneland and Turfway Park for the winter…" O'Callaghan continued, "Horse racing took great advantage of COVID-19, managing to stay going. All the betting handles are up across the board, and it's a good spin-off for us as breeders, consignors, pinhookers. But we have to remain sensible. The difference between success and failure is still minute."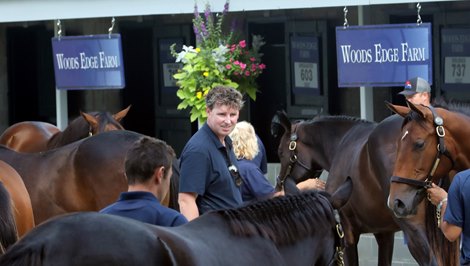 Gainesway returned as leading consignor by gross for session five, with 23 horses sold for receipts of $4,620,000, achieving an average price of $200,870. Cumulatively Gainesway is also the leading consignor by gross with receipts of $25,485,000 for 68 horses sold, with an average price of $374,779.
"The market's strong, and what's amazing is, this is almost entirely a domestic market," said Denali Stud's Conrad Bandoroff. "We're missing some foreign participation that we're used to seeing, especially on some bigger ticket items, but the strength of the domestic market has been fantastic. I think there's evidence of that today. You bring a horse up here that's a good physical that vets, you're going to get plenty of bids beyond your reserve, as long as you have a realistic level of expectation. The market's firm, and there's a lot of competition, and you can tell there's a real appetite for quality stock."
Leading session buyer agent Mike Ryan walked away with 11 purchases that brought total receipts of $3,070,000, followed closely by Repole Stable and St. Elias Stable, with Jacob West of West Bloodstock as agent. That partnership purchased eight horses Saturday for $2,450,000.
Book 3 continues Sunday beginning at 10 a.m. ET, with Hips 1511-1924 set to go through the ring.