When pinhookers went panning for gold at the end of a uniquely challenging 2020, few Thoroughbred speculators could have foreseen the yearling market proving quite so strong as it has at a record-busting Book 2 of the Tattersalls October Sale.
Nonetheless, John Foley of Ballyvolane Stud was among those who got stuck in at the foal sales last winter, and the County Limerick-based operator duly landed an almighty touch when his Time Test colt out of Aurelia proved the star turn of the Oct. 13 concluding session at 400,000 guineas (US$571,019). The winning hand was played by Alastair Donald, who left Richard Hughes to fill the role of frustrated underbidder.
The colt (Lot 1193), a half brother to the dual Oaks (G1)-placed Harlequeen, had been sourced from the National Stud at a cost of 56,000 guineas ($78,693) during last year's December Foal Sale. That figure was enough to make the youngster the most expensive member of Time Test's second-crop foals, and Wednesday's six-figure transaction ensured he retained the title at the yearling stage.
"I think this is the best yearling I've had in 18 years," said Foley. "I think he's a special horse, he's just a bit different to the others. He was very popular, he had 20 vets, and plenty of people said he was as nice a horse as there is in the sale."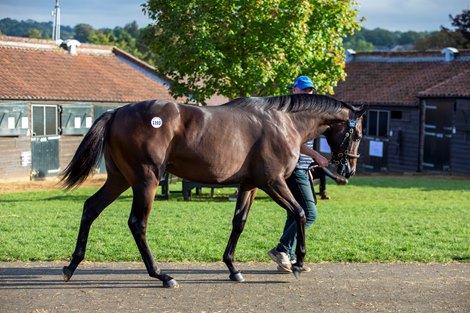 Foley added, "We work hard and this is a tough business, there are more bad days than good days, so we appreciate these results. I've got some great help at home from a fella called Donnacha Higgins and my dad, John, who's 77 and comes in and mucks out six or seven boxes every day. The staff here are great too."
Foley said that the colt had plenty going for him when he was unearthed as a foal, but explained that he had undergone the kind of physical development that all pinhookers dream of.
"He was very well produced by the National Stud but he's really developed and improved the whole way through," he said. "He just keeps improving and I'd say he'll do the same as a racehorse too."
As well as the colt's eyecatching good looks, his sire has done his bit to enhance the youngster's profile. The National Stud resident has supplied nine European winners at a clip of 33%. This roll of honor is headed by four stakes scorers, more than any other freshman sire, namely Rocchigiani, Romantic Time, Tardis, and The King's Horses.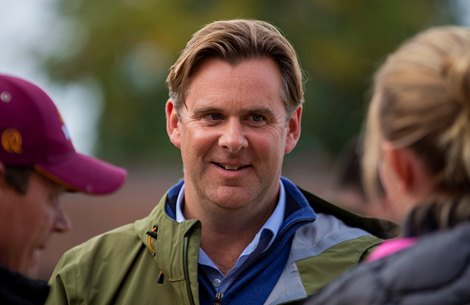 Donald, who signed on behalf of King Power Racing, may have been quieter than anticipated during the three-day sale but explained he had been keeping his powder dry for the Time Test colt.
The Sackville Donald agent said, "He was my favorite horse of the week and on a list of just four that we put together. We decided to skip three of them and hold out for him, but it was a gamble worth taking.
"He's a beautiful-looking horse, the stallion's on fire, and the mare has produced a third in the Oaks. He's a proper classic type. Training plans have yet to be decided. We knew he would make a lot of money but I'm thrilled to get him."
Ribchester Colt Leaves Bostwick Shell-Shocked
Earlier in the day, Biddestone Stud's Tim Bostwick had been left shell-shocked after witnessing Mick Kinane and Dermot Farrington clash over his homebred Ribchester colt (Lot 1099). The hammer came down in favor of the former party and the Hong Kong Jockey Club at 350,000 guineas ($499,642).
Bostwick, who boards and sells Biddestone's yearlings with Barton Stud, sent the Raven's Pass mare Vitello to the Kildangan Stud resident in his second season, when his fee was just €25,000.
The mare joined the Biddestone broodmare band at a cost of €55,000 ($58,449) and subsequently produced the Jebel Ali Racecourse and Stables Anglesey Stakes (G3) runner-up Andreas Vesalius. Kinane's six-figure purchase looks set to join his sibling in the far east, with Andreas Vesalius having been sold out of Joseph O'Brien's yard earlier this year.
"I don't know what to say, he's a cracking colt but I'm shocked at the price," said a stunned-looking Bostwick. "We bought the mare when she was empty a few years ago and this is her third foal; her second obviously got black type and was purchased to go to Hong Kong, so that's what helped attract the Hong Kong Jockey Club. I have to pay credit to Tom Blain and his team at Barton Stud, they do such a fantastic job."
Bostwick also explained that Vitello, who is barren at present, had a "really nice" Ten Sovereigns colt foal at foot. The Ribchester colt became the joint second-most expensive offspring of his sire, behind only the £590,000 ($834,569) Arqana Breeze-Up graduate Clitheroe.
The colt was Kinane's eighth purchase on behalf of the Hong Kong Jockey Club at the October Yearling Sale, and the buyer said, "He's a gorgeous horse, but that's a gorgeous price too. He was a standout for us. This is the first yearling by Ribchester that we have bought so we hope he's lucky."
Six-Figure Fillies Take Center Stage
The buoyancy of the Book 2 market was underlined late in the final session when a brace of well-connected fillies fetched 350,000 guineas apiece. The first, the daughter of Zoffany and Curtsy (Lot 1279) from Kilcarn Park, went the way of Thady Gosden.
The Gosden training partnership certainly knows plenty about the pedigree as Curtsy is out of Acts of Grace, making her a half sister to the dam of none other than Mishriff, a stunning winner of the Juddmonte International Stakes (G1) along with the Prix du Jockey Club (G1) and Longines Dubai Sheema Classic (G1). The page traces back to the blue hen third dam Rafha, whose influence is being extended by her prepotent stallion sons Invincible Spirit and Kodiac.
"She's a very good-moving filly, there's plenty of scope and class about her, and obviously it's very much the happening pedigree at the moment," said Gosden. "It's a pedigree we know a bit about, obviously, and there's plenty of residual value there. She's for a new client to the yard so hopefully, she'll do well for them."
Mishriff could enhance the pedigree further on Saturday, with Prince Faisal's son of Make Believe set to take on the likes of Adayar and Addeybb in the QIPCO Champion Stakes (G1). Gosden added, "Mishriff is in good form and hopefully he'll run on Saturday."
With such a weight of pedigree behind her Curtsy already looked a bargain before Wednesday's big-money transaction, with the daughter of Galileo having joined the Kilcarn Park broodmare band at 95,000 guineas ($126,912) in 2018.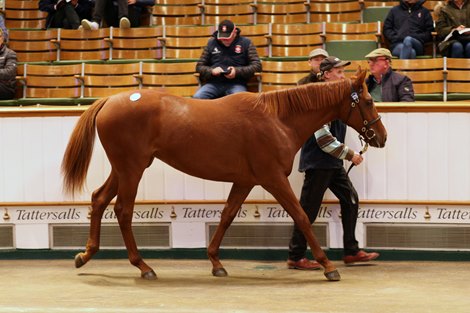 The filly's co-breeder Patrick Cosgrove said, "We liked this filly, she's always been very nice, but we had no idea she was going to make that sort of money. The mare has a colt foal by Bated Breath and she's in foal to Make Believe.
"We bought the mare in foal in 2018 when she was carrying to Almanzor. Mishriff wasn't in the pedigree when we bought her but she's by Galileo and from a great family, that's why we bought her, and she was within our budget too. We wouldn't pay two or three hundred thousand for one."
Just a few lots later Matt Coleman of Stroud Coleman Bloodstock struck a 350,000 guineas bid for the Wootton Bassett filly out of Dance Toupie, who was offered by the stallion's former custodians at Haras d'Etreham. The filly (Lot 1285) was another successful pinhook, having been bought by Canirola Bloodstock for €120,000 ($145,455) at last year's Arqana Breeding Stock Sale.
"She was a great physical with good strength and movement, we were lucky to be one of very few Wootton Bassetts in the sale, that was the plan bringing her here," said Etreham's Nicolas de Chambure, who was making a hasty exit to head to the Arqana October Yearling Sale. "This year agents and trainers have really realized how good a stallion he is. The price certainly reflects his quality as well."
Wootton Bassett spent the first nine years of his stallion career at Etreham, where, from small initial crops, he rose from a fee of €4,000 to a peak of €40,000. The son of Iffraaj, whose record now features five group 1 winners, including Almanzor, Audarya, and Zellie, was purchased by Coolmore ahead of the 2021 breeding season.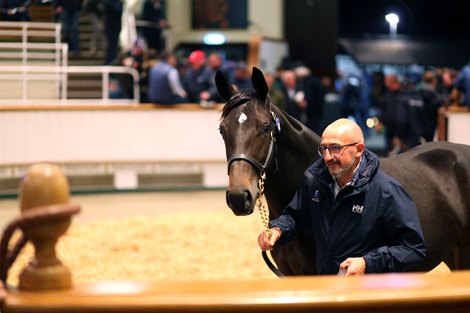 He stood his first year in Ireland at a career-high €100,000 and served a star-studded book of 244 mares.
De Chambure added, "We still have access to the stallion as we kept a few breeding rights, and (the sale to Coolmore) was a lot of money. Fair play to Coolmore, they deserve for the horse to do well and we're still cheering him on. I think he's going to be a very important sire in the years to come. I just hope he can be remembered as a great stallion as we're proud of being part of his journey."
The filly is a sibling to four winners and two stakes performers, including her listed-placed sister Dave and the grade 3-placed Commander.
She is set to race for an undisclosed client of Anthony Stroud, as Coleman said, "I bought her for Anthony Stroud, he was on the phone throughout the bidding. She's a great-moving filly; we thought she was pretty much the best filly in Book 2. We've been lucky with Wootton Bassett fillies before as we bought Audarya, and obviously, the stallion has been in great form this year."
Another Good Day for No Nay Never
Farrington may have missed out on the 350,000 guineas Ribchester colt, but he had better fortune later in the day when he partnered with Ed Sackville of Sackville Donald to secure the No Nay Never colt (Lot 1149) out of Aljaazya from Camas Park Stud for 260,000 guineas ($371,162).
"He's a very strong colt who looked like a real 2-year-old," said Sackville. "He's by an outstanding stallion who just gets better and better. He's been bought for Mrs. Fitri Hay and a trainer will be decided at a later date. He was bought in conjunction with Dermot Farrington, we both loved this horse."
The dam is an unraced half sister to listed scorer Nakheel and has produced one winner from two runners, namely the listed-placed Magical Journey. This year's yearlings were bred in No Nay Never's fifth season at Coolmore, when his fee soared to €100,000 after his debut crop yielded the likes of Juddmonte Middle Park Stakes (G1) hero Ten Sovereigns and Qatar Richmond Stakes (G2) winner Land Force.
"We've had a good run with No Nay Never, who looks like being a top-class stallion," said Camas Park's Tim Hyde Sr. "They're all well-made horses with powerful rear ends on them, and this horse looks particularly fast."
McElroy's Quintessential Type
U.S.-based agent Ben McElroy has been busy throughout the six sessions of the October Yearling Sale and added to his haul early on Wednesday with the acquisition of the Kodiac colt (Lot 1049) out of Taste The Salt from Croom House Stud at 285,000 guineas ($406,851).
McElroy plainly has a soft spot for Kodiac having unearthed the Tally-Ho stallion's Commonwealth Cup (G1) heroine Campanelle, while he also secured another of the sire's daughters (Lot 961) at 340,000 guineas ($485,341) during the second session of Book 2.
"For me, he's the best colt in the sale, if not maybe the best horse I've seen since I came over to Europe this year," said McElroy. "That's my quintessential horse there; he's a great mover, has plenty of scope, and behaved impeccably. A bit like the filly yesterday, I was worried about what he'd cost, I could see him making 400,000 guineas or 500,000 guineas. He goes to the States."
The dam's first foal is the dual winner Cashew, while Taste The Salt is a Born To Sea half sister to Norfolk Stakes (G2) scorer Baitha Alga.
O'Brien to Train Mehmas Colt
Donnacha O'Brien got among the action as evening began to settle in at Park Paddocks as a bid of 250,000 guineas ($356,887) landed the Mehmas colt (Lot 1236) out of C'Est Ma Souer. The youngster was consigned by Yeomanstown Stud, who also pinhooked the colt at just 38,000 guineas ($53,314) at the December Foal Sale.
"He's a beautiful horse, very strong, and obviously Mehmas has had a great season," said O'Brien. "I've not had any by the stallion before but he's obviously a very good sire given the number of 2-year-old winners he's turning out. This colt looks like a real 2-year-old type too so we're excited about him and hopefully he will be out early next year. He's for Atlantic Thoroughbreds."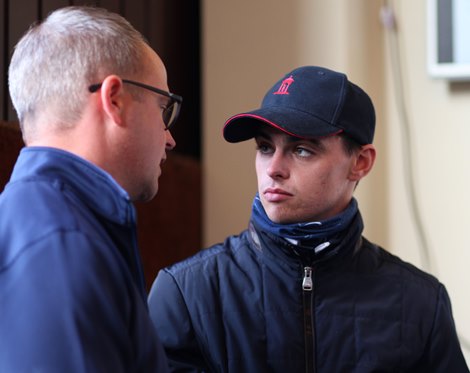 The colt is a sibling to two minor winners, while his pedigree traces back to the likes of Dutch Art and Pearl Secret. Mehmas leads the way in the European 2-year-old sire standings, with his second crop containing 35 winners. This number includes Al Basti Equiworld Dubai Gimcrack Stakes (G2) winner Lusail, Wainwright Flying Childers Stakes (G2) scorer Caturra, and the recent Criterium de Maisons-Laffitte (G2) winner Malavath.
The Tally-Ho Stud stallion's older brigade is headlined by the grade 1-winning Going Global, who struck in the Del Mar Oaks (G1T).
Mahony Hails Buyers From Far and Wide
The sheer strength of trade across three lively days yielded some unprecedented returns, with results not only producing punchy year-on-year gains but records across the board of major market indices.
Turnover was up 13% year-on-year to 54,512,000 guineas ($77,818,500), the first time that Book 2 has ever broken the 50,000,000 guineas barrier.
The average hit 83,865 guineas ($119,721), a 10% increase on 2020's corresponding figure and a 7% rise on the previous best set in 2017, while the median closed at 62,000 guineas ($88,508), fully 24% more than the 50,000 guineas generated last year. The clearance rate was 88% as 650 yearlings found a buyer.
At the culmination of three days of fevered demand, Tattersalls' chairman Edmond Mahony commented: "At the end of Book 1 of the Tattersalls October Yearling Sale last week we referenced the depth and diversity of the demand, and the momentum established at Book 1 has been very much sustained throughout the three days of a record-breaking Book 2.
"New record turnover at any sale is always an achievement, but for Europe's largest yearling sale to reach new levels as we all strive to return to normality after 18 months of turmoil is pretty extraordinary. Only 10 years ago Book 2 of the October Yearling Sale had turnover of a fraction over 25 million guineas and an average price below 40,000 guineas. This year's October Book 2 has broken the 50 million guineas mark for the first time, produced a record average in excess of 80,000 guineas, and also an unprecedented median.
"Similar to Book 1, international buyers have again made a massive contribution to the market, with notable participation from American and Australian interests as well as from Hong Kong, Japan, and throughout the Gulf region, but perhaps the most encouraging feature of the record-breaking sale has been the domestic demand.
"British and Irish trainers have been the backbone of the sale and to see such a voracious appetite for quality yearlings, not only at Books 1 and 2 of the October Yearling Sale, but also at our Newmarket based yearling sales last month, has been fantastic.
"As ever, we are hugely indebted to the consignors from Britain, Ireland, and further afield, who make Books 1 and 2 of the October Yearling Sale the showcase for so many of the finest yearlings to be found in Europe. Consistent quality is the key to attracting the buyers in such numbers and we now turn our attention to Book 3 of the October Yearling Sale where buyers will continue to find yearlings of the highest caliber."
The Tattersalls October Yearling Sale continues on Thursday, with Book 3 starting at 10 a.m. local time.