The specialized but narrowly available sire line established by In Excess was examined in this space last year. His legacy rests primarily through his son, Indian Charlie, and that one's son, Uncle Mo . Undocumented in that piece was that In Excess was a member of the widely divergent and now precariously situated line established by his grandsire, Caro.
That wasn't an oversight. Rather, the line was not explored because when it comes to the topic of sire lines, some founding fathers have established very wide-ranging tribes as far as racing and breeding aptitudes are concerned.
In that respect, Caro is one of the best examples to study because, except for minor tribes here and there, his legacy in North America comes through his champion son Cozzene and In Excess. The former—another son, With Approval, and Kentucky Derby (G1)-winning filly Winning Colors notwithstanding—was probably emblematic of the kind of racehorse, and sire, one associates with the descendants of Caro.
With Approval, a Canadian Triple Crown winner and champion, was best known for his long-distance capabilities on turf. Winning Colors never ran on that surface. Cozzene, on the other hand, was much more like his sire in aptitude—his specialty best represented by his victory in the 1985 Breeders' Cup Mile (G1T) at Aqueduct. And while Cozzene did have a few sons that did nicely at stud in various domestic markets—led by Alphabet Soup—the one that has latched onto the challenging identity of possible "last of the line" is the one who most closely resembled Cozzene in racing aptitude, Mizzen Mast.
A winner of his debut at 2 at Deauville, Mizzen Mast was beaten a nose in the Prix des Chenes Royal Thalasso Barriere (G3) before finishing unplaced in the Grand Criterium (G1). At 3 he came back to win the nine-furlong Prix de Guiche (G3) in May and was second in the Juddmonte Grand Prix de Paris (G1) at 10 furlongs in June. His breeder/owner Juddmonte Farms promptly dispatched him to Bobby Frankel where Mizzen Mast was up the track in both the Secretariat Stakes (G1T) in Chicago and the Del Mar Derby (G2T). Later that fall, however, he ran away with the Bien Bien Stakes at a mile on the turf and then surprised at 7-1 on the dirt in the seven-furlong Malibu Stakes (G1). He closed his career with a similar romp in the Strub Stakes (G2).
Mizzen Mast was both a carbon copy of his sire (on turf) and an accomplished versatile runner, as seen with his graded stakes wins, on the dirt. He was virtually a throwback in pedigree to what had worked in the last half of the 20th century. His broodmare sire is Graustark, the sire of his second dam is Tom Fool, and Challenger II is sire of his third dam, Legendra. The last-named, a foal of 1944, established the female family with major stakes winners in Hasty Doll, Rich Tradition, Sky Clipper, and Mrs. Peterkin. The last-named, second dam of Mizzen Mast, produced Dancing Champ, Whydidju, and Sweet Alliance. This is a family that matured early, stayed in training for a while, and produced soundness.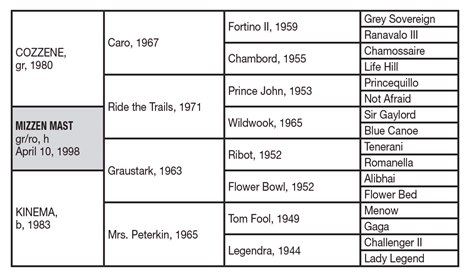 The same has been true with Mizzen Mast, who got off brilliantly with seven stakes winners from his first crop and 11 from his second. Through Oct. 10 he has 47 black-type winners, which is a versatile bunch that includes Mizdirection, two-time winner of the Breeders' Cup Turf Sprint (G1T); two-turn California grade 1 winners Mast Track on dirt and Ultimate Eagle on turf; Grand Criterium winner Full Mast; Stonetastic, a grade 2 sprint winner on the dirt; and Green Mask, who has won three turf stakes this year at 7, including the Twin Spires Turf Sprint Stakes Presented by TwinSpires.com (G3T) at Churchill.
This is a profile of a stallion that walks in the shoes of his sire and grandsire, but because most of his best runners have been gelded, he may be the end of the line. Which is a pity, but also sentimentally fitting, since his name (third mast on a sailing ship) can refer to balancing and steadying the voyage.