Steve Miller, steward of the dosage pedigree analysis system, announced in October the designation of six new chefs-de-race—stallions whose progeny have shown compelling proclivities at specific distances.
Three years had passed since the last designations were announced that included Galileo, Cape Cross, and Pivotal. Such a long time between drinks annoys some breeders who believe stallions that deserve "chef" status need to be identified sooner. The pace, they believe, should be faster in the digital age.
Miller said he quite understands the desire for a quicker turnaround in designations that might provide marketing clout to a stallion, but the dosage system—to be most effective—isn't quick. It's founded on proven ability over time.
"People are always clamoring for a timetable. We really only add them when we need to," Miller said. "Now three years was a long time to leave it, but you don't want to rush it. We wait until we are almost compelled to put them on, and we know what kind of effect they are having on the breed."
The newest additions to the chefs-de-race roster are Darshaan (Solid), Dubawi (Intermediate/Solid), Fasliyev (Brilliant), Linamix (Classic/Solid), Shamardal (Intermediate/Classic), and Unbridled's Song (Intermediate).
Review the newest chefs-de-race
These latest additions are the first designations approved since Dr. Steve Roman, who developed the dosage system as it is known today, stepped away in 2016 from maintaining the chef-de-race evaluations and handed the reins to Miller.
Roman, a research chemist by trade, developed his Dosage Profiles from concepts followed by Lt. Col. J. J. Vuillier and Dr. Franco Varola, who each had different systems for identifying small groups of common ancestors that were influencing the breed.
Under Roman's system, "chefs" are identified if their progeny excel above-and-beyond at a specific distance or distances. Stallions showing such prepotency are then assigned to one or two of five aptitudinal groups—Brilliant, Intermediate, Classic, Solid, or Professional. The Brilliant category represents pure speed, while the Professional end of the spectrum includes the hardiest stayers.
The influence of a "chef" in a four-cross pedigree is then weighted, contributing 16 points toward the Dosage Profile if the stallion is in the first generation, eight points in the second generation, four in the third, and two in the fourth. The points for all "chefs" present are then tallied for the appropriate aptitude categories. "Chefs" that confer two aptitudinal characteristics have their points split between the two categories.
In a Dosage Profile, the numerical assignments from the "chefs" are presented in the order Brilliant-Intermediate-Classic-Solid-Professional. So the Dosage Profile for A.P. Indy (Seattle Slew—Weekend Surprise, by Secretariat) is 13-10-20-3-0. From the Dosage Profile, a ratio of speed-oriented points to stamina-oriented is calculated to create a Dosage Index. An index of 1.00 indicates a perfect balance between the overarching influences of speed and stamina. The DI for A.P. Indy is 2.54, which is (13+10+10) divided by (10+3+0).
Sprinters have the highest DI values, while routers have the lowest, and the middle-distance runners fall in between. Superior Thoroughbreds (champions, classic winners, leading sires, etc.) as a group, according to Roman, have significantly lower DIs than the general population of stakes winners, suggesting that outstanding performance on the track or at stud benefits from a large component of inherited stamina.
Miller began working with Roman on dosage in 1998 when he advocated to assign "chef" status to Sadler's Wells and Ela-Mana-Mou. An equity research analyst for more than 30 years and also an owner/breeder, Miller monitored the progress of European sires, while Roman focused on North America. Together they kept an eye on the Southern Hemisphere market, though Miller noted it tended to involve many of the same stallions they were already watching because of shuttling.
Miller and Roman regularly faced pressure to promote stallions to "chef" more quickly, but Miller has recently discovered a new challenge born from impatience, the worldwide reach of the Internet, and a desire by some breeding industry enthusiasts to see the promotion of certain stallions they believe have been overlooked.
Proponents in particular of Danehill and Storm Cat have taken it upon themselves to promote them to "chef" status on the Pedigree Online Thoroughbred Database known by the URL pedigreequery.com, a community-built and -maintained database that has Danehill designated as an Intermediate-Classic chef-de-race and Storm Cat as an Intermediate. Neither Miller nor Roman, who still serves as a sounding board and consultant to Miller, has officially designated Danehill and Storm Cat as "chefs."
"It is possible that one slips the net, and we are always grateful for people bringing them to our attention so we can have a good look at them," Miller said. "But we can't put a stallion on the list until there is enough data to support his placement. If we put them on too early then there is the possibility the placement could be wrong or it changes. These really need to be run by us first."
"Storm Cat is on the watch list and may become a 'chef' in the future," Miller continued. "But Danehill is certainly not a chef-de-race. In fact, he is almost the antithesis of a chef-de-race. I've contacted Pedigree Query about correcting this because if it continues, it will certainly mess the system up."
"Chef" status is not equivalent to putting a horse in the Hall of Fame, according to Miller. Dosage by its nature is highly selective and focuses only on sires whose progeny have an exceptional aptitude within a narrow range of distance.
Alphabetical listing of all Dosage chefs-de-race
"I have looked at Danehill several times because there has been such a clamor to put him on," Miller said. "What people are doing is looking at his average winning distance and extrapolating a Classic placement for him and that's not right. Across the board, he has winners at five, six, seven, and eight furlongs and is slightly higher at seven and eight. At 10 furlongs and 12 furlongs his progeny perform very similarly to what he was doing at seven and eight, but he has very high levels at 14 furlongs, as well, so he is showing no prepotent influence at all. In terms of ability, they can win at almost any distance."
Darshaan, who was added in October, is a clear example of a chef-de-race, according to Miller.
"He is a virtually guaranteed influence for stamina," he said. "The only reason he was not put on earlier was because his sire Shirley Heights was already doing the job. Shirley Heights was a Classic-Professional split, whereas we put Darshaan in squarely as a Solid. Anything coming down from Shirley Heights through Darshaan is guaranteed to stay."
With a stallion like Danehill, whose progeny are so versatile, Miller said breeders need to pay more attention to the mares.
"If you have Darshaan as the dam sire, then a Danehill will stay. If you have Fasliyev, then they will be very fast," Miller said. "With a chef-de-race, you don't have to look at the mare as much. They stamp something over-and-above what you would expect regardless of what mare they are bred to."
One trend that does seem to be accelerating chef-de-race designations is exceptionally large book sizes. With so many more foals racing, a favored distance among a stallion's progeny could become apparent more quickly.
Dubawi and Shamardal are the only active sires among the six stallions most recently granted chef-de-race status. They also are represented by the largest average number of foals per crop of racing age than the other four stallions. Dubawi has an average of 134 from 11 crops, while Shamradal averages 133 from 12 crops. Fasliyev, who died in 2013 at the age of 16, has the next-highest average with 129 foals from 14 crops. Among the others: Unbridled's Song (who died in 2013) averages 100 from 17 crops; Darshaan (who died in 2001) averaged 50 from 17 crops; and, Linamix (who died in 2016) averaged 48 from 18 crops.
"If we get a large pool of runners showing a distinct pattern, then they are likely to be put on sooner. It could accelerate it," Miller said.
Dubawi got an additional push because he is from the only crop by multiple grade/group 1 winner Dubai Millennium, who died in 2001, about a year after he won the Dubai World Cup (G1).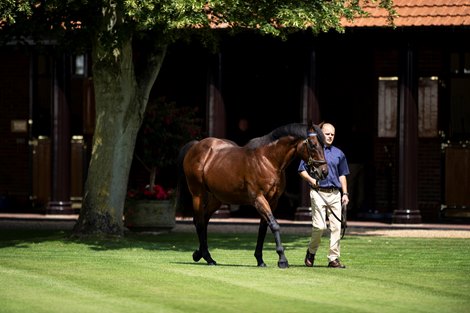 "He has a very unusual split," Miller said about Dubawi, who has been rated an Intermediate-Solid. Typically, according to Miller, split designations are with categories that are contiguous on the spectrum, but Dubawi's split jumps the Classic category.
"He has two spikes and that's unusual. They almost suggest he should not be a 'chef,' but he is showing significant spikes at eight and 12 (furlongs) and then a flattening off on either side and in the middle. We see him as a horse that has more than one string to his bow and have given him the benefit the doubt," Miller said. "There was no doubt with Fasliyev and Darshaan. The really picked themselves."
As for future designations, Miller said he will likely not wait another three years for the next announcement, but he is also unlikely to release new designations every year, as some would prefer.
"We might do one or two when we're absolutely compelled to do it, and I like to do it after the European flat season in October or November because I'm in the U.K., but it will still be when they're ready," he said. "You don't want to have a flood of 'chefs.' It is about identifying that small group of stallions in each era that has an influence. Our policy is that less is more."