Steve Avery of Taylor Made Farm, David Kyle of Fasig-Tipton, and Helen Otero of Coolmore America have been named finalists for the Thoroughbred Industry Employee Awards' Dedication to Breeding Award. A winner will be announced Nov. 5 during a virtual ceremony scheduled for noon ET.
Presented by Godolphin, the TIEA awards recognize and reward the outstanding talent, diligence, and commitment of the farm and racing stable staff who are at the heart of the sport. The Dedication to Breeding Award honors an individual who has worked a minimum of 10 years in the Thoroughbred breeding industry who has shown consistency, reliability, and a talent for Thoroughbred breeding horsemanship, and is considered a pivotal part of his or her employer's success.
This year's TIEA awards ceremony will be hosted by Jill Byrne and will be streamed live at BloodHorse.com. Finalists for five additional categories will appear in BloodHorse Daily leading up to the event, during which the remaining winners will be announced.
In the horse industry for over 40 years, Avery has spent the past two decades as the general manager of Taylor Made Farm. He's managed or raised such notables as Songbird, Havre de Grace, Speightstown, and Princess Rooney. Taylor Made's Logan Payne said, "His responsibility, his reliability, his work ethic—it's just phenomenal. Even on vacation, he walks his dog, Henry, up to the barns to check on things." Dr. Hyde of Rood and Riddle commented, "His impact on the industry can be seen through all those he has helped start their careers."
WATCH: TIEA Dedication to Breeding Award—Steve Avery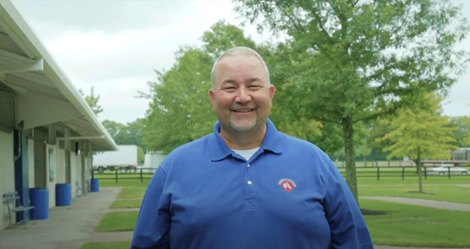 Kyle started working for Fasig-Tipton in 1987 at 19 years of age and has been there ever since. He is currently the plant manager. He oversees the Newtown Pike facility, preparing the grounds for sales, making last-minute accommodations for both horses and consignors, runs stable crews at the Gulfstream and Saratoga sales, and more. Nominator Andrea Greathouse said, "No day is too long, no task is too large or small, and he approaches his job with a smile and kindness."
WATCH: TIEA Dedication to Breeding Award—David Kyle
Otero was born in Ireland and came to Coolmore in 1993 as a vet nurse but was quickly promoted to the position of stallion administrator. She has earned the respect of everyone in the office and has also served as a mentor for others who have begun their careers at Coolmore. Her organizational skills are apparent in scheduling breeding appointments for thousands of mares during the months-long breeding season. Dermot Ryan said, "When the breeding season starts, we basically hand the keys and the driver's seat to Helen."