Seven-time Sovereign Award winner Pink Lloyd delivered the perfect ending to his fairytale career Nov. 27 at Woodbine, charging home with a thrilling late rally to take a third edition of the CA$200,550 (US$156,780) Kennedy Road Stakes (G2) in his 38th and final start.
The 9-year-old Old Forester gelding secured his 26th stakes score and brought his overall record to 29-3-2, with Canadian earnings of $2,455,430 ($1,884,584) for Entourage Stable and Canadian Hall of Fame trainer Robert Tiller.
With Rafael Hernandez in the irons, Pink Lloyd settled midpack in an eight-horse field as Clayton showed the way through fractions of :22.75, :44.72, and :56.76. The frontrunner held until deep stretch while Richiesinthehouse, second throughout, made a determined bid, but Hernandez had Pink Lloyd rolling on the outside after hustling three-wide on the turn. With determined strides, the indefatigable chestnut claimed the advantage with 70 yards to run and would not be denied his final victory.
"He can do anything," Hernandez said. "He is the kind of horse you can take him back and relax. We had a hole, and he was coming, running, always going to give you 100%, like the many times he's already done it."
The farewell performance earned a standing ovation from an appreciative crowd that had gathered to watch the champion's curtain call.
Richiesinthehouse settled for the runner-up spot, half a length behind the winner. Clayton was third by a head. The final time for six furlongs on the all weather track was 1:08.84. Pink Lloyd paid CA$9.40.
"I think it's amazing," said Tiller. "You know, he's a legend. He proved today he was a legend. I didn't think he'd win today. It looked awful tough to me and the only thing I liked was all the speed in the race because I've been saying all along, and not too many people listened, but he loves to run at horses. I was just hoping Rafi would get room. I said at the head of the lane, 'You know what? Here he comes.'
"We're blessed to win this race and it's a tremendous way to go out. You know, he's been Woodbine's horse, he's been Canada's horse, and the next time some horse wins 26 stakes in 29 races at Woodbine, let me know about it."
Plans call for Pink Lloyd to become a permanent resident at LongRun Thoroughbred Retirement Society, about an hour north of Woodbine.
A CA$30,000 (US$28,446) purchase by majority owner Frank Di Giulio Jr. from breeder John Carey's consignment to the 2013 Canadian Thoroughbred Horse Society Ontario Division's Canadian-Bred Yearling Sale, Pink Lloyd did not make his first start until his 4-year-old season in 2016, but finally rewarded his connections' patience with a win upon debut followed by two more in allowance company. Then he graduated to stakes company and never looked back.
Among career highlights are four victories in the Vigil Stakes (G3, 2017-20), two wins in the Bold Venture Stakes (G3, 2020-21), and four editions of the Jacques Cartier Stakes (2017-20, grade 3 the second half of that span), including a 2018 win in which he set the track record for six furlongs in 1:08.05 at Woodbine, for which he was awarded a career-best 106 Beyer Speed Figure.
CROSBY: Retirement Set for Canadian Icon Pink Lloyd
He was named 2017 Canadian Horse of the Year for a season in which he went an undefeated 8-for-8, owns four consecutive champion male sprinter titles (2017-20), and was awarded champion older horse honors in 2017 and 2019.
Tiller was quick to credit his family and those who have worked hands-on with Pink Lloyd for their investment into the gelding's success.
"I want to say hello to my wife at home, Gail, and my son Robert," he said. "I want to thank my barn crew, (assistant trainer) Tommy Lottridge, (groom) Michelle (Gibson), that's rubbed this horse through all the ups and downs of racing. This is just a payoff here. I didn't think we'd win today, and we won. It's the greatest thrill of my life."
Di Giulio said the team had the horse's best interests at heart when they kept him at Woodbine for his six-year career.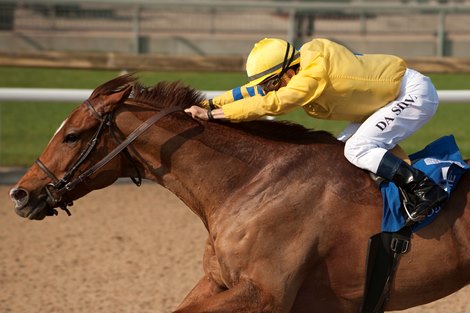 "Maybe (managing the horse's career) looked hard on the outside, but it was really the right thing to do from our point of view because the races were here," he said. "There was no temptation to run him on the grass. There was no temptation to take him out of town because we had the opportunities here and we know he loves it here. He has some quirks, so you don't know what's going to happen when you ship, or get into a new stall, and things like that. We just thought it was the right thing to do. Maybe other people would have done it differently, but I don't think they would have had the success."
Tiller also thanked Woodbine for working around Pink Lloyd's quirky training schedule. In order to keep the highly competitive runner calm, Tiller sent him out in the last set of the morning, sometimes briefly delaying track maintenance as Pink Lloyd finished his paces.
"Thanks Woodbine because they put on a hell of a show here and looking after this horse in the morning, and I really need to thank them. It's all worked out. We're blessed," the trainer said.
Video:

Kennedy Road S. (G2)