The 2022 Keeneland January Horses of All Ages Sale concluded Jan. 14 with results that offer a promising sign of the auction season yet to come.
With a cumulative gross of $46,341,100 and an increased median of $20,000 over last year's $15,000—despite the lack of any major dispersals—the first sale of the year carried on momentum from a powerful, often record-setting market in 2021.
"Overall, we are very pleased," said Tony Lacy, Keeneland's vice president of sales. "It was a continuation of the momentum we saw in September and November. Encouragingly, we aren't seeing spikes and valleys which make the market narrow; it has been quite broad in all respects."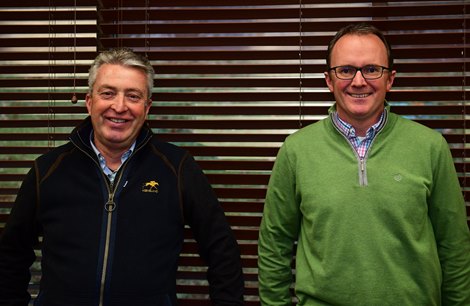 Led by the $750,000 purchase of 2-year-old Princesse Lele as Three Chimneys bought out a partnership with Hill 'n' Dale, cumulatively 1,013 horses sold of the 1,256 through the ring. The median was up 33%, while the average dipped just 3.23% from $47,271 to $45,746. There were 243 horses that failed to meet their reserve for an RNA rate of 19.35%, a reduction of 6.5% over 2021.
Last year, the cumulative gross was $45,522,100, with the dispersals of Sam-Son Farm and the late Paul Pompa Jr. generating $13.5 million combined. The RNA rate was 21.3% for the 260 horses that failed to meet their reserve.
"The clearance rate at 88% is a good indicator of the market," Lacy said. "People can trade horses out. With the slightly higher RNA rate seen in book 1, I think people were being a bit more protective of their stock; they don't have to sell, which is not a bad thing."
Friday's final session saw 243 horses of the 385 on offer change hands for gross receipts of $4,020,700. A median price of $10,000 was achieved with a $16,546 average. The 54 horses that failed to meet their reserve price represent an RNA rate of 18.2%.
On the final day of this sale in 2021, 255 horses from 288 offered sold for receipts of $5,772,000 at an average of $22,467 and a median of $7,000. The 33 that went unsold represented an RNA rate of 11.5%.

Buchanan Strikes Again for Supplement
On the final day in the supplemental catalog, Go Big Blue Nation strode into the ring and commanded competitive bidding up to $225,000 from Jane Buchanan, racing manager for trainer Graham Motion, who purchased the 5-year-old mare for client R. Larry Johnson.
A Kentucky-bred mare by Animal Kingdom, Go Big Blue Nation placed in the Kentucky Downs Ladies Marathon Stakes last year for Cannon Thoroughbreds and trainer Mike McCarthy and was fourth in the Possibly Perfect Stakes and Santa Barbara Stakes (G3T) over the downhill course at Santa Anita Park. In 2020 she was fourth in the the Las Virgenes Stakes (G2) on the dirt. Columbiana Farm consigned her as Hip 1579 with a record of 3-3-3 from 19 starts and earnings of $234,095.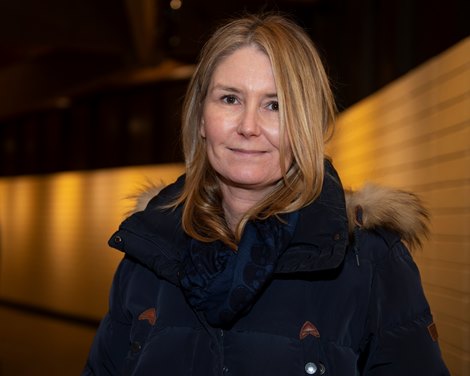 "I purchased her for Larry Johnson. He is an owner/breeder in Virginia," Buchanan said. "She will go to Graham at Fair Hill, and the plan is to race her, then Larry will breed her. We will try to get a little more black type on her.
"They have done a terrific job with her; Michael McCarthy is an excellent conditioner, so she looks in great shape. They gave her a break over at WinStar, and she is now back under tack," Buchanan noted. "We will likely prep her for the spring races in New York or here at Keeneland; she still has allowance conditions left, which is key."
Buchanan made headlines Wednesday with her $700,000 purchase of session-topper Belgrade, a 3-year-old colt who will head to Motion for owners Carl and Yurie Pascarella.
GASH: Belgrade Highlights Solid Keeneland January Second Day
Muth Makes Moves
After closing Friday morning on the late Gerry Dilger's Dromoland Farm, Chip Muth of Glendalough Farm beat out the competition to secure Querelle for $220,000, the session's second-highest price.
Paramount Sales consigned the Violence mare, a grade 3-placed earner of $187,661 during her four-year career in England and the U.S., which she concluded with a 4-4-3 record in 25 starts on both surfaces. On the bottom side of the pedigree she hails from the family of grade 1 winners Seattle Meteor and A Phenomenon and stakes winner Meteor Miracle.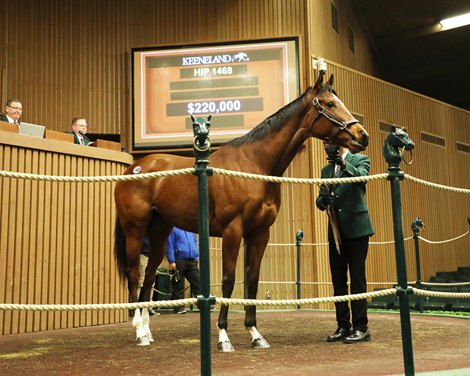 "As of right now, she will probably go to Into Mischief or Constitution ," Muth said. "This morning, I closed on the late Gerry Dilger's farm Dromoland on Spurr Road in Lexington and needed a horse to put on the farm. We will operate under Glendalough Farm at Dromoland."
Querelle, consigned as Hip 1468, led the session until the supplemental catalog at the end of the night.
"I expected her to go this high," said Muth. "There is a lot of quality there. She's a nice mare that will work out well. I expected her right around that figure; we maybe reached out a hair farther, but I think she is worth it."
The day's third-highest price of $135,000 was paid for Constantina, a racing or broodmare prospect consigned as Eaton Sales, agent. The 4-year-old Candy Ride mare offered as Hip 1287 comes from the accomplished family of blue hen mare Weekend Surprise, the dam of prolific sire A.P. Indy, Preakness Stakes (G1) winner Summer Squall, and graded stakes winners Welcome Surprise and Eavesdropper.
"I bought her for a new partnership to keep and breed," Andre Lynch said. "She will either go to Justify or Uncle Mo for 2022. The goal of the partnership will be to sell the foals as yearlings."
Lynch added: "She made $300,000 as a yearling; she has a fantastic pedigree. It's the best pedigree going back. She got hurt in her first race and had to be retired. She's a gorgeous individual."
Eaton Sales managing partner Reiley McDonald, who finished the four days of selling as second-leading consignor, commented: "The racing stock will always sell well. The made racehorse market is through the roof in private sales. And in an auction format, it's even bigger because you can acquire a much larger buyer base."
He continued, "One thing I have noticed here in the last couple of days, if you bring a pretty mare up to the ring, even with a limited pedigree, people will pay a great premium. Like the case today, we had the Runhappy mare (Hip 1343), not a good racehorse but beautiful; she brought $90,000. Our Candy Ride mare (Hip 1287) was a beautiful, beautiful mare. She had an older family and limited first dam and brought $135,000."
Vino Rosso Colt Tops Fourth Session Short Yearling Division
There were 726 short yearlings cataloged to this sale, with 492 selling for receipts of $18,136,300 at an average price of $36,862.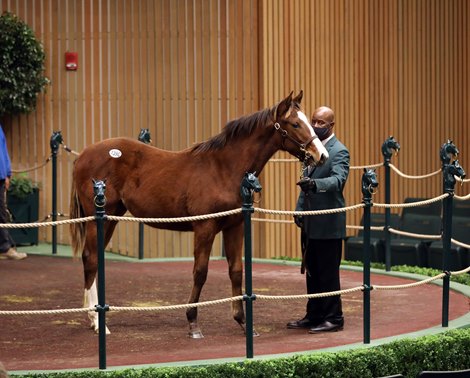 A colt by new sire Vino Rosso sold for $100,000 to Barry Lamb via the internet as the fourth session's highest-priced short yearling. Paramount Sales consigned the New York-bred colt out of Lauded as Hip 1396.
Vino Rosso checked in second at this sale with yearlings sold for a gross of $937,000, with 12 changing hands. Gun Runner was the leader, grossing $1,005,000 for his five sold. A Gun Runner colt was the highest-priced youngster of the sale, bringing $375,000 from Narvick International for an undisclosed client during the Jan. 11 opening session. Last year, a $475,000 Munnings colt topped the yearling section of the market, where 421 yearlings sold for $14,958,600 overall at a $35,531 average.
"If you do sell a short yearling at this time going into next year, there are pretty high replacement costs," said Cormac Breathnach, Keeneland's director of sales. "People are more willing to roll the dice on a little deeper in the year. There were a lot of short yearlings in book one that traded around the $200,000 mark, which is a sign that what was offered was popular."
A filly by Darby Dan's proven sire Dialed In was the final session's leading short yearling filly, selling for $49,000 to Michelle Redding. Indian Creek consigned the Kentucky-bred as Hip 1406 out of the Smart Strike mare, Lotta Lolly, a full sister to grade 1 winner Square Eddie.
"I think pinhookers are looking forward to another strong yearling year. September was extremely good with a record median among other metrics," Breathnach commented. "I think there is a confidence that the market is currently in a good state with supply and demand. There is energy behind the sport with the new owners and money that showed up in September. It's not an overheated market; it doesn't feel that way; it feels substantial, primarily through the middle."
Paramount Sales was Friday's leading consignor by gross selling 16 head for final figures of $449,000. Perennial leading consignor Taylor Made Sales Agency capped the January Sale at the top again after selling 126 horses for a gross of $5,814,800.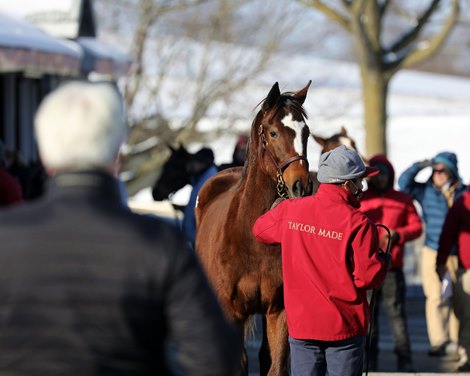 R. Larry Johnson made the singular purchase of Go Big Blue Nation to emerge as the session's leading buyer Friday. Cumulatively over the four days of selling, OXO Equine made six purchases for gross figures of $1,490,000 to be the sales leading buyer.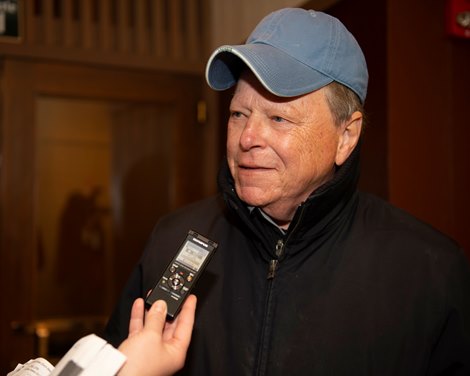 "We had a lot of happy sellers and buyers were a tad frustrated in certain places, but they understand that is due to a competitive market, which is good for everybody," said Lacy. "The day you buy is the day you sell, and if they are both competitive, you hopefully will reap the rewards.
"I think you saw where some of the higher-priced horses were fair; they weren't extraordinary, very rational," Lacy continued. "It's believable and more sustainable long term. It gives me more of a feeling of confidence moving forward that there is viability to breed a nice horse; whatever level it is, you can get a return from it and get it moved along."