It had to happen one day. Since the points qualifying system eliminated sprinters from the Kentucky Derby, the first past-the-post has almost always been an on-pace stretching out miler of sort that has dominated high-level North American middle-distance dirt in recent times. Get enough of that kind to go out fast enough together in one race though, and there will eventually be a pace meltdown.
The 2022 Kentucky Derby presented by Woodford Reserve (G1) saw an opening quarter in :21.78 and a half in :45.36, a pace which caused so much carnage that the fastest clocking segment from the three-quarters to a mile was :26.20 (shared by Epicenter and Zandon). That duo did quicken again in the last quarter, but the early pace had done its work and the unheralded Rich Strike, who had just one horse beat at the first quarter, was able to weave his way through the field and run down the embattled Epicenter and Zandon to score by 3/4 length as an 80-1 longshot.
Rich Strike's remarkable improvement since a debut that saw him trail home tenth, beaten by 14 1/2 lengths, in a maiden event on turf at Ellis Park has been recalled in detail elsewhere. From a pedigree point, however, it took us back to another major upset in a historic 3-year-old contest, the 2015 Travers Stakes (G1).
Triple Crown winner American Pharoah —the very model of the on-pace modern thoroughbred middle-distance horse—made the early running until attacked by Frosted on the final turn. For a moment Frosted actually had American Pharoah on the ropes, but as a horse who would run the race of his life to score a spectacular victory in the following year's Mohegan Sun Metropolitan Handicap (G1) at a mile, Frosted didn't have the stamina to deliver the knockout punch. As his challenge wilted, American Pharoah reasserted, and look set for victory, until caught late by Keen Ice , whose only previous victory had come in a Churchill Downs maiden the previous September, but had been a late-closing third in the Belmont Stakes presented by DraftKings (G1) and second in the William Hill Haskell Invitational Stakes (G1).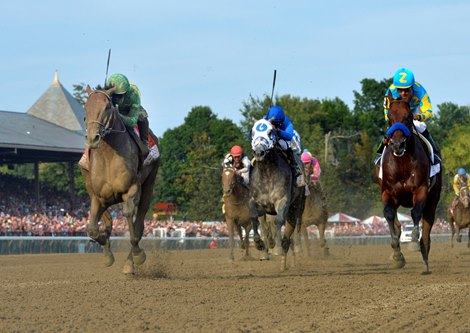 A son of Curlin , Keen Ice retired to Calumet Farm for the 2018 breeding season, at a fee of $20,000, which dropped to $7,500 for 2022. He has 138 first crop foals, and until Saturday, had 96 starters for just one stakes winner, Bold Leader, who took this year's Clasico George Washington Stakes at Camarero Racetrack in Puerto Rico.
Now, following the victory of Rich Strike, who has clearly inherited Keen Ice's late-running style, Keen Ice sits second on the Leading Second Season Sire list, behind only Gun Runner .
Keen Ice was clearly a good horse and would go on to place in several other grade one events before the end of his career. However, he only had one win in 13 starts after the Travers when he defeated Shaman Ghost in the 2017 Suburban Stakes (G2) at Belmont Park. Rich Strike too is evidently a very good horse under the right circumstances—his Kentucky Derby Beyer of 101 has been beaten by only Messier, Epicenter, and Taiba this year among sophomores going a mile or more—but one does wonder whether, like his sire, he will need the right set-up to show his best going forward.
Rich Strike's dam, Gold Strike, earned a title as Champion 3-Year-Old Filly in Canada, where she won four black-type events, including the Selene Stakes (G3) and Labatt Woodbine Oaks, and she also took third against males in Canada's premier classic, the Queen's Plate Stakes. She is dam of three other winners, headed by the Sky Mesa filly Llanarmon, successful in the Natalma Stakes (G2T).
The second dam, Brassy Gold, an unraced daughter of Dixieland Brass, is a half sister to a trio of minor stakes placed horses, one of which Miss Regal Classic, produced Classic Verse, successful twice in restricted Pennsylvania-bred stakes company.
The family arrived in the U.S. from England in 1936, in the shape of the Tetratema mare, Crestema. In between then and now family has produced a number of minor stakes winners, but little of real consequence, the most notable exception probably being the California star, Warren's Veneda, winner of four black-type events, including the 2015 Santa Margarita Stakes (G1), and dam of the multiple graded winning Warren's Showtime.
Her fourth dam, Crestema's granddaughter, Pulcinella, is the fifth dam of Rich Strike. Crestema's full sister, Fire Maiden, has a branch of family that went to New Zealand, where it produced the AJC Derby and Australasian Champion Stakes victor Gold Brick, and Late Show, who captured the Sydney Cup (G1) and the Rawson Stakes (G1).
Apart from his odds, Rich Strike also appears to have made Derby history with his pedigree. As mentioned, his sire, Keen Ice, is by Curlin, who in turn is by Smart Strike, and Rich Strike's dam, Gold Strike, is also by Smart Strike, placing that horse 3x2 in Rich Strike's pedigree. That, as far as we can ascertain, makes him the Kentucky Derby winner with the closest inbreeding, and certainly so as far as the sire line/broodmare sire line cross is concerned. Coincidentally, Smart Strike is the broodmare sire of another upset Kentucky Derby winner from the male-line of his sire, Smart Strike, in Mine That Bird, but he only had Mr. Prospector 5x3.
In general, this level of inbreeding isn't practiced a great deal with higher class stock these days, but we can note that one of the greatest European classic fillies of recent times, Enable, has Sadler's Wells 3x2 in the same positions that Smart Strike occurs in Rich Strike's pedigree.
We will conclude by noting that as well as having Mr. Prospector 4x3 through Smart Strike, Rich Strike also has Mr. Prospector's brother, Search for Gold, as sire of his third dam, resulting in an exceptional high Inbreeding Coefficient of 9.27.