When Joni Mitchell wrote her song "The Circle Game," she was watching "the painted ponies go up and down" on "the carousel of time." While we've spent most of our life watching Thoroughbreds go round and round, they are equally effective at reminding us that not only do the "seasons go round and round" as the song says, but there comes a point where they go round and round alarmingly quickly. With that in mind, it feels like just a few weeks since we were looking at the start of the second season for 3-year-olds of 2021. With the $500,000 Ohio Derby (G3) contested June 25, we're already off and running with the second season for the sophomores of 2022.
This term it would appear that the improvers and the late developers who often emerge from these races have a lot to play for. At the moment, there is no really clear divisional leader, as the three legs of the Triple Crown were won by three different horses. There is an argument to be made that Epicenter , second in the two classics he did contest, could have been the best in both; then there's Jack Christopher , who has probably shown the most brilliance in the division, but has yet to race beyond a mile. On the passage of time front, it's also salutary to realize that these horses will likely only have one or at most two starts to stake their claim before facing some formidable older rivals in the Breeders' Cup.
The three prime contenders for the Ohio Derby were making their first starts since exiting unplaced efforts in the Kentucky Derby presented by Woodford Reserve (G1): Tawny Port; the Holy Bull Stakes (G3) and Curlin Florida Derby Presented by Hill 'n' Dale Farms at Xalapa (G1) victor, White Abarrio; and Classic Causeway, successful in the Sam F. Davis Stakes (G3) and Lambholm South Tampa Bay Derby (G2). The trio put on an excellent show, with Tawny Port making a sweeping move on the turn to join the front-running Classic Causeway and stalking White Abarrio at the head of the stretch before going on to score by a length from White Abarrio, with Classic Causeway a close third. This was the fourth win in seven starts for Tawny Port, who took a maiden special weight and an allowance/optional claiming event at Turfway Park this winter, and added the Stonestreet Lexington Stakes (G3) in April. He also took second in the Jeff Ruby Steaks Stakes (G3) at Turfway, and was beaten only 4 3/4 lengths in the Kentucky Derby.




Tawny Port is a member of the ninth crop sired by Pioneerof the Nile, the last full crop he sired prior to his untimely death at the age of 13 in March 2019. Pioneerof the Nile has sired 44 stakes winners, 21 graded, headed by Triple Crown-winning Horse of the Year, American Pharoah , Champion 2-Year-Old Colt Classic Empire , and other grade 1 winners Midnight Storm and Matareya.
Tawny Port's dam, Livi Makenzie, a daughter of Champion 2-Year-Old Macho Uno, was a durable sprinter/miler who won five of 29 races and gained a black-type victory in the Saylorville Stakes at 4. She earned places in five other black-type races, including thirds in the Beaumont Stakes (G2) and Gardenia Stakes (G3). Livi Makenzie is a half sister to Clean Up Joy, a standout in Korea, where his 15 wins, included the Seoul Grand Prix.
Greta's Joy, the dam of Livi Makenzie, won four times and is half sister to Rosie O'Greta, a filly who defeated colts in the Tremont Breeders' Cup (G3), and to California star Surf Cat, who captured six grade 2 events in his home state, including the Swaps Breeders' Cup Stakes (G2). There is nothing of note under the fourth and fifth dams, but the fifth dam is Turn-To's important daughter, Turn to Talent. She won the Pageant Handicap—prior to the institution of the graded program, but equivalent to a grade 3 event—but is more important as the dam of stakes winner Hay Patcher, and ancestress of more than 40 other stakes winners, including four-time grade 1 winner and leading sire of 1994 Broad Brush, and other grade winners Warhorse and Vega Run.
Turn to Talent's dam, Hidden Talent, won the Kentucky Oaks, and is one of a trio of notable sisters sired by Dark Star (the only horse to defeat Native Dancer, a feat he achieved in the 1953 Kentucky Derby) out of Dangerous Dame. The other sisters are Heavenly Body, whose most notable success came in the Matron Stakes, and the good foundation mare Dangerous Star. Through the sisters, Dangerous Dame is ancestress of 18 grade 1 winners, and in addition to those already mentioned as descending from Turn to Talent, they include European champions Sakhee and Mastercraftsman, as well as Exceller, Champion 2-Year-Old Colt Capote, Bob and John, Lady Tak, Volatile, Gufo, River Memories, Barney Roy, and Gordon Lord Byron.
A daughter of Nasrullah, Dangerous Dame was imported from England by Captain Harry F. Guggenheim, who also raced Dark Star, and developed much of this family. There are some fairly obscure names in the distaff side of the family, but Dangerous Dame's dam, Lady Kells, was Champion 2-Year-Old Filly in Ireland, was half sister to Irish Two Thousand Guineas winner Solonaway.
Dangerous Dame comes from the 'B' Achilli mitochondrial family, and although it produced such important individuals as the breed foundation sire Herod, and Hermit, this is a relatively uncommon mtDNA family, with not much more than 3% of all thoroughbreds stemming from it. One of those just happens to be Tawny Port's sire, Pioneerof the Nile, whose pedigree also contains In Reality, a very influential stallion whose sire and dam are both from the 'B' haplotype.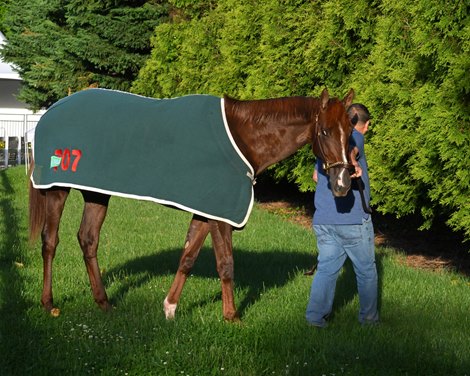 Tawny Port also has a pedigree pattern that is found in two other 2022 U.S. stars, Secret Oath and Jack Christopher, as well as current Chilean classic winner Impredecible, that being the combination of Unbridled (grandsire of Pioneerof the Nile) and Great Above (grandsire of Macho Uno, the broodmare sire of Tawny Port). It's a similar pattern to Pioneerof the Nile's son Cairo Prince—a onetime Kentucky Derby favorite and now successful young sire—who is out of a mare by Macho Uno's sire, Holy Bull.
Unbridled and Great Above both stem from the overlapping Tartan Farms/Genter operations, and have similar backgrounds. Great Above was by Minnesota Mac, a son of Rough 'n Tumble out of twice Champion Sprinter Ta Wee, who was by Intentionally ('B' mtDNA haplotype), out of Aspidistra.
Unbridled's sire, Fappiano, is out of a mare by Dr. Fager (by Rough ' Tumble out of Aspidistra), and his granddam was by In Reality (by Intentionally, out of a Rough 'n Tumble mare) from a daughter of Aspidistra. For good measure, there is a second cross of In Reality in the pedigree of Pioneerof the Nile through his sire, Empire Maker. All told, this gives three crosses of In Reality; three crosses of his sire, Intentionally; four of Rough 'n Tumble (sire of Dr. Fager, grandsire of Great Above, broodmare sire of In Reality), and three of Aspidistra, all focused through related strains.