During a spring at Churchill Downs filled with equine loss, in which at least nine horses racing or training at the track have died since April 27, one ongoing safety initiative at the Louisville, Ky., oval has provided cause for optimism.
With a grant provided by the Kentucky Horse Racing Commission, a Washington State University study is underway there utilizing StrideSAFE, a biometric sensor mechanism placed in a horse's saddlecloth that can detect minute changes in a horse's gait at high speed with the hope of identifying at-risk runners before a catastrophic injury can occur. All horses are racing with these small sensors during the spring meet at Churchill Downs, and a smaller group of horses are wearing the sensors for morning breezes.
Though the technology is not yet so advanced to prevent a potential injury spotted mid-race—with a jockey being alerted to pull a horse up, for example—StrideSAFE and other technological innovations are already delivering results, according to veterinarian Dr. David Lambert, StrideSAFE's CEO, and trainer Dale Romans.
Speaking May 24 on The V Show on ESPN Louisville with Bob Valvano, Lambert described how the sensors were able to find an abnormality in an unidentified horse that after evaluation with a Positron Emission Tomography scanner at Churchill Downs showed the potential for a serious injury. Churchill Downs is the only racetrack outside of California to have a PET machine on-site. It is housed in its backstretch equine medical center.
Romans said the horse was his, and that the early identification of the injury likely means shorter time on the sidelines for the horse in the long run.
"It was the deterioration of the bone that would become a condylar (fracture)," Romans said May 25. "I believe we prevented from having a condylar because by the eye or by the rider, you wouldn't have known it until it was too late."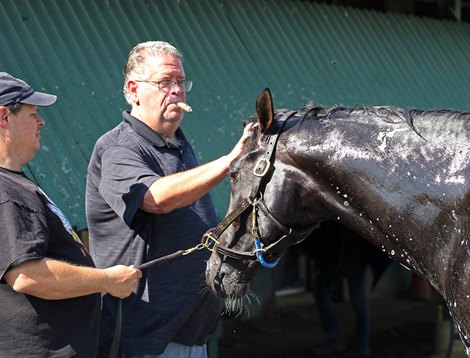 Churchill Downs is not the first track to utilize StrideSAFE sensors. They have monitored thousands of horses in other states, including in New York and recently in Arizona at Rillito Park over the winter. Rillito reported no horse breakdowns in more than 140 races there during its 18-day season in 2023, though multiple factors contributed to that favorable statistic beyond sensor use.
Lambert said at the University of Arizona's Race Track Industry Program Global Symposium on Racing in December that the costs associated with sensors amount to approximately $35 per horse, a figure he views as "peanuts" but that had not been embraced by the racehorse industry.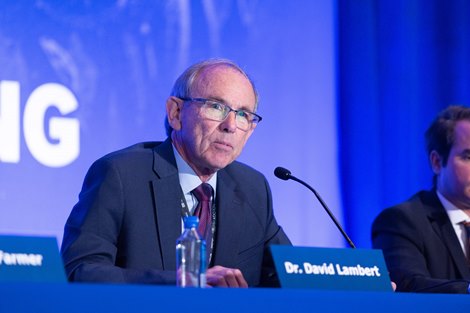 According to Lambert, pre-existing pathology is present in the vast majority of equine fatalities, and after establishing baselines with studied horses, their gaits can be placed in three categories based on data—red, yellow, and green, like the colors of a stoplight.
A concern of false positives—i.e. flagging a healthy horse in the yellow or red category—is a worry of those reluctant to support the new technology. Romans is one of the few trainers to have announced his use of the sensors during morning training, though Lambert said Steve Asmussen and Tom Van Berg back the project.
Lambert's initial data suggests that 90% of fatal musculoskeletal injuries can be identified from the sensors' "fingerprints." Lambert says it is a misconception that horses are "stepping in a hole" and getting hurt.
"These animals are slowly getting hurt over a period of 10 to 12 weeks," he told Valvano. "We've seen cases where a horse can come out of the gate and have a faulty signal, and it might take 70 seconds for the leg to actually fracture. So it's going on and on. It's a slow, steady process until it goes."
The devices are not able to detect sudden deaths, such as heart attacks. Sudden deaths are much rarer than fatal musculoskeletal injuries.
Two suspected sudden deaths occurred during Derby Week at Churchill Downs among Saffie Joseph Jr.-trained horses, after which Churchill Downs Inc. indefinitely suspended the trainer "until details are analyzed and understood," said CDI president and chief operating officer Bill Mudd in a May 4 statement.
Churchill Downs, under fire from animal welfare advocates and experiencing negative publicity following this spring's fatalities, is supportive of the StrideSAFE program and other initiatives for equine safety, said veterinarian Dr. Will Farmer, CDI's equine medical director.
Though breakdowns have occurred despite sensor use this spring, officials hope that with the data gathered, future injuries can be prevented.
Possible expansion of the StrideSAFE program beyond the spring-meet study is one of several areas CDI officials are addressing in their ongoing safety efforts, along with increased frequency of racing surface checks by racetrack surface analyst Dr. Mick Peterson and the backing of research toward preventing musculoskeletal injuries, Farmer said.
Churchill Downs was evaluated by Peterson May 23, he noted, after the track's customary pre-meet check.
"At the end of the day, we all have the same goal: none of us want to see an injured horse on the racetrack—from the casual fan, to the veterinarian, to the journalist. No one wants to see that. Right now it's kind of unfortunately in the spotlight," Farmer said. "We feel the obligation and have the obligation to help continue our leadership in finding advanced ways to help identify at-risk horses and then what we can do to protect them and prevent those horses from being injured."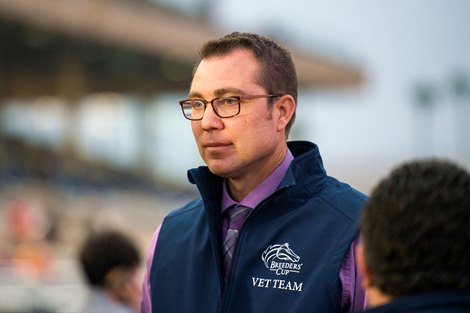 The Thoroughbred breed appears more fragile than in prior eras when horses raced more often and with less rest between starts.
Changes in medication, veterinary oversight, racetrack monitoring, and cultural shifts have partially contributed to the Thoroughbred racing industry having its lowest fatality rate in 2022 of 1.25 fatalities per 1,000 starts, based on 14 years of data in The Jockey's Club Equine Database. Last year, Churchill Downs specifically had nine musculoskeletal racing fatalities from 6,061 starts, according to Kentucky Horse Racing Commission records, an incidence rate of 1.48 fatalities per 1,000.
Romans calls the technological advancement of StrideSAFE a "great tool for reducing the catastrophic injury rate."
"Whether we can ever get it to zero, I don't know. I'm a little bit skeptical about that," he added. "But if we can get it down to the lowest possible denominator, it would be a great thing."