Officials from Churchill Downs and the Horseracing Integrity and Safety Authority June 1 separately announced added safety procedures for the Louisville, Ky., track meant to address a spike in equine fatalities.
At least a dozen horses have died there since April 27, leading veterinarians from HISA, Churchill Downs, and the Kentucky Horse Racing Commission to convene a veterinary summit this week and have an independent racetrack evaluation completed by West Coast track superintendent Dennis Moore.
The changes on the part of Churchill Downs, announced after a Thursday meeting with horsemen, include:
A pause of track-based incentives such as trainer start bonuses and purse payout allocations to every race finisher through last place. Purse payouts will now be limited to the top five finishers. Churchill Downs is engaged in ongoing discussions with horsemen to determine ways to reallocate these funds to best serve industry needs.
Restricting the number of starts per horse to four during a rolling eight-week period.
Ineligibility standards for poor performance. Horses that are beaten by more than 12 lengths in five consecutive starts will be ineligible to race at Churchill Downs until approved by the equine medical director to return.
Some of the changes were made in obvious response to at least a portion of the dozen fatalities.
Kimberley Dream, for example, euthanized from an injury in the first race at Churchill Downs May 27, lost each of her preceding five races by 14 1/2 lengths or larger margins, including three by 31 lengths or more.
HISA, in charge of safety oversight in Thoroughbred racing in most states, including Kentucky, wrote in a statement that while no obvious or specific pattern emerged from the summit and the examination of the deaths, it welcomed Churchill Downs' efforts to minimize the risk of equine fatalities and is implementing the following additional measures:
Effective with June 3 entries, HISA's director of equine safety and welfare will conduct an additional layer of post-entry screening. HISA's rule 2142 (Assessment of Racing Soundness) requires post-entry screenings of previous pre-race inspection findings of entered horses to identify horses that may be at increased risk for injury. The review includes past performances, lay-ups (more than 60 days without a timed workout or race), last 30 days' medical history, previous injury and lameness diagnostics, intraarticular corticosteroid injections, previous surgery, and other individual horse risk factors.
HISA has directed the Horseracing Integrity and Welfare Unit to collect blood and hair samples for all fatalities involving covered horses. The results from such collections will be used to facilitate investigations into the cause of such fatalities. The data collected by HIWU in connection with horse fatalities will also be used to track relevant statistics and trends.
HISA has appointed Dr. Alina Vale, an equine forensics specialist, to conduct an additional thorough review of all necropsies performed on covered horses. Vale has conducted several postmortem reviews as an official veterinarian for the California Horse Racing Board, including participating in the review following a spate of equine fatalities at Santa Anita Park in 2019.
HISA said Moore's analysis of Churchill Downs' racing and training surfaces, which began May 31, is ongoing and his conclusions will be shared publicly once his review is complete.
HISA pledged to seek additional answers to more clearly identify the causes of these recent fatalities as well as tangible interventions to prevent them in the future.
The Thursday morning meeting with horsemen included a presentation by California-based equine surgeon Dr. Ryan Carpenter, who provided educational information and tools to trainers and practicing veterinarians about advanced interventions that can be considered for certain equine injuries.
"The attending veterinarians and trainers at Churchill Downs are incredibly capable and knowledgeable," said Dr. Will Farmer, equine medical director for Churchill Downs Incorporated. "We feel a duty to provide the latest information on surgical interventions from an expert who experienced the challenges in California a few years ago that we currently face today. Any decision must be made first and foremost with the long-term well-being of the horse in mind. It is imperative that all available, educated, and informed options can be efficiently, confidently, and thoroughly relayed to the owners."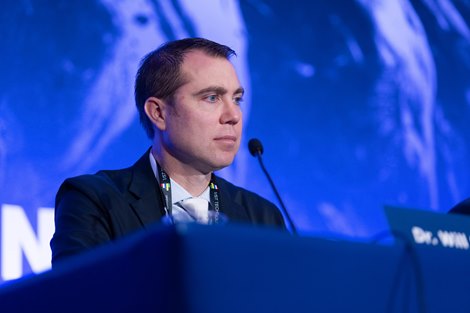 Speaking on a National Thoroughbred Racing Association conference call on Thursday, trainer Brad Cox said he "did a lot of listening" during the horsemen's meeting with Churchill Downs officials. He called the veterinary staff at Churchill a "good team," led by Farmer.
The fatalities at Churchill Downs occurred on the dirt track and turf course, in racing and during training. One accident occurred in the paddock. At least three of the equine fatalities are not breakdowns—the paddock accident and two sudden deaths during or shortly after races on the turf course.
Cox expressed confidence in the Churchill Downs track surface and said his horses based there have been able to avoid any serious injuries this spring.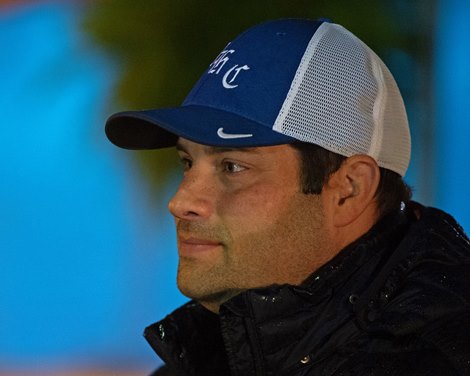 "I feel comfortable training at Churchill right now. ... We train a tremendous amount there. We have a lot of horses there and I feel it's a safe surface and we've had no serious issues," he said.
During the same conference call, Hall of Famer John Velazquez, who rode at Churchill Downs the week of the May 6 Kentucky Derby (G1) and serves as co-chair of the Jockeys' Guild, an organization that represents riders, said he is supportive of changes that make the sport safer.
He said he backs "giving horses time to recuperate and to be in the best shape to run races—that's the way it should be, not because they have an incentive to run in the race."