A longtime horsewoman even before she ever saddled her first racehorse in 2010, Jena Antonucci is watching the results of her patient and "horse forward" approach soar into fruition with Blue Rose Farm's Arcangelo. The strapping 3-year-old son of Arrogate, a pupil of Antonucci's innovative 'HorseOlogy' program, caught the pundits' attention with a flashy maiden win down in Florida before earning a courageous victory in the May 13 Peter Pan Stakes (G3). After a lung-opening five-furlong breeze over the Belmont Park oval last Thursday, Team Arcangelo is all-systems go for the $1.5 million 1 1/2-mile Belmont Stakes (G1) June 10.
Antonucci spoke with BloodHorse MarketWatch about Arcangelo's humble and quiet owner, Jon Ebbert of Blue Rose Farm, the big gray colt's path to the final leg of the Triple Crown, and the inspiration behind HorseOlogy.
MarketWatch: What does it mean to you and your stable to have a live contender in this year's Belmont Stakes?
Jena Antonucci: Obviously, the history of the race and what this race has meant for racing doesn't fall lightly, so to have an opportunity to present a runner is very special. And it means a lot to us. We definitely don't take the opportunity for granted. There were 18,000 foals born in 2020, so to be one of maybe 10 or 11 horses that run in the Belmont is very special.
MW: How did you meet Arcangelo's owner, Blue Rose Farm, and come to train for him?
JA: My business partner, Katie Miranda, and I were at the sale at Keeneland in the back ring. She was trying to get my attention and Jon (Ebbert of Blue Rose Farm) was near her, and she whistled when a horse went by. There was a lot of sarcasm exchanged and light comments, and that's how John came into our lives. Initially, we were doing some breaking and training for him. Arcangelo came to us in the beginning of his 2-year-old year. We have several horses for him now.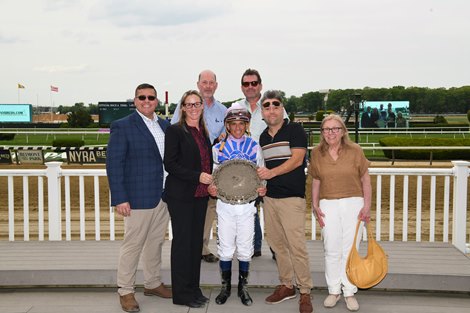 MW: This must all be a huge experience for Mr. Ebbert as well.
JA: It is. He's a quieter individual, so this experience for him is just one he wanted to lean into and enjoy the process. Obviously, there's been a lot of calls and interest in the horse but I 100% respect where he's coming from in just wanting to enjoy this and block out all the white noise. He doesn't want the pressure of other partners and of following other people's agenda. He picked this horse out of the sale with the idea that it was going to be a 2024 type of horse because he's a late foal, he's an Arrogate. Jon's focus was never to have this horse ready to go early; never run in the Kentucky Derby (G1). We ran him very late as 2-year-old and the only reason we ended up starting him then was because the horse was telling us he was ready to do more mentally and physically.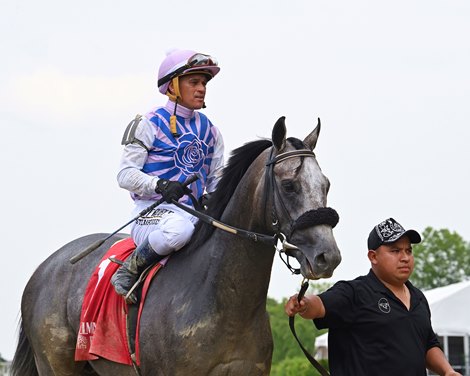 MW: Looking at Arcangelo's race record, it looks like it took him a few starts to finally figure it out. What do you think contributed to him putting it all together in his third start?
JA: He finally got a clean trip. The 6 1/2 (furlongs) first time out, he was closing. We knew it was too short for him but we just wanted it to be an experience under his belt. He had some serious traffic issues in his next few starts. But then Javier (Castellano) gave him a lovely trip when he broke his maiden, he got him in the clear, and gained a lot of confidence in him that day. He ran a sneaky not so sneaky good race there. We just gave him the time in between to avoid the bounce and he continued to grow during that time.
MW: He certainly ran a breakthrough performance in the Peter Pan (G3). What did you think of that race? What gave you the confidence from that effort to try him against top-level competition in the Belmont Stakes?
JA: Obviously, the world learned about the horse that day. People who study the sheets knew about the maiden win, of course. We learned a lot about him from the Peter Pan. The biggest thing we learned though was his heart and desire; wanting to battle and wanting to win. And Javier did a good job at teaching him those things down the stretch. Those two horses (Arcangelo and runner-up Bishops Bay), both are very nice horses, and to be pulling away from the field the way that they did was just like 'OK, he wants it. That's excellent.'
MW: Was the Belmont always on the radar after his maiden win?
JA: After he broke his maiden, I laid out all of the options for the next three months in whatever condition books were out—from allowance races to overnight stakes to graded stakes. Jon (Ebbert) and I just went through them all. We also had the Sir Barton (Stakes) checked down as an option from a timing perspective if the horse was right and happy. The Belmont was on the radar but it was never a hard focus. It was more of a 'Well, if this and this comes together, it could be an option'. Everything has been very horse forward. His winning the Peter Pan the way he did made the Belmont more of an option and more of a focus. We wanted to see how he trained out of it and give him another breeze before we completely committed. He's taken us here.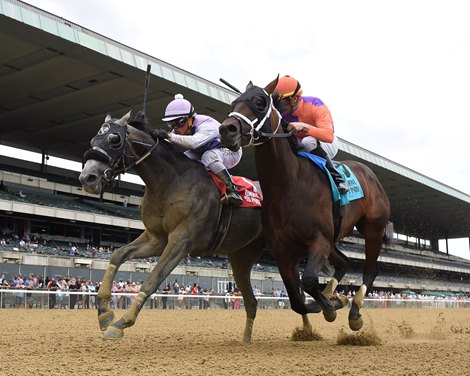 MW: You gave him a nice long breeze May 31, working him 'officially' five furlongs, but videos showed he galloped out considerably farther. The word was that he clocked the nine furlongs in 1:54 1/5. What was your opinion of his breeze? Have you done long breezes like that with your horses before?
JA: I'm a big proponent of galloping out with all of our horses. It's not always what happens before the wire as much as it is what you have in that gallop-out. It helps you really understand what the fitness level of a horse is and how they're wired. You learn so much about a horse in a gallop-out. It's not a secret the horse hasn't run two turns yet. It's something we have talked a ton about coming into this decision.
I talked to Javier (Castellano) before the breeze and said I don't need another five-eighths in :59 and change. That gear is just who he is. His father was that way and he seems to have pulled some of that through. I didn't put a radio on (Castellano), I just wanted him to breeze the horse the way the horse wanted. They broke off well; that nice opening quarter was right, which would almost simulate a race scenario. And then him shutting down in the middle of the breeze and cruising through the five and then being re-asked to go and he just went off again. Javier only chirped at him and he went on strongly after the wire. It was lovely, just what we were looking for. If anything, it probably gave Javier more confidence in the horse going two turns. I think a jock having confidence in their horse translates to them making very smart decisions in the race when they know what's underneath them.
MW: According to Equibase, you saddled your first runner 13 years ago. How did you get involved in the racing industry and how did you start training?
JA: I grew up riding and I retrained a ton of Thoroughbreds throughout my life. Initially, I really wanted to understand why and how they were broke for the races so I could rebreak them better. And then I got bit by the bug. I started breaking horses for a big farm down in Ocala (Fla.) and I started enjoying the breed more from that process. I enjoyed imprinting them and starting them off the right way and it just evolved from there to doing a lot of other different aspects of the business from veterinary work to layups and rehab to repro, just all of it. I really enjoyed the sport.
MW: HorseOlogy, which you run with your partner, Katie Miranda, was officially launched in November 2022. The operation is run out of GoldMark Farm in Ocala. What was the impetus behind HorseOlogy?
JA: HorseOlogy basically culminated all of what (Katie and I) were doing. The pinhooking has always been her white lilac and I have the racing. So much of this business is fractured, in that if you have a broodmare they go here and a retired horse they go there, and so with us having so much experience across the board we just offer all in-house services from conception to retirement. It was just logical to offer it all under one umbrella. We do layups and breaking for other trainers as well and then we have clients that have broodmares. It just allows an owner to have everything under one roof.
It was also a way to be on the farm and on the track—akin to Fair Hill Training Center (in Elkton, Md.). There are so many trainers at Fair Hill that have that quasi-farm environment and we try to recreate that down in Florida. We probably have 40-something horses out at the farm now.