Juddmonte Farms' founder Prince Khalid bin Abdullah will be long remembered for his deep commitment to breeding world-class Thoroughbreds, his competitive spirit at the races, his attention to detail, and for the quiet and dignified manner in which he treated everyone around him.
Abdullah died Jan. 12 at 85, according to Juddmonte, leaving behind a legacy that will influence the sport and the breed for generations to come. His famous green, pink and white silks were borne by such immortals as Frankel, Dancing Brave, Arrogate, and Enable. His colors were carried to victory by over 500 stakes winners, of which he bred over 440. Those stakes winners included 118 group/grade 1 winners, of which he bred 102, according to Juddmonte. He founded Juddmonte in 1980.
Douglas Erskine Crum, CEO of Juddmonte, said: "The whole of Juddmonte feels a huge sense of loss. Prince Khalid will always be remembered as a quiet, dignified, benevolent family man, whose horses spoke for him.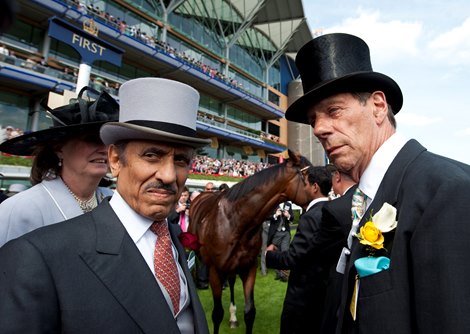 "He leaves a legacy that will stand the test of time. His contribution to the development of the Thoroughbred will have long-lasting effects."
Prince Khalid's interest in horse racing goes back to the 1950s. He first became an owner in the mid-1970s and, in 1979, won his first group 1 with Known Fact in the Middle Park Stakes (G1) at Newmarket and purchased his first broodmare with the private acquisition of Metair.
For 40 years, Juddmonte's achievements resulted from his enthusiasm and direct involvement, which translated into an in-depth knowledge of his horses, their pedigrees, and their families.
"What stands out for me is the interest he took in every detail. Nobody did anything for him without him saying, 'Yes' or 'No,'" said Dr. John Chandler, president of Juddmonte's American operation, who began working for Abdullah in 1979 doing veterinary evaluations on sale yearlings overseas. "He took advice, but he made every decision on matings. He knew more about his horses individually than any owner I ever knew."
Abdullah took particular pride in developing families. When he purchased Dr. Herbert Schnapka's Belair Farm near Lexington as part of a package that included Ferrans Stud in County Meath, Ireland, the deal also included 15 broodmares in Kentucky. Among them was Fleet Girl, who is the great-great-granddam of dual Cartier Horse of the Year title holder and dual Qatar Prix de l'Arc de Triomphe (G1) heroine Enable.
"There was great satisfaction for him to look at the bottom side of the pedigrees in his horses and know most of them. A lot of his good horses trace back to mares he bought at the beginning of his stud operation," Chandler recalled.
Alice Chandler's Mill Ridge Farm handled many of Juddmonte's sale consignments.
"My mom and Prince Khalid had a great relationship, not just a working relationship, one built on mutual respect," said Headley Bell, the managing partner of Mill Ridge, which his mother founded in 1962. She and John Chandler married in 1970.
"He was as classy a man as anyone would ever know. The people he associated with, his team, and how long they stayed with him shows you that class," Bell continued. "He was a special man that built a special program. His fingerprints were on Juddmonte in every way. It was not his main business, but it was his passion and devotion."
Garrett O'Rourke, general manager of Juddmonte's Kentucky farm, said he's happily worked half his life for Abdullah, and it speaks to the quality of the operation that many on the management team have been there even longer.
"Our pride in working for such a gentleman was only equaled by the collective pleasure we all took from cheering his great horses over the years in some of the sport's great races," O'Rourke said. "He was reserved and polite, yet he had a subtle way of communicating that he expected to win. I've always said Prince Khalid's tastes were simple: he was satisfied with the best.
"His passion for and enjoyment of the breeding and racing of Thoroughbreds was unending," O'Rourke continued. "The standards he kept were the highest, and he made it easy to revere him. We are very proud to have been allowed to be participants in his success. Our admiration of the man and his achievements will live forever with us."
Chandler said the list of accomplished horses bred and raced by Abdullah was so long that he was sure it would have been difficult for the prince to pick a favorite. He said Dancing Brave, though Juddmonte didn't breed him, was a multiple champion he long admired. Abdullah bought Dancing Brave's dam, Navajo Princess, and bred and raced multiple group 1 winner and important mare Jolypha from her.
"He was very proud of Frankel and called him the ultimate," Chandler said of the undefeated son of Galileo who won 10 group 1s among his 14 wins and was named 2011 Cartier Horse of the Year. "He liked Kingman very much, too. He was fortunate to see both go on to become very good stallions, which is not always the case."
Preeminent trainer John Gosden told At the Races he long admired the quality Abdullah achieved with the families he nurtured.
"He might despair of a family but he'd never give up if he felt there was something there," Gosden said. "I remember he bought a lot of fast fillies from Robert Sangster out of our barn in the early '80s in California. They all became foundation mares for him."
Gosden said Abdullah, though reserved, could be the most enjoyable company at the races.
"He was the most charming man. He transcended everything," Gosden said. "He was extremely humorous, steely, tough, and you'd better be on the ball with him, but he the most amazing man to train for. We had an awful lot of fun together because he enjoyed being with the horses and the racing. When they got beaten, he took it hard."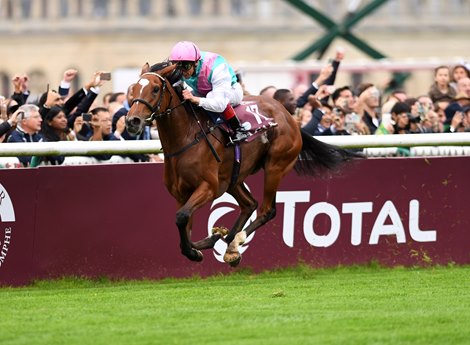 As for the future of Juddmonte, Chandler said no decisions have been made but he noted that Abdullah's sons have taken more of an interest in the breeding and racing operations over the last couple of years.
"I presume we'll keep going on," he said. "He was very much a friend, and I feel a great personal loss. The people at the farm have been with him a great many years. He wasn't just a boss, he was also a friend."
The following are remembrances of Prince Khalid Abdullah from around the racing world.
Keeneland
"Prince Khalid bin Abdullah was foremost a man of extraordinary class, and the excellence he achieved in Thoroughbred racing and breeding globally will continue to influence the breed for generations. Though he was a major presence on the international stage, we at Keeneland treasure the long friendship we enjoyed with Prince Khalid. His Juddmonte Farms is a prominent consignor and buyer at Keeneland sales, where he bought Known Fact, one of his earliest classic winners, at the 1978 July Selected Yearling Sale, and purchased his champion and Breeders' Cup Classic (G1) winner Arrogate at the 2014 September Yearling Sale. Juddmonte Farms has also strongly supported Keeneland's philanthropic mission and its racing program as sponsor of the grade 1 Juddmonte Spinster since 2005. Prince Khalid's distinctive pink, green and white silks have been carried to numerous wins at Keeneland, earning for him a Keeneland Tray as part of the track's distinguished Milestone Trophy Program. On behalf of Keeneland, we extend our deepest condolences to Prince Khalid's family and the entire Juddmonte Farms team."
Breeders' Cup
"Prince Khalid bin Abdullah was one of the world's most passionate and influential leaders in Thoroughbred racing and breeding, and one who exemplified great dignity and class. Prince Khalid was an early advocate and staunch supporter of the Breeders' Cup program and became one of its most ardent and successful owners. Under the banner of Juddmonte Farms, racing fans were thrilled by the magnificent performances of Arrogate and Enable, among the Prince's seven Breeders' Cup champions, and by the brilliance of Frankel, and many others on the international scene. We extend our heartfelt condolences to his family and to his dedicated management and staff."
Alex Waldrop, president and CEO of the National Thoroughbred Racing Association
"The contributions of Prince Khalid bin Abdullah to the Thoroughbred breeding and racing industry over the past 40 years will be felt for generations to come. From Empire Maker to Frankel to Enable, his operation produced many of this sport's all-time greats who carried his famous green, pink and white silks to victory in the world's most prestigious races. Our deepest condolences go out to his family and the entire Juddmonte Farms team."
Chauncey Morris, executive director of the Kentucky Thoroughbred Association/Kentucky Thoroughbred Owners and Breeders
"The Prince most importantly improved all that Juddmonte has been involved in: the Thoroughbred, the land, its people, and institutions. On both sides of the Atlantic, no less. Thoroughbred racing has longer legacies, to be sure, but none that equaled the success and rigid discipline, combining respect for traditions with equal adaptability towards modernity and globetrotting."
Mike Anderson, president of Churchill Downs Racetrack
"Thoroughbred racing and breeding icons like Prince Khalid bin Abdullah are few and far between. For decades, the Juddmonte Farms racing and breeding operation has represented top-class on an international stage thanks to the vision and dedication of Prince Khalid. His unforgettable pink, green and white silks made numerous trips to the Churchill Downs winner's circle with regally-bred horses—from 2001 Kentucky Oaks winner Flute to 2018 Breeders' Cup Turf champion Enable—and they are fondly remembered by the Churchill Downs family as part of his significant legacy."