Khalid Abdullah's Juddmonte Farms ranks as one of the world's most prestigious and productive breeding operations. It has few peers, with only perhaps the Aga Khan Studs and Coolmore able to match its strength in depth and achievements.
At the last count, Juddmonte had bred 113 individual group/grade 1 winners of 220 elite races, including 28 classic winners. Its produce includes household names such as Frankel, Enable, and Zafonic.
The seeds of such spectacular success were sown in the 1970s when the young owner, a scion of the Saudi royal family but self-styled with typical humility as 'Mr.' Khalid Abdullah rather than 'Prince', recruited former Newmarket trainer Humphrey Cottrill to act as his agent in order to realize lofty long-term ambitions in racing.
Cottrill bought Abdullah's first four yearlings at Newmarket in 1977. None proved to be up to scratch on the track, but in the following year he and Jeremy Tree visited Keeneland and purchased a son of In Reality for $225,000. That colt, named Known Fact, took the William Hill Middle Park Stakes (G1) and was promoted to first place in the Two Thousand Guineas (G1) upon the disqualification of Nureyev to become the first Arab-owned classic winner in Britain.
Charming Native had become the very first horse to carry the now instantly recognizable 'green, pink sash, and cap, white sleeves' into a winner's enclosure when successful at Windsor in 1979. A month later, Abeer landed the Queen Mary Stakes (G2) to notch the first of many Royal Ascot—and group race—victories for Abdullah.
Another notable first was provided by Fine Edge in 1982. The son of Sharpen Up, a future runner-up in the William Hill Sprint Championship (G2), now the Nunthorpe, was the owner's debut homebred winner. He hailed from a crop of foals produced by just nine broodmares, five of whom had been sourced from Gerald Leigh.
Abdullah was unstinting in his quest for the best when laying down the foundations of his racing and breeding empire, and during the late 1970s and early 1980s he made many big-money auction acquisitions and judicious private purchases of other breeders' stock.
"All the credit must go to Prince Khalid, who was prepared to invest very substantial sums in the best bloodstock, wonderful farms, and excellent staff," trainer Guy Harwood once reflected in an interview. "He started with the best, and if the best was available, he'd buy it."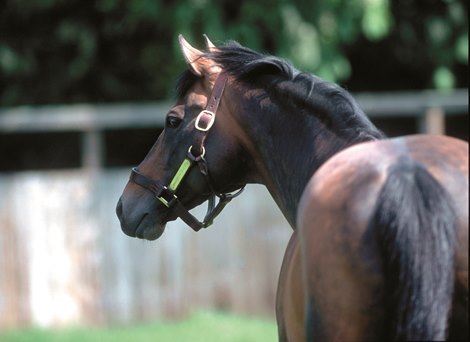 Under the guidance of James Delahooke, stud and racing manager from 1979 until 1985, future Coronation Cup (G1) and Trusthouse Forte Prix de l'Arc de Triomphe (G1) hero Rainbow Quest was bought as a yearling at Fasig-Tipton for $950,000 in 1982, and the legendary Dancing Brave was added to the team in the same location two years later for $200,000. The dams of both Rainbow Quest and Dancing Brave were eventually added to the Juddmonte broodmare band.
Another Kentucky yearling purchase of 1982 was the His Majesty filly out of Northern Dancer's half sister Spring Adieu at $350,000, while mares were procured from the nurseries of Jock Whitney, Herbert Schnapka, and Robert Sangster, with the odd filly in training purchased along the way, including Epsom Oaks (G1) runner-up Slightly Dangerous.
The wisdom of those early acquisitions was borne out not only on the track, but also in the breeding shed. Mated with Known Fact, Slightly Dangerous produced the top-class miler Warning, while the same mare's liaison with Dancing Brave produced Ever Ready Epsom Derby (G1) winner Commander in Chief.
Slightly Dangerous, a Roberto half sister to the dam of Rainbow Quest, was an exceptional broodmare for Juddmonte, also producing United States grade 1 heroine Yashmak (by Danzig), Vodafone Epsom Derby runner-up Dushyantor (by Sadler's Wells), and Budwesier Irish Derby (G1) second Deploy (by Shirley Heights), who features as damsire of one of the pre-eminent sires of the age in Dubawi.
Dancing Brave experienced modest success as a sire with his early runners and was later sold to stand in Japan, but his third-last crop conceived in Britain included Commander in Chief and another classic winner for Juddmonte in Wemyss Bight.
Kildanjan Stud Irish Oaks (G1) victress Wemyss Bight was out of 310,000 guineas Tattersalls yearling purchase Bahamian, a Marley Roof Tile Oaks Trial scorer who was herself a daughter of Mill Reef and the classic-placed Sorbus. She produced Abdullah's multiple top-level winner Beat Hollow at paddocks.
Wemyss Bight's sister Hope, also by Dancing Brave, distinguished herself as a most important mare for Juddmonte by producing Oasis Dream—a champion 2-year-old and sprinter who has developed into a blue-chip sire, supplying 17 group/grade 1 winners including the outstanding racemare Midday—and the Gainsborough Poule d'Essai des Pouliches (French One Thousand Guineas, G1) winner Zenda, who is the dam of the brilliant miler Kingman, an exciting young sire who threw Abdullah's blisteringly fast Coventry Stakes (G2) winner Calyx from his first crop of 2-year-olds.
Rainbow Quest, meanwhile, supplied three superb talents in his first crop—Abdullah's first Epsom Derby winner Quest for Fame, the Irish Oaks winner Knight's Baroness, and Arc laureate Saumarez. The stallion also gave Juddmonte their top-class talents Armiger, Raintrap, and Sunshack, although his most important legacy was arguably as a broodmare sire, his daughters producing the likes of Kingston Hill, Kris Kin, Look Here, North Light, and Rakti, albeit for other breeders.
The His Majesty filly out of Spring Adieu turned out to be Razyana, who failed to get her head in front in her racing days but produced as her first foal the General Accident Two Thousand Guineas third and Ladbroke Sprint Stakes (G1) winner Danehill. The son of Danzig played his part in a rare questionable call made by Juddmonte, as he was sold at the end of his racing career to Coolmore—for the admittedly not insignificant sum of £4 million, according to reports—before setting a record for number of group/grade 1 winners, with 84 top-level scorers sired in a stellar dual-hemisphere stallion career. Of course that decision did not preclude Juddmonte sending mares to Danehill, and they did so with remarkable results.
Success in the breeding shed continued to snowball, and Abdullah cemented his status as one of the world's foremost owner-breeders in the 1990s through the aforementioned Quest for Fame, Commander in Chief, Wemyss Bight, Raintrap, and Sunshack, as well as the likes of All At Sea, Distant View, Reams of Verse, and Toulon.
By 1999 Abdullah completed a nap hand of classics when Wince—a daughter of Selkirk who would subsequently produce the Aston Upthorpe Yorkshire Oaks (G1) winner Quiff at stud—became his first Sagitta One Thousand Guineas (G1) winner.
But arguably the iconic Juddmonte horse of the decade was Zafonic, the scintillating 2-year-old talent who stormed to a wide-margin victory in the Two Thousand Guineas. By Gone West out of Zaizafon, a daughter of Mofida—one of the mares acquired from Sangster—he looked to have got one as good as himself in his first crop in the seven-length Thoroughbred Corporation Dewhurst (G1) winner Xaar, although the son disappointed at odds-on in the Newmarket classic.
Zafonic died in a freak accident in a shuttle trip to Arrowfield Stud in Australia aged only 12, although Juddmonte and other breeders found compensation in the horse's less talented and more inexpensively priced brother Zamindar, the source of homebred group 1 winners Timepiece and Zenda and the Aga Khan's phenomenal filly Zarkava.
As the Juddmonte broodmare band matured, with those high-class fillies and their relations retired to reproduce and the more lowly achievers weeded out, momentum behind the racing operation grew in the new millennium.
Hasili—a French listed winner by Kahyasi out of Kerali, a daughter of another purchase from Sangster, William Hill Cheveley Park Stakes (G1) winner Sookera—gained immortality by producing five individual top-flight 1 winners, not including Dansili, who was six-times group/grade 1 placed and atoned for that solecism by siring 21 elite winners as a member of the Juddmonte stallion ranks. Dansili and siblings Banks Hill, Cacique, Champs Elysees, and Intercontinental were all by the discarded Danehill.
Another important family of recent times has been that descending from foundation mare Media Luna, runner-up in the 1984 Oaks. Her daughter, the Stones Bitter Park Hill Stakes (G3) winner Eva Luna, produced Soviet Moon to Sadler's Wells, in a foal sharing arrangement with Coolmore. Soviet Moon—whose group 1-winning brother Brian Boru raced for Coolmore as part of the same deal—delivered Abdullah's third Derby victor, Workforce, who would also land the Arc.
It was a similar foal sharing arrangement with Coolmore that gave Juddmonte access to Sadler's Wells' great son Galileo, from whom Abdullah bred his masterpiece, Frankel. The third dam of the unbeaten dual world champion, now admired as one of the world's leading young stallions, was one of the mares purchased from Jock Whitney, Rockfest.
Frankel exemplified how quickly Juddmonte bloodlines have taken root and transmitted powerful tendrils. He is out of Kind, a daughter of Danehill, while Kind is out of Rainbow Lake, by Rainbow Quest.
Juddmonte-nurtured names proliferate in the pedigrees of other recent stars for the stud, too. Breeders' Cup Mile (G1T) winner Expert Eye is by outside stallion Acclamation but his first two dams are by the homebreds Dansili and Distant View; Calyx's dam is a daughter of Observatory out of a mare by Quest for Fame.
The extraordinary Enable has fewer Juddmonte stallions in her genealogy but her damline is firmly anchored in the stud's history, with her fourth dam Fleet Girl one of the few Schnapka broodmares still represented in the organization's stud book.
The highest tribute that can be paid to Abdullah's triumph as an owner-breeder is that purchases of young stock have become rare, simply because they are so unnecessary; the home stallion squadron is second to none in strength in depth, containing as it does the proven Oasis Dream and exciting younger names Frankel and Kingman, while the broodmare herd is replete with high-achieving racemares, accomplished producers and relations to both.
The U.S. branch of Juddmonte has gone to market in recent years, and found the champion and record North American-trained prize-money earner Arrogate, although Abdullah's colt Tacitus—by Tapit out of homebred multiple grade 1 winner Close Hatches, whose granddam Silver Star is a Zafonic sister to Xaar—shows that the stateside breeding program functions rather well too.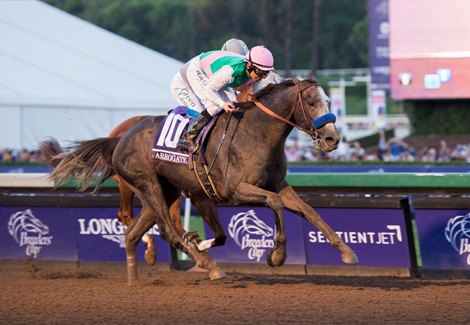 In its fifth decade of operation Juddmonte has defied repeated rumors of a wholesale dispersal although it has recently made rationalizations, streamlining the mare band to around 200 head and selling Abdullah's first farm at Wargrave in Berkshire.
It is still very much business as usual for the operation though and the central tenet of that business, authored by Abdullah, has been a laser-like focus on quality: quality racecourse performers, quality bloodlines, quality land for youngstock and quality staff for providing management, advice and stockmanship.
From Dancing Brave and Rainbow Quest through Zafonic and Xaar to Frankel, Kingman and Enable, Juddmonte have proved that quality begets quality.