What a developing top 3-year-old gets out of his morning works has become increasingly more important as the Road to the Kentucky Derby now includes fewer races than was traditional around 20 years ago.
When Country House was named the Kentucky Derby Presented by Woodford Reserve (G1) winner in 2019 after the disqualification of Maximum Security , he became the first Derby winner since Smarty Jones in 2004 to race four times at 3 prior to the First Saturday in May.
The growing importance of works prompted BloodHorse MarketWatch to take a deeper look at the work patterns of the top three Kentucky Derby finishers for 2011-20. We checked times and distances beginning Jan. 1 of their sophomore years to see if any patterns emerged. (This data mapped out for each of the top three finishers by year can be found in the May issue of BloodHorse magazine.)
Works performed early in the year offered no clear pattern among Derby winners and placers, ranging from three to seven furlongs for the first three published works of the year. The first three works for I'll Have Another , who won the 2012 Derby, were at five, six, and seven furlongs. Commanding Curve, who was runner-up to California Chrome in the 2014 Derby, started his sophomore year with a five-furlong work in :59.80 Jan. 5 and then worked six furlongs Jan. 16 (1:14.80) and Jan. 24 (1:14.60).
One indicator of how sharp a contender is coming into the Derby, however, did surface from the MarketWatch research. The average pace of the top three finishers in the Kentucky Derby from 2011-20 for their works following the last prep race was 12.25 seconds per furlong. Among the 10 Derby winners in the MarketWatch study, seven (70%) had average times below 12.25. Among the 30 top three Derby finishers, 22 (73%) had average times at or below 12.25.
As with all other Kentucky Derby trends, there are exceptions. Winners with final work averages above 12.25 include I'll Have Another (12.65), Nyquist (12.50), and Authentic (12.31). Maximum Security, who was first to the wire in the 2019 Derby but got taken down for interference, had the slowest average of 13.72, in keeping with his regular slow works. Following his 3 1/2-length win in the Xpressbet Florida Derby (G1), the son of New Year's Day worked four furlongs in :54.85, three furlongs in :42, and another four furlongs in :53.80. Country House, who immediately followed Maximum Security across the wire and was eventually declared the winner, came into the race with a sharp final works average of 12 seconds per furlong.
For this year's Derby challengers, a vast majority of the field had the average seconds/furlong for their final works fall below the 2011-20 average of 2.25. So to try to separate them further from each other, we looked at average seconds/furlong times for the 2021 field overall to see who fell above and below the threshold.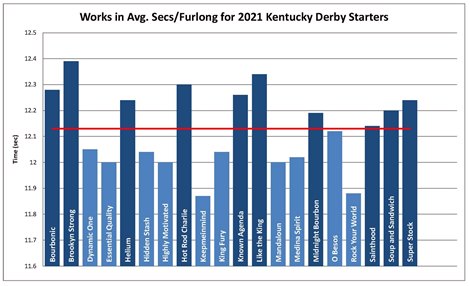 The lowest average belongs to trainer Robertino Diodoro's Keepmeinmind, a son of WinStar's Laoban , at 11.87. He won the Kentucky Jockey Club Stakes (G2) at 2 but was unplaced in the Rebel Stakes (G2) and the Toyota Blue Grass Stakes (G2). Keepmeinmind's time is close to Runhappy Santa Anita Derby (G1) winner Rock Your World at 11.88.
Also well below the average is the 2-1 morning-line favorite Essential Quality at 12. The Godolphin homebred son of Tapit had two sharp works following his win the Blue Grass Stakes. Klaravich Stables' Highly Motivated, who was second in the Blue Grass, also has an average of 12 as does Juddmonte Farms' Risen Star Stakes Presented by Lamarque Ford (G2) winner Mandaloun. Both Highly Motivated and Mandaloun are by Spendthrift Farm's two-time leading sire Into Mischief , also the sire of Authentic.
The other Kentucky Derby contenders with averages at or below 12.13 are Dynamic One (12.05), Hidden Stash (12.04), King Fury (12.04), Medina Spirit (12.02), and O Besos (12.12).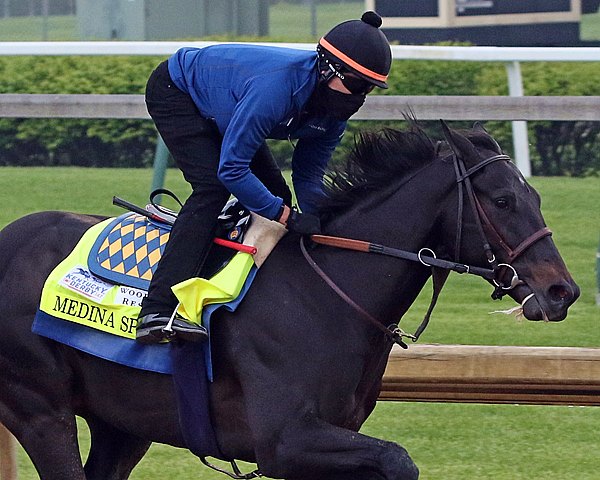 Going back to our historical analysis of 2011-20 top finishers, of the eight Derby winners whose average seconds/furlong time fell below the average of 12.25, only one did not win or place in a grade 1 stakes as a 3-year-old. Animal Kingdom found his way to Kentucky Derby winner's circle in 2011 through the Vinery Racing Spiral Stakes (G3) at Turfway Park.
Also looking at the Derby winners of 2011-20, three of the winners broke from post 15. This means Rock Your World meets at least three of the criteria shared by our analysis of Derby winners from 2011-20: his average second/furlong work time falls below both the overall average for his Derby class and the average among the top three finishers of the Derby for 2011-20; he comes into the race as a grade 1 winner, and he'll launch his Derby bid from post 15.
Another statistic skewing in Rock Your World's favor is his sire Candy Ride . Among the sires of this year's Kentucky Derby starters, Lane's End's Candy Ride has sired the second-highest number of wins (90) and second-highest number of stakes wins (11) on the dirt at Churchill Downs behind Gainesway's Tapit, who has 122 wins and 12 dirt stakes wins. By percentage of stakes wins at Churchill Downs going nine furlongs or longer, Candy Ride has 7.3% stakes wins from starts. The 22-year-old son of Ride the Rails has a stakes win percentage a hair below WinStar's Constitution , who has 7.4% stakes wins from starts. Constitution is the sire of BBN Racing's Hidden Stash.
Thoroughbred racing is a game of percentages and it's valuable to put the odds in your favor wherever possible. Then we watch the replay of the 2009 Kentucky Derby with rail-hugging Calvin Borel on Mine That Bird at 50-1.