Kentucky Derby Presented by Woodford Reserve (G1) winner Medina Spirit has cleared an initial round of pre-race testing for the May 15 Preakness Stakes (G1) at Pimlico Race Course, with the results of two additional tests expected May 14 by 3 p.m. ET, according to a release from The Stronach Group/1ST Racing.
The track owner released a statement late May 13 announcing the result of initial samples collected May 6 by the Maryland Racing Commission on Medina Spirit, fellow Preakness contender Concert Tour, and George E. Mitchell Black-Eyed Susan Stakes (G2) contender Beautiful Gift, all horses trained by Hall of Famer Bob Baffert.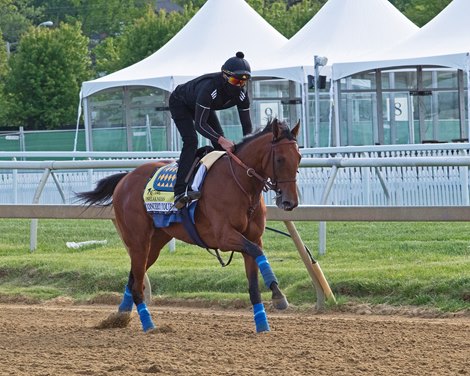 CROSBY/ANGST: Medina Spirit Tests Positive for Betamethasone
The tests were required as part of conditions of entry agreement for the Preakness after Medina Spirit failed a post-race test for the Kentucky Derby, which returned positive for 21 picograms per milliliter of blood or plasma of betamethasone, a therapeutic corticosteroid that is prohibited on raceday in Kentucky. According to Baffert, the horse was treated for dermatitis with a topical medication, Otomax, which contains betamethasone. He said he did not realize the ointment contained betamethasone until May 10, soon after he began an investigation into what might have led to the positive test.
An investigation by the Kentucky Horse Racing Commission is pending into the positive. Baffert has requested a split-sample test to confirm the overage.
ANGST/KING: Baffert: Ointment Could Have Caused Derby Drug Positive
Samples from the three Baffert horses were also collected by the Maryland Racing Commission May 10, while a third sample was taken by 1/ST Racing and the Maryland Jockey Club May 11, according to the Thursday statement.
Samples drawn May 6 and May 10 by the Maryland Racing Commission were sent to Industrial Laboratories in Colorado while the samples drawn May 11 by 1/ST Racing and the Maryland Jockey Club were sent to the University of California at Davis Maddy Laboratory.
The May 6 samples were screened for both prohibited and therapeutic substances and were reported clear for all horses Thursday by Industrial Laboratories.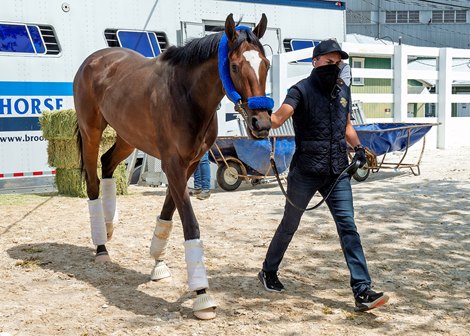 Results for the May 10 and May 11 samples will be announced publicly by 1/ST Racing and the Maryland Jockey Club upon anticipated receipt midafternoon on Friday. Post time for the Black-Eyed Susan Friday is 5:44 p.m. ET.
TSG has said any Baffert horse not showing a clear test would be scratched.
BLOODHORSE STAFF: KHRC Outlines Procedures Following Failed Drug Test
The statement added that the additional tests and monitoring "are being conducted as part of the rigorous condition of entry agreement to ensure the fairness and integrity of the races with horses entered by Baffert, which are the George E. Mitchell Black-Eyed Susan Stakes and the 146th Preakness Stakes."
Baffert also has Hozier entered on the Preakness Day undercard in the Sir Barton Stakes. That horse was not mentioned in the statement.
"1/ST Racing is committed to achieving the highest level of horse care and safety standards in Thoroughbred racing. We have been an industry leader in instituting processes and protocols that have led to nationwide medication reform and increased accountability and transparency," Craig Fravel, CEO of 1/ST Racing, said in a release. "While we acknowledge the challenging circumstances that prompted this further need for transparency, it reflects, above all else, that the principles of integrity, accountability, and safety in our sport are non-negotiable."
In addition to third-round sampling, The Stronach Group and 1/ST Racing reported the medical records for all Baffert trained horses have been reviewed by Dr. Dionne Benson, the company's chief veterinary officer.
ANGST: Derby Positive Puts Spotlight on Betamethasone
"Baffert has provided medical records covering the period of April 1 through May 10," the statement said. "Medical records for Medina Spirit reflected the dispensing of Otomax on April 9 and April 19. Otomax is a legal, topical ointment used off-label to treat dermatitis in racehorses. Medina Spirit's medical records were compared to confidential veterinary records obtained from the California Horse Racing Board which were submitted within 24 hours of those dates and have been verified.
"Baffert also voluntarily submitted radiographs of Medina Spirit's fetlocks (ankles) and carpi (knees) which his veterinarian took at Pimlico on May 12. These radiographs were reviewed by the Maryland equine medical director, 1/ST Racing's chief veterinary officer, and a Diplomat of the American College of Veterinary Surgeons that consults with 1/ST Racing and (the) Maryland Jockey Club. All three veterinarians independently determined the radiographs showed no abnormal findings."
Training Carries On Under Barnes' Eye
Baffert did not travel to Pimlico Race Course the week before Preakness as he originally planned, saying he did not want to be a "distraction." After holding a press conference May 9 at Churchill Downs to announce the positive, he returned home to California and sent assistant Jimmy Barnes—a key member of his team since the 1990s—to supervise the on-site care and training of the Baffert runners in Maryland.
"I'm used to it. I travel all the time. I'm always on the road," Barnes said. "If Bob is there sometimes, that's great. If he can't make it, I just have to pick up the slack, just march on, try to do my best, and try to produce a win."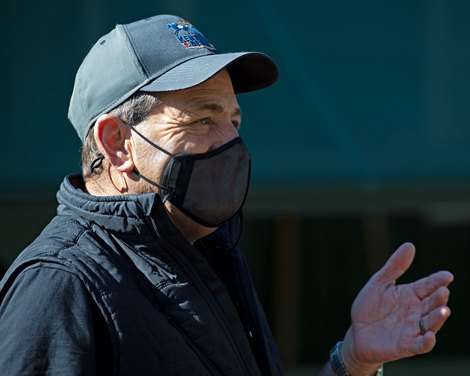 Both Medina Spirit and Concert Tour galloped 1 1/2 miles Thursday morning, with Medina Spirit going first under exercise rider Humberto Gomez.
Barnes has been alert for any signs of fatigue since Zedan Racing Stables' son of Protonico has come to the Preakness from the Kentucky Derby, where he led the way from start to finish. On Thursday, he said he has not found any.
"He had no wear and tear," Barnes said. "He came out in excellent shape and moved right ahead, forwardly. We only walked him three days and went right back to the track and jogged. That's usually a sign, how soon we get back to the track, of how happy we are with the recovery from the race."
Gary and Mary West's Concert Tour emerged as a top Kentucky Derby prospect with victories in the seven-furlong San Vicente (G2) on Feb. 6 and the 1 1/16-mile Rebel (G2) on March 13. After he finished third in the April 10 Arkansas Derby (G1), the Street Sense colt was taken off the Derby trail. Barnes said Concert Tour "looked awesome on the track" Thursday.
"We have seen what we expected to see," Barnes said. "He was a little on the light side after the Arkansas Derby and Bob and Gary West opted to pass on the Derby and run a fresh horse in the Preakness. We've basically seen everything you'd want to see. No hiccups at all. His coat is beautiful. He's eating well. He should be ready for Saturday."
Barnes said he is drawing a line through Concert Tour's Arkansas Derby.
"I know which direction he's heading, and it's the one we want to see him in," Barnes said. "He'll show up on Saturday."