John Fradkin stood on the old dirt track at Pimlico Race Course and looked up at the weather vane on top of the infield cupola. Out around the clubhouse turn, Rombauer was trotting back after winning the Preakness Stakes (G1) in an upset even his own connections had not foreseen. Now Fradkin, a longtime horseplayer and modest breeder whose two-mare operation had just produced a classic winner, found himself eying the place where the Preakness winner's silks are immediately painted in the moments after the race.
"I can't wait to see that thing in shocking pink," he said.
First Triple Crown starter, first winner for Fradkin and his wife Diane. As commercial breeders, their decision to keep and race the Twirling Candy colt was brought about by a series of events that at the time seemed unfortunate, and now appear as fate.
Aiming to sell all of the horses produced by their two mares, whether as yearlings or 2-year-olds, the Fradkins had Rombauer pointed for the 2020 Ocala Breeders' Sales Co.'s Spring Sale of 2-Year-Olds in Training. But when COVID-19 swept the nation and delayed the sale, consignor Eddie Woods told the couple to get a start under the colt's girth and sell him privately.
"The family has a history of winning early. We thought it was a pretty good plan, so we shipped him to (trainer) Michael (McCarthy) and got him going," John Fradkin said.
Early reports were discouraging.
"I was hearing he had no speed, and that's really not what you want to hear when you want to win early with a 2-year-old," Fradkin recalled.
The colt's first race—a mile turf event in July at Del Mar—resulted in a win but a lackluster speed figure. Even though it eventually came to light that the grass timer at the seaside track in California was malfunctioning, perhaps meaning Rombauer ran faster than officially recorded in his debut, there were no buyers knocking down the Fradkins' door.
So the second-generation homebred remained in their stable, eventually carrying those "shocking pink" silks to a runner-up finish in the American Pharoah (G1) stakes on dirt and to victory in the El Camino Real Derby over the synthetic track at Golden Gate Fields, a race that offered a fees-paid berth to the Preakness. After a third in the Toyota Blue Grass Stakes (G2) last out at Keeneland, McCarthy wanted to send the horse to the May 1 Kentucky Derby Presented by Woodford Reserve (G1).
But Fradkin, ever considering the odds, felt his colt would have a better shot at taking home the second jewel of the Triple Crown.
"I thought if we had run in the Kentucky Derby, even if he had run his best race ever, we were very unlikely to be top four," Fradkin said. "So we passed that race, and here we are at the Preakness with a free entry.
"You know, I can understand why Michael wanted him to run, but I think he can understand why I didn't want him to run," he continued. "I think Michael and I are actually a really good team. I think there's going to be some clash at times because I come at it from a total handicapping angle, and I'm not a horseman. ...And Michael is a consummate horseman, and I think we've got a good relationship, and we're not done here. That horse is going to do some more good."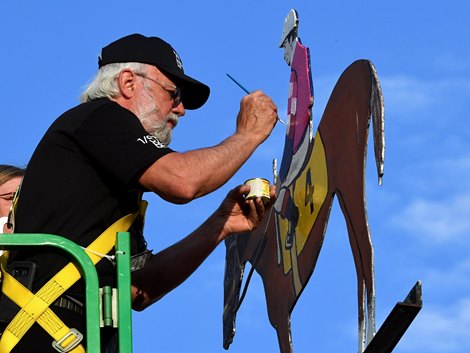 Fradkin started playing the ponies in his 20s when a co-worker introduced him to the action at Santa Anita Park.
"He said, 'John, you're an analytical guy, you'll like this, let's go to the races and I'll teach you to handicap,'" Fradkin recalled. "It sort of grew from that. ... I've gambled pretty extensively on the horses over the years. Way back in 1993, I thought if I claimed a horse, that I might learn the game from the inside, and that might be useful in my handicapping."
Fradkin took the winnings from a $25,000 claimer raced with trainer Ron Ellis named Ruff Hombre and went to the 1993 Keeneland September Sale. With help of a bloodstock agent, they bought an Afleet filly from Taylor Made Sales Agency's consignment for $10,500. Fradkin described the filly, bred in New Jersey by William Purdey, as a "little tiny thing… but also very correct."
The filly, named Ultrafleet, was sent to California where she initially raced for Ellis and later Kay Connor. She never placed as a racehorse, but the Fradkins kept her as a broodmare. What she lacked in speed, she more than made up for in genetics. Two matings to Avenue of Flags produced multiple grade 3 winner Cambiocorsa and California Flag, who won the second running of the Breeders' Cup Turf Sprint in 2009 and five grade 3 stakes.
Cambiocorsa went on to produce grade 2 winners Moulin de Mougin (by Curlin ) and Schiaparelli (Ghostzapper ) and stakes winners Bronson (Medaglia d'Oro ) and Alexis Tangier (Tiznow).
Ultrafleet also produced Vionnet, a grade 1-placed winning daughter of Street Sense who became the dam of European highweight and multiple group 1 winner Roaring Lion.
Rombauer is the fourth foal out of Ultrafleet's unraced daughter Cashmere. The daughter of Cowboy Cal has produced four winners from four to race.
"When we went out to visit him in Kentucky in his yearling year, he just had a special look—a look of eagles about him," Diane Fradkin recalled. "He was attentive. He was showing off in the paddock. He just had that look. And I remember thinking that day, 'Wow, this horse is something special.' And here we are. It just kind of all worked out. But know that, I think, makes it even more special."
Cashmere's first foal, a 6-year-old stakes-placed son of Lucky Pulpit named Cono, had been her only black-type performer prior to Rombauer. The Fradkins have boarded the mare at Ben Berger's Woodstock Farm off Old Frankfort Pike near the Fayette-Woodford county line since November 2018, when Rombauer, who was foaled at Machmer Hall, was a weanling. Like Ultrafleet, Cashmere is not a big mare, but she is very correct, according to Berger.
"She can be tough at times. If you're doing something she doesn't want you to, she makes it well known," Berger said. "Everything is in the right place, though, and she's straightforward; easy to foal and easy to breed back."
Cashmere has a 2-year-old filly by Strong Mandate named Republique, also owned by the Fradkins, and a yearling colt by Cairo Prince named Alexander Helios. She was bred last year to Khozan but was found no longer pregnant when checked last December. With Rombauer's success last year as runner-up in the American Pharoah Stakes (G1), she was bred back on an early cover to Lane's End's Twirling Candy .
Along with Cashmere, the Fradkins own one other mare, a daughter of Bertrando boarded at Old English Rancho in California. Her name, most appropriate to Saturday's situation, is Letthepartybegin.
On the Friday afternoon before the Preakness, Fradkin stepped to the swath of green grass outside the stakes barn and told the story of Rombauer's journey to the Preakness. He spoke of his expectations—"not huge"—and said he hoped his horse could hit the board. He mentioned the family's extensive turf tendencies and said if the Preakness result was not respectable, they would regroup and target races on the lawn.
In the aftermath of his colt's stunning success Saturday, it seemed as if the victory would have to take more time to sink in.
"I'm not sure this is really happening. It might be a dream," he said.