Preakness Stakes (G1)-winning trainer Michael McCarthy had been "coached" the right way as he worked his way up the ladder in the Thoroughbred world. The California-based conditioner was a valuable member of the powerful Todd Pletcher stable for 11 years before striking out on his own seven years ago.
Pletcher, of course, learned his craft from the "coach," Hall of Famer D.Wayne Lukas, who has won four renewals of the Kentucky Derby (G1) and Belmont Stakes (G1) and won six runnings of the Preakness.
Pletcher was there on Pimlico's main track to give McCarthy a hug and congratulations after John and Diane Fradkin's homebred Rombauer upset the middle jewel of the Triple Crown at 12-1.
"I'm very happy for him," Pletcher said immediately after McCarthy won with his first Preakness starter. "All of the guys are part of the team, so I was rooting for him if I couldn't do it."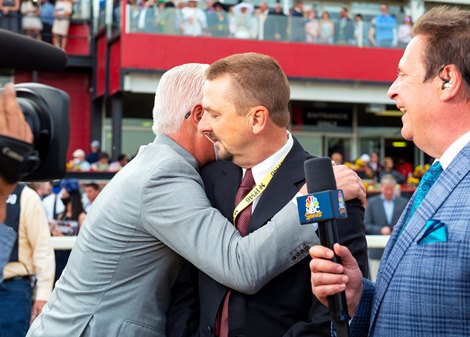 Pletcher has two Derby scores and three Belmont victories, but none in the Preakness. His trainee, Unbridled Honor, finished sixth and the Lukas-trained Ram finished 10th behind Rombauer.
"Everything we do sort of channels what we did when I worked there (with Pletcher)," McCarthy said. "I kind of always try to refer to something he would do. It's strange to me I've won something that he hasn't. I'm sure that won't last for long."
For a good chunk of his time with Pletcher, McCarthy ran the barn at Churchill Downs and was on hand to work with several classic runners from Belmont winner Rags to Riches to Uncle Mo . For a brief period in 2007 during a medication suspension for Pletcher, McCarthy filled in, earning four graded stakes victories, including the Las Virgenes Stakes (G1) with Rags to Riches and the Sham Stakes (G3) with Ravel.
McCarthy left the Pletcher barn and has his first runner in January 2014 after setting up shop in Southern California—a tough spot to break into with a small stable.
"That's what our game is built on. There are trainers who have a handful of horses who are just as well suited to train hundreds of horses," he said. "The Fradkins have a small breeding operation. They are passionate about it. They make informed decisions, to say the least. They put a lot of time and effort into it. You never know where a good horse is going to come from…I'm glad this one ended up in our lap.
He noted the Fradkins got in touch with him about a year into his new gig.
"I'm glad they looked me up…and I'm so glad I answered the phone," he said.
Seven years after subbing for Pletcher in 2007, McCarthy's next graded stakes score came in Del Mar's Bob Hope Stakes (G3) in 2014 with No Problem for P & G Stables. A grade 1 score followed in 2016 with Illuminant for Eclipse Thoroughbred Partners, Head of Plains Partners, and SF Racing in the Gamely Stakes (G1) at Santa Anita Park.
McCarthy really began to gain traction in 2017 with William and Suzanne Warren's City of Light after the colt won Santa Anita's Malibu Stakes (G1). The following year, City of Light tacked on the Triple Bend Stakes (G1), Oaklawn Handicap (G2), and culminated the year with a strong win in the Breeders' Cup Dirt Mile (G1), the first year McCarthy participated at the Breeders' Cup.
A big payday came in January 2019 when City of Light won the $9 million Pegasus World Cup Invitational Stakes (G1). Other stars for McCarthy have been Smooth Like Strait, Ce Ce, and Speech.
Prior to the Preakness, McCarthy has notched 175 wins from 1,092 starters and earnings of more than $18.3 million, according to Equibase. While he may have won races with bigger pots, the emotion he showed after the Preakness spoke volumes about his character, and his values regarding teamwork and family.
"I'm super proud of the effort from everybody that's not here today that is back at Barn 59 at Santa Anita," he said. "We'll get home and celebrate with them. There was a lot of teamwork today.
"The biggest part of my team is my family—my wife (Erin) and my daughter (Stella). It would have been nice to have them here today. Obviously, I'm wishing they were here with me today. I can't tell you the support I get from them. My wife was up at 3 a.m. California time helping me out, doing some things. This trophy is as much my family's as it is mine. I'm very happy for the horse and I'm very happy it worked out."
"It's surreal; all of it," he said post-race. "Watching live, and going back to the Jumbotron, when he hit the front, I don't think I said a word. I certainly didn't root. At least I don't think I did. I was stunned, but not really surprised."
"I don't think the journey is over," he said taking a deep breath. "We'll see where it takes us."