As the 2-year-old sales season winds down, Kevin McKathan of McKathan Bros. Sales is hoping to go out with a bang with Hip 856, a Quality Road colt that sells on the final day of the Ocala Breeders' Sales June Sale of 2-Year-Olds in Training and Horses of Racing Age.
McKathan brings the colt out of the grade 3-placed Congrats mare Tulira's Star in off a speedy breeze in :09 4/5 one of just three juveniles during the five-day under tack show for OBS June to hit that mark.
"He is a standout and has been received well in the barns—a nice horse on the end of the shank," McKathan said. "There is nothing to dislike about this horse, and he vets great."
A $100,000 RNA from Taylor Made Sales Agency's consignment to the 2020 Keeneland September Yearling Sale, the colt is from the family of Tulira, the dam of 2003 Aristides Handicap (G3) winner Mountain General.
McKathan has watched the OBS June sale grow over the years in both quality of horses and quantity of buyers.
"It gives you confidence at this sale if you come with the right horses," he said. "It's a tough market to buy in; the competition and bidding have been high."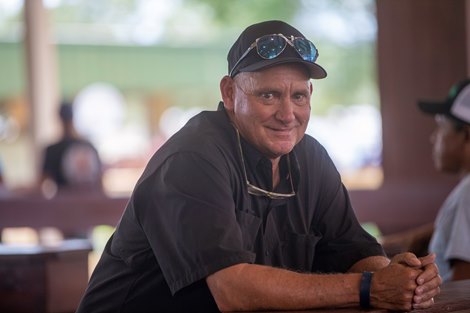 This year, McKathan said, the June sale feels upbeat.
"There is fair action in the barns; it isn't overrun with buyers looking at horses, but the right people are there, securing horses," he said. "The toughest part of the June sale is getting the middle market horses moved. You can always use more middle-market buyers."
Historically this sale has been a success for McKathan; he doesn't shy away from the calendar spot and finds it fits some horses best, especially those that need extra time.
"The good horses get sold, regardless," McKathan said. "If you can lead out the right horse, there is a market for them.
"I am lucky enough to be able to go out and purchase what we are trying to sell, for the most part. Those horses aren't cheap, but you are rewarded if they can jump through all the hoops."
This has been a good year for McKathan Bros. Sales. At the Fasig-Tipton Midlantic 2-Year-Olds in Training Sale, they sold an Empire Maker filly (now named Her Maker) out of Pontiana for $375,000 to Gervais Racing and West Point Thoroughbreds, while selling all four they consigned to that sale for gross receipts of $678,000.
"For the right horse, it has been a strong year. The ultimate thing is there are only so many good ones, and they all have to try and buy them," said McKathan.
Looking forward to the 2022 juvenile sales season, McKathan said: "Everything is trending towards an upbeat feeling going into the 2022 sales. I will gather my peanuts and play the game again. The trouble is always getting what you need. The market feels good, and people are still looking for horses."