A horse's pedigree page doesn't always tell the whole story and that's certainly the case with an AU$180,000 (US$129,732) Winning Rupert colt, the equal highest-priced yearling sold at the Jan. 16 Book 2 opening of the Magic Millions Yearling Sale session, who will join the stable of Michael Costa.
The Gold Coast trainer previously prepared the half sister to the colt and it was her ability that he witnessed on the training track each morning that saw him purchase the colt firstly as a weanling and then keep a big share of him when knocked down at the Sunday session.
The mare in question, Devine Factor was runner-up to Dubious as a 2-year-old and earned a place in the 2019 Magic Millions 2YO Classic, won by Exhilarates.
"She missed the kick and then stormed home against Dubious and at one stage she was one of the favorites for the Magic Millions, but unfortunately she went in the wind and was never the same after that," Costa said.
"I always kept tabs on the family and, for a bit of context with the colt. Grandview bought the mare and they sent her to Winning Rupert and we've just kept an eye on him.
"They were telling us how good the Winning Rupert looked, so I came out to the weanling sale, saw him, and I really liked him, so I purchased him.
"Once he went through the (yearling) sale preparation and we'd done all our inspections I had him as one of our best colts in Book 1 or Book 2.
"The only thing that held him back was probably his pedigree, but as always, we bought a type and I thought he was absolutely stunning."
Costa was immediately upfront with his clients, having purchased the colt for AU$32,000 ($24,725) at the Magic Millions National Weanling Sale last May, about wanting to keep hold of the impressively conformed son of Winning Rupert who was prepared for the Gold Coast sale on his behalf by KBL Thoroughbreds. The fourth living foal out of the unraced Argentinean mare Songbird (by Easing Along), he was cataloged as Lot 994.
From there he welcomed Archer Park Racing, a trainer-syndicator partnership in its infancy but growing fast, to take 50% share in the colt.
Costa also experienced the thrill of having a Magic MIllions 2YO Classic runner Jan. 15, his bargain AU$26,000 ($20,161) filly Perfect Mission running fourth behind hot favorite Coolangatta in the AU$2 million race.
"We would have loved to have qualified for the race a little bit earlier and given ourselves a bit more of a structured program to get into the race, but she was the best of the Queenslanders in running fourth," the Gold Coast trainer said.
"You're never quite satisfied unless you win, but our owners were just over the moon. It was a great thrill and now that we've got that little bit of a bug, it'd be lovely to have another runner next year, hopefully with this (Winning Rupert) fella."
While Costa hopes the Winning Rupert colt could replicate or even go better than Perfect Mission, Archer Park Racing's Chris Wessell has another race, the AU$1 million The Syndicate for Magic Millions graduates with 20 owners or more, already picked out for the AU$180,000 yearling.
"I tell you what, I like the syndicators' race that they're implementing. It suits our market as we try to get 20 people in every horse, rather than just two or three. More owners, the better and it's great now that they're going to have a race for them," Wessell said.
"The thing is, the prize money through Magic Millions is what builds it up, so you can understand why people want to be involved with this sale. It's only going to keep growing."
Cummings' Colt Can Make the Grade
Another trainer prepared to stick with a family he knows well was Anthony Cummings, whose homebred colt (Lot 993) by Smart Missile, a horse he also trained to be group 1-placed and win multiple group races, sold for AU$170,000 ($122,524) during the Book 2 session.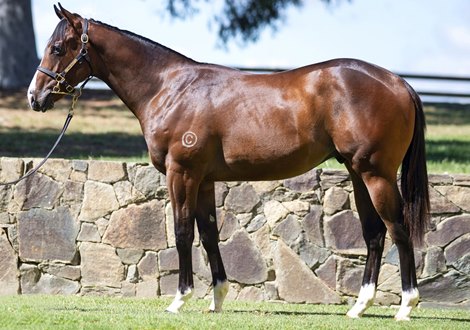 The colt, the fourth living foal out of the unraced mare Soffraaj (Iffraaj) is a half brother to Caesars Palace, a four-time winner of almost AU$200,000 for Cummings.
"I bred him, along with Caesars Palace and the rest of that family. I am always trying to be commercial and get cash flow happening," Cummings said.
"The other two were sold as older horses. Caesars Palace was sold after his first couple of trials, and the Choisir, the 2-year-old, was sold just recently (but this time) I thought I'd put him through the ring. I had a client that liked him and I finished up buying him."
It wasn't just Cummings who endorsed the colt, so too did Twin Hills Stud's Olly Tait who prepared the yearling on behalf of the trainer for the Magic Millions sale.
"Olly (Tait) had a good rap on him from day one, he liked him from the time he was born," he said.
"He thought he was the best Smart Missile to go through the sale on any of the days. He looks like a horse that's a good mover and doesn't do silly things. He's a nice horse with a good future, with the strength that he has and the way he moves."
Cummings also trained Soffraaj, but a paddock injury saw her retired before she made it to the races.
"I bought the mum as a younger horse. Unfortunately, she was injured in the paddock while she was spelling before she even got to the track," he recalled.
Soffraaj has a colt at foot by Coolmore shuttler Magna Grecia and she was covered by him again last October.
Staunton Steps in Late for Territories Colt
The second to last horse to go through the ring Sunday, a colt by Darley shuttler Territories, shares top billing, selling for AU$180,000, alongside the Winning Rupert colt after well-known agent Merrick Staunton was taken by the yearling upon inspections.
The Murrulla Stud-offered yearling, cataloged as Lot 1032, is the third live foal out of the winning mare Velvet Moon (Bernardini).
"He was a really well-presented colt from Murrulla Stud. He looks like a really strong, good style of colt who should be well placed to put through our system," said Staunton, who has an eye for identifying quality horses from outside the square.
"He's a good size, great walk, and really happy to have got him and we thought he was the pick of day one of Book 2."
Staunton revealed he had bought a Territories previously and had been pleased by his progress, which led to him paying close attention to the Murrulla-offered colt.
"We have actually purchased a Territories previously and we like what we've seen from him, so we're happy to purchase another one," he said.
"He is a different type to the other Territories that we've got. The other one is bigger and rangy but this one is a bit more of a neater, compact type of horse."
Vendor Tim Nolan was understandably "thrilled with that result."
"He was born at home and he was always a good foal who turned out to be a good yearling. He was a good walker and very compact horse that looks like he should go fast," Nolan said.
The afternoon Book 2 session didn't reach the dizzying heights of the record Book 1—which Sunday saw another three passed in yearlings change hands, pushing turnover beyond AU$229 million ($164,940,000)—but it was still up year-on-year with 11 lots selling for AU$100,000 or more.
Seventy Book 2 horses were traded at an average of AU$64,707 ($46,605), up 9%, and the median climbed AU$10,000 to AU$55,000 ($39,614). The clearance rate was 80%.
Magic Millions managing director Barry Bowditch was pleased with the way the Book 2 session gathered momentum after a slow start.
"It took a while for the vendors and the buyers to find an equilibrium, set a tone, but once we got into it I thought there was good trade," Bowditch said.
"Obviously, it's a market where there's a craving for quality and anything that maybe is a little off the pace was found out. In saying that, the gross is nearing what last year's was for this part of the sale, the average is up a reasonable number, the median's up significantly and the clearance rate will only pick up.
The Magic Millions bloodstock team were busy last night attempting to match buyers with suitable horses and Bowditch believes there is plenty of diversity in the Book 2 catalog.
"I think there are plenty of nice horses out there. Our guys have found plenty of good horses that would suit trainers, syndicators, trade sorts of horses," he said.
"As long as we've got a healthy market where the middle is increasing, and I think the median is saying that, then the willingness of vendors to meet the market will be important to how much momentum we get going into (the last selling session)."