Over the last several years owner/breeder/trader Austin Nicks has found new homes for hundreds of Thoroughbred mares, so the call he got May 2 from Indiana horseman Merrill Roberts wanting to send him a couple of mares was not unusual.
What would prove to be unusual—actually unbelievable—was revealed four days later.
One of the mares sent to Nicks was Gold Strike, a well-bred daughter of Smart Strike that Roberts bought privately in 2019 and had not been able to get in foal. Roberts was paring down his breeding operation and gave the mare to Nicks, knowing he'd find a good home for her.
"I get horses all the time," said Nicks. "My deal is similar to what I do at the sales, where I buy to resell. Some I sell the next day and some I sell a week later and some I sell two years later."
Nicks knew the mare had a 2-year-old winner in 2021 but didn't look too closely at her paperwork until Tuesday before the Kentucky Derby Presented by Woodford Reserve (G1) when he realized that winner was Rich Strike, who at that point was an also-eligible for the Derby. By Friday morning, a defection of Ethereal Road from the Derby field right before the deadline to scratch put Rich Strike in the starting gate.
"This was a lucky, freak deal," said Nicks, who bought tickets to the Derby as soon as Rich Strike was in and bet on the horse.
"Everyone knows (Todd) Pletcher and (Brad) Cox and (Steve) Asmussen, but they don't know Eric Reed and I know he runs everywhere—Indiana, Mountaineer, Belterra, Keeneland—and wins at a good percentage," he said. "I also rode (jockey) Sonny (Leon) at Mahoning, and he tried on everything he rode for me. So I knew they were going to try. I had a little faith then. But, no question, I would have never bet the horse if I didn't have the mare in the barn."
Overlooked at 80-1, Rich Strike stormed home in deep stretch to win by three-quarters of a length over favorite Epicenter .
Gold Strike's path to Tracey Caudill's Watershed Equine, where she's being boarded, is a twisting one.
Richard Bonnycastle's Harlequin Ranches in Manitoba, Canada, bred the mare out of the unraced Dixieland Brass daughter Brassy Gold. Racing as a homebred, Gold Strike was brilliant at 2, when she won two stakes, and became a champion at 3. She won the Labatt Woodbine Oaks and Selene Stakes (G3) and finished third in the Queen's Plate on her way to being honored with a Sovereign Award as champion 3-year-old filly for 2005. She was retired from racing at 4 with a 4-3-1 record from nine starts and $564,500 in earnings.
As a broodmare, Gold Strike started out with Cavendish Investing in Ontario, who bred five foals out of her, including grade 2 winner Llanarmon (by Sky Mesa ) who was campaigned by Harlequin Ranches.
The mare was offered at the 2015 Keeneland November Breeding Stock Sale in foal to Sky Mesa where Calumet Farm bought her for $230,000 from Michael C. Byrne's consignment. Calumet bred her to farm stallion Oxbow in 2016 and then-first-year sire Keen Ice in 2018. She was bred but did not get in foal for 2019 and was back at the Keeneland November sale where bloodstock agent Tommy Wente spied her in the Bluegrass Thoroughbred Services consignment and bought her for $1,700.
"I always have the people I work with looking for mares, so I have that in the back of mind when I'm at the sales, and I'm always at the sales," said Wente, who operates under the name St. Simon Place. "I thought that mare was too well bred to not buy. She had some production problems but a friend of mine, Merrill Roberts, just got a new stallion and I had that mare in mind for him to really help his stallion out."
Wente sold the mare to Roberts who was standing Sahara Sky, a grade 1-winning son of Pleasant Tap, at his Indy Dancers Training Center. Roberts struggled, however, to get the mare back in foal, which led to her transfer to Nicks.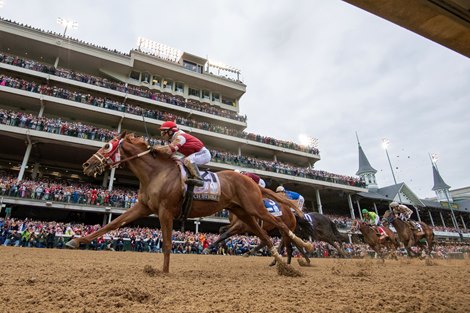 Nicks has had Gold Strike evaluated by Dr. Rocky Mason, a founding partner at Lexington Equine Medical Group, and hopes to get the mare bred within the next 10 days.
"We're going over her with a fine-tooth comb to see if we can find out what the issue is and get her in foal," he said, noting that he's not decided on a particular stallion yet. "I'm going to get her ready to breed. If someone comes with an offer before I get her bred, then they can choose. Either way, we're going to have her ready to go so we don't waste more time."
Without being able to divulge many details due to client confidentiality, Mason said he's hopeful about getting Gold Strike back in foal.
"She is an overtly healthy mare and looks the part, so we'll see what we can get done in the next couple of weeks. We're optimistic to give it a go," he said.
Gold Strike is among several modestly priced broodmares Wente acquired that have proved recently to be savvy purchases. He bought a Macho Uno grade 2-placed stakes winner named Livi Makenzie for $30,000 at the 2020 Keeneland November sale from Denali Stud's consignment. The mare's 3-year-old Pioneerof the Nile colt is Tawny Port, who won the Stonestreet Lexington Stakes (G3) at Keeneland in April and finished a respectable seventh in the Kentucky Derby.
Livi Makenzie produced a Global Campaign colt this year and is expected to be bred back to Gainesway's multiple grade 1 winner McKinzie .
Wente also bought C J's Gal (by Awesome Again) for $9,500 at the 2016 Keeneland January Horses of All Ages Sale from Vinery Sales and bought Jazz Tune (by Johannesburg) later that year at the Keeneland November sale for $20,000 from Lane's End's consignment. He bred both mares to grade 1 winner Connect and produced grade 3 winner Hidden Connection out of C J's Gal and grade 1 winner Rattle N Roll out of Jazz Tune.
"I keep the ones I want to keep but usually I have these mares sold before a sale is over," Wente said. "What is good about this story with Gold Strike is that the mare has had a good home the whole time. Merrill takes good care of his horses and though he didn't have any luck with her, she ended up in a good spot with Austin."