The spending power of Bahraini owners was once again demonstrated in Deauville as Oliver St Lawrence gave over €1 million (US$1,036,002) combined for a pair of purchases late in the session.
At €550,000 ($569,856), Lot 148 instantly became the late Zoffany's third-highest sale at public auction, a great return for Camas Park Stud who gave 80,000 guineas ($112,193) in Newmarket when the son of the Arcano mare Shortmile Lady was a foal, only to see him fail to make his reserve as a Keeneland yearling.
The colt's Raven's Pass half sister Lemista won the Kilboy Estate Stakes (G2) and the Lodge Park Stud Irish E.B.F. Park Express Stakes (G3) for Ger Lyons, before owner Peter Brant sent her stateside to join Chad Brown.
St Lawrence said: "Roger Varian saw this horse this afternoon and really liked him. He's a big, strong horse with a good shoulder on him and went very well—I think he did the ninth-fastest time—so hopefully he'll do well.
"He's for a friend and client of Fawzi Nass and Roger will train him."
That marked the lowest top price at Arqana since 2013 but trade was extremely solid overall, with the second-highest median in the sale's history at €100,000 ($103,610) and a clearance rate of 83%.
Siyouni Colt Out of Full Sister to Mecca's Angel Delights
Following two years in exile, the first lot to break the half-million euro barrier at Arqana's repatriated breeze-up sale on Friday was a Siyouni colt out of a full sister to Coolmore Nunthorpe (G1) heroine Mecca's Angel and group winner Markaz.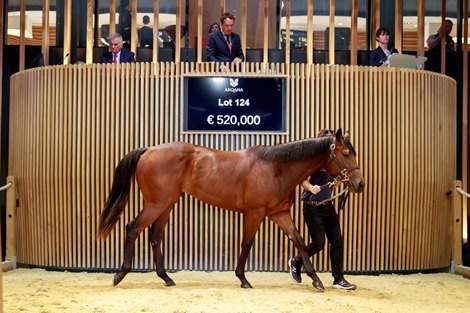 Longways' Michael Murphy gave 200,000 guineas ($286,084) at Tattersalls Book 2 last October but that mark was soon left behind, with St Lawrence once again holding sway at €520,000 ($538,565), as another high-priced purchase is set to represent Bahrain on the British stage.
"He really caught my eye and I had to spend more than I had planned to get him," said St Lawrence. "But it's a struggle to buy here today, it's a very strong market.
"He's been bought for Fawzi Nass and friend, and will be sent to Charlie Hills."
The colt's second dam Folga was picked up for 33,000 guineas, while Mecca's Angel, the first of her five products by Dark Angel, was conceived at a fee of just €7,000 and bought by Michael Dods for 16,000 guineas ($27,129) at Tattersalls in 2012.
Mecca's Angel changed hands for a great deal more money when selling privately to Coolmore at the end of a storied racing career which netted owner David Metcalfe almost £700,000 ($999,035) in win and place prize-money.
'Intelligent' Son of More Than Ready Makes His Mark
More Than Ready has been a breeze-up favorite for much of his remarkable 22-year stud career and his son offered by Grove Stud went the way of BBA Ireland's Michael Donohoe at €450,000 ($466,021).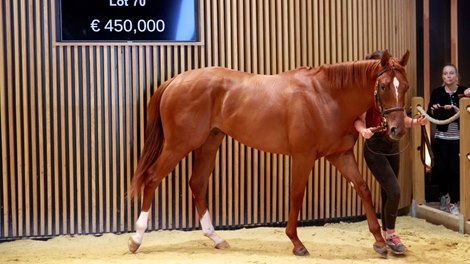 Grove's Brendan Holland gave $90,000 at Keeneland last September for the colt out of a Candy Ride half sister to the talented Meal Penalty, and his American heritage was a clear attraction for Donohoe.
"He's a smashing-looking horse and very intelligent," he said. "He did a fantastic breeze and he has a fantastic temperament so we liked everything about him.
"He's for an existing client and, while plans are undecided yet, he looks the type that could race on the turf or the dirt. He's maybe more of a dirt-type horse so may end up in the Middle East."
Reeves Has American Dream for Cracksman Filly
The already-named Forever Rose, a Cracksman daughter of the listed-placed Forever Beauty—herself a half sister to Preis der Diana (G1) heroine Feodora—made it onto the leaderboard when Stephen Hillen and owner Dean Reeves struck at €420,000 ($435,079).
The Reeves colors were most famously carried by Breeders' Cup Classic (G1) winner Mucho Macho Man , while the sale was a notable success for Church Farm and Horse Park Stud, who picked up the filly for €49,000 at BBAG.
Hillen said: "I saw her on the farm in Yorkshire and really liked her. I think Cracksman could be a top stallion and he's being received really well already.
"This filly will probably go a mile and a quarter and I think she could be really good in New York."
Reeves was delighted with Hillen's efforts and will undoubtedly be eyeing the excellent NYRA program for middle-distance turf fillies with his new acquisition.
"We really wanted a nice filly to send back to the States and she really fitted a lot of the criteria," said Reeves. "We think she could be really successful and the breeding is there for her as a future broodmare.
"We'll take our time with her and look forward to her later in the year. Christophe Clement is as good a trainer as you can find. He does a great job for us and Stephen does an excellent job in selecting the horses.
"We hope this filly will make us look pretty smart."
Will Lightning Strike Twice? Ten Sovereigns Full Brother in High Demand
Ten Sovereigns is still in the early stages of his stud career and so memories of Coolmore's Darley July Cup (G1)-winning son of No Nay Never on the track remain fresh in the mind.
Ten Sovereigns set his buyers back £200,000 ($275,961) as a Book 2 yearling at Tattersalls in 2017 and Mocklershill will have brought his full brother to the Deauville ring with ambitions to improve on that score.
Peter and Ross Doyle were the last men standing at €350,000 ($362,566) for the colt, who it is not hard to imagine may be heading for the same home as his illustrious sibling.
Ross Doyle said: "He's a nice, big, strong horse, very typical of the sire. He's obviously very closely related to a very good horse. He comes from a very good nursery and is for an existing client, and he'll probably go into training in Ireland."
Dam Seeking Solace proved to be something of a bargain when bought out of Andre Fabre's yard for 65,000 guineas at Tattersalls 11 summers ago, the Exceed And Excel mare having finished placed in the listed Prix de la Seine and fourth in the Prix Penelope (G3) for Godolphin.
Coolmore can look forward to welcoming an Exceed And Excel filly who counts Cherry Hinton (G2) winner Asfurah as her third dam, while a different branch of the same family produced the extremely speedy Magical Memory.
Bidding on behalf of M.V. Magnier, Mandore International's Nicolas de Watrigant won out at €360,000 ($372,961) for the filly, presented by Tally-Ho Stud.
"We really fell for her," said De Watrigant. "Physically she stands out and she went well in her breeze, showing a lot of quality. And she's by a very good sire."
Barry Lynch signed at €70,000 for the filly at the Goffs Sportsman's Sale last September.
Well-Related Sea The Stars Colt Catches Stroud's Eye
John and Thady Gosden will train a €300,000 ($310,710) son of Sea The Stars, who set the tills ringing as just the second lot through the ring.
Prepared by Church Farm and Horse Park Stud, the colt is a second product of the Dubawi mare La Mortola, whose five upper-case black-type siblings include Dubai Sheema Classic Presented by Longines (G1) third Jakkalberry and Better Derby Italiano (G2) hero Crackerjack King.
Standing in one of his preferred spots in the passageway to the right of the rostrum, Anthony Stroud secured the colt, who will carry the yellow and black stripes of Shaikh Khalid's KHK Racing.
Later in the session Stroud was again on the mark for a son of Sea The Moon consigned by Powerstown Stud out of the German-campaigned listed winner Enjoy The Life.
The colt's full brother Enjoy The Moon was also group 3-placed in Germany and gained his listed laurels in the Grand Prix du Nord at Chantilly.
"I really like the colt, he breezed very well, and he's from an excellent family," said Stroud, who hinted that his client may consider sending his new purchase to Britain.
Good Magic Casts a Spell
Curlin 's stallion son Good Magic was responsible for a couple of high-priced sales, with agent Kerri Radcliffe pushed to €280,000 ($289,996) to acquire a chestnut filly from the Hill 'n' Dale resident's first crop.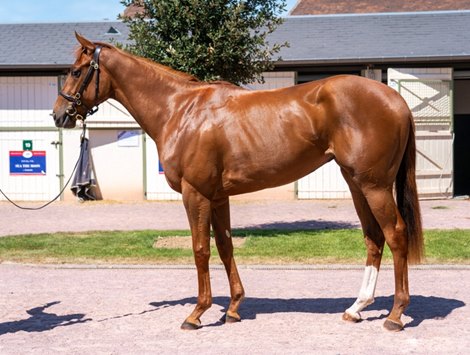 Out of the grade 2-winning Malibu Moon mare Luna Vega, the filly was well bought by Robson Aguiar for $145,000 at Saratoga.
And it was clear that the early buzz around the sire helped make up Radcliffe's mind.
"I spend so much time in America you can't miss everyone talking about the Good Magics," she said. "All the trainers and pre-trainers really like them.
"I bought him for Amo Racing, who are having a great time of things. She might need a bit longer, I think she'll be a summer filly."
Radcliffe added: "I don't know but I'd say it's more than likely she could go back to America, but that's to be decided."
The second highest-priced Good Magic will certainly be on his travels, after Marco Bozzi also paid €280,000 for a chestnut colt marketed by Powerstown Stud.
The second foal out of the Street Hero mare Vieja Luna—a real moneyspinner on the track—Saudi Arabia is set to be his new home.
Bozzi said: "We went around (a few farms) in Ireland last week and we saw the horse then. He's for a new Saudi client and this was the horse I absolutely wanted for him.
"He passed the vet, the pedigree is right, and they love Curlin. He breezed unbelievably and is very fast. I bought two horses for the client in Newmarket and this might be the pick of the three."
At €380,000 ($393,529) Blandford Bloodstock secured a filly by Lanes End's prolific stallion Twirling Candy , consigned by Malcom Bastard. Dam Church Camp was a stakes winner herself and produced the prolific Mr. Misunderstood, who topped off three grade 3 successes with victory in the Wise Dan Stakes (G2T) for Brad Cox.
'Solid and Professional' Sale
The session closed with 103 of the 132 lots offered changing hands for an aggregate of €13,573,000 ($1,4057,595), just over £1 million behind the total trade the last time the sale was held in Normandy back in May 2019.
That €100,000 ($103,560) median and an average of nearly €132,000 ($136,699) gave credence to the firm's characterization of a sale which more than fulfilled its remit for buyers and sellers.
"While there have been fewer fireworks than in past years, it has been a solid and professional sale," said Arqana's executive director Freddy Powell.
"You often here the word patchy used to describe the market, but an 83% clearance rate and the second highest median recorded says otherwise."
Powell also highlighted the truly international nature of the buyers, marking out new Middle Eastern investors particularly.
"Many of these clients have been looking only at European breeze-ups over the last couple of years so this is the first time they will have seen Deauville," he said.