It's back to the grass for J R Sanchez Racing Stable's Shake Em Loose after the claimer-turned-multiple stakes winner on dirt breezed over Laurel Park's turf course the morning of May 15. Working in company with the 6-year-old stakes-winning mare Can the Queen, Shake Em Loose and his partner were timed in :51.20 over the yielding course, with Shake Em Loose and jockey Jevian Toledo galloping out five furlongs in 1:03.
"I was pretty excited and very happy with his work on the grass, I'm going to go to the Murphy," owner-trainer Rudy Sanchez-Salomon said.
The $100,000 James W. Murphy Stakes for 3-year-olds going one mile on the grass is run May 21 at Pimlico Race Course. Shake Em Loose had been under consideration for the 147th Preakness Stakes (G1), Middle Jewel of the Triple Crown, the same day.
Shake Em Loose was nominated to the Triple Crown following his win in the March 19 Private Terms Stakes at Laurel. The 3-year-old Shakin It Up gelding was third behind Joe and Mr Jefferson last time out in the April 16 Federico Tesio Stakes.
"The horses that are coming in (for the Preakness), I don't want to go over there just to show up," Sanchez-Salomon said. "I just want the horse to be happy and let him be a racehorse, and he can continue winning races. There's a lot of races for him. I think he's a grass horse."
Shake Em Loose raced once on the grass for his previous connections, in a 1 1/16-mile maiden special weight at Laurel where he lost all chance and finished 11th after getting bumped and pinched back at the start. Two starts later, Sanchez-Salomon claimed him for $16,000.
"A race like the Preakness is really, really tough," Sanchez-Salomon said. "I like this horse a lot and I want to protect him a little bit. I don't want to push him and break his heart.
Blinkers On for Happy Jack in Preakness
Trainer Doug O'Neill experimented in the Kentucky Derby presented by Woodford Reserve (G1) with Happy Jack.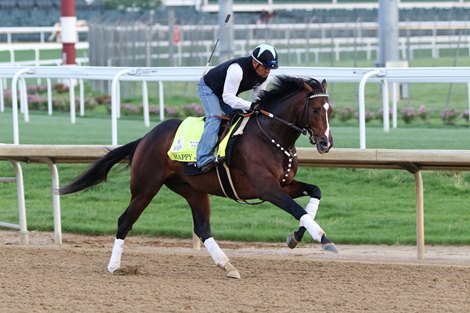 It didn't work.
So, when the son of 2013 Preakness Stakes (G1) winner Oxbow runs in Saturday's Preakness at Pimlico Race Course, O'Neill will put the blinkers back on Happy Jack.
Happy Jack wore the hood in three of his first four starts before O'Neill opted to remove them before the Run for the Roses. Happy Jack was never a factor, finishing 14th at odds of 23-1.
"In the Derby, you're trying to navigate 1 1/4 miles against 19 other horses," O'Neill said, who won the Preakness in 2012 with I'll Have Another. "By taking the blinkers off, I thought it would give him a chance to get a little breather."
Happy Jack wore the blinkers in his first career start, which he won at Santa Anita Park Jan. 22. O'Neill kept them on in the Feb. 6 Robert B. Lewis (G3) and the colt finished last in the field of five, beaten 27 1/4 lengths.
The hood came off in the March 5 San Felipe Stakes (G2) and Happy Jack was third, beaten 10 1/2 lengths. They were back on in the Runhappy Santa Anita Derby (G1) and he was third again, finishing 12 1/4 lengths behind Taiba.
Heading into the Preakness, the blinkers are going back on.
"He is kind of a grinder," O'Neill said. "I think he has to be more involved early. Hopefully, with a shorter field, a better post position and with the blinkers on, he can be more forwardly placed. He's a trier and a stayer, and I think he can make up more ground more forwardly placed."
Happy Jack is scheduled to arrive in Baltimore on Tuesday. He galloped 1 1/4 miles at Churchill Downs Sunday morning. Also arriving on the Pimlico grounds Tuesday are probable Preakness favorite Epicenter, Fern Circle Stables and Back Racing's Creative Minister, and Early Voting, who breezed five furlongs in 1:00.63 at Belmont Park on May 13 for trainer Chad Brown.
Winchell Thoroughbreds' Epicenter, the narrow runner-up in the Kentucky Derby, had his penultimate training session at Churchill Downs Sunday morning before being vanned to Baltimore Tuesday. Epicenter galloped 1 1/2 miles and will have one of Hall of Fame trainer Steve Asmussen's famous easy half-mile works early Monday.
"He seems to be pretty sharp," said assistant trainer Scott Blasi, who oversees Asmussen's Churchill division. "I love how he's doing. He galloped today like that was nothing; walked off the track with good energy. We'll put a little work in him and go. Not much to do from here on out ... (but) win," an apparent reference to Epicenter's huge effort in the Derby, when he looked like the winner in midstretch only to get passed in the final strides on the inside by 80-1 Rich Strike.
Asmussen won the Preakness in 2007 with 2007-2008 Horse of the Year Curlin and in 2009 with Horse of the Year Rachel Alexandra.
All Systems 'Go' for Un Ojo
Un Ojo, the one-eyed winner of Oaklawn Park's Rebel Stakes (G2) at 75-1 odds, came out of his Saturday workout in good order and is scheduled to van to Baltimore Monday afternoon, trainer Ricky Courville said.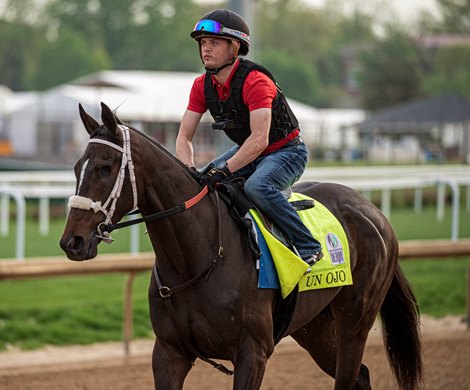 The gelding worked five-eighths of a mile at Churchill Downs in 1:02, galloping out three-quarters of a mile in a strong 1:14 3/5. He had a scheduled walk day Sunday, with his care overseen by Courville's son and assistant trainer, Clay Courville.
"I mean, we had a lot of confidence heading into the Derby," Ricky Courville said. "He was working so good over the Churchill track. Because he's not much of a workhorse, he never was. He'd work here at Copper Crowne (Training Center). It's kind of a two-turn five-eighths work over a six-furlong track. He'll go in 1:03, 1:02 if you ask him. He goes to Churchill and goes in :59 and just looks like he's loping. He was loving that track."