The initial day of enforcing Horseracing Integrity and Safety Authority registration unfolded at Belmont Park and Churchill Downs July 2 without any major issues or scratches due to licensing snafus, officials said. Interviewed track and horsemen representatives in New York and Kentucky reported few initial difficulties.
"No hiccups so far," said Ben Huffman, vice president of racing and racing secretary at Churchill Downs.
Established when the Horseracing Integrity and Safety Act was signed into federal law in 2020, the Authority is responsible for drafting and enforcing uniform safety and integrity rules in U.S. Thoroughbred racing. Overseen by the Federal Trade Commission, HISA was created to implement national, uniform rules that have long been absent in the industry. HISA is comprised of two programs: the Racetrack Safety Program, now in effect, and the Anti-Doping and Medication Control Program, planned to begin in January 2023.
The most commonplace issue in New York involved first names with people registering, for example, as Michael, and submitting the entry as Mike, which flagged the individual as being unlicensed. Those problems were corrected through a cooperative effort by New York Racing Association and New York Thoroughbred Horsemen's Association officials.
The volume of scratches at Belmont and Churchill—a small portion of which can be caused by licensing or regulatory issues on a regular basis—did not appear out of the ordinary.
"We're 1-for-1," NYRA senior vice president of racing operations Frank Gabriel said about the first day. "The horsemen were great, NYTHA was great, and HISA was great about answering our questions. Everyone worked hard on making sure everyone registered following all of the protocols of HISA."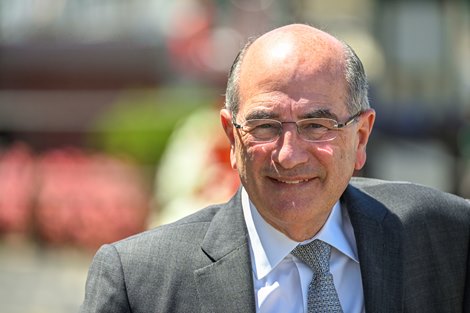 NYTHA executive director Will Alempijevic was also appreciative of the teamwork that went into a successful launch.
"The first day went exceptionally well," he said. "We appreciate all the time everyone put in. It was a monumental task that took a tremendous effort between all parties including the racetrack and the horsemen."
Before racing took place Saturday, an open letter addressed to HISA distributed by the Thoroughbred Horsemen's Association addressed issues that some believe exist in HISA rules and procedures. The letter was sent on behalf of the THA, the Kentucky Thoroughbred Association, the Thoroughbred Owners of California, and the Thoroughbred Owners and Breeders Association.
The action followed an open letter to HISA issued last week signed by four U.S. Senators, which questioned HISA's readiness.
Critics of HISA claim it creates bureaucratic red tape and additional costs without substantive policy changes that will improve safety.
While HISA registration is a free, one-time process, the NYRA circuit was assessed a $1.6 million fee for administration of the HISA Safety program. That cost is being split by NYRA and NYTHA.
NYTHA's $800,000 share will be funded by a per-start fee of $90 at Saratoga Race Course, $70 at Belmont Park, and $50 at Aqueduct Racetrack charged to owners. Plans call for the fee to be refunded to owners of horses who finish fourth or worse.
The fee is expected to start with the July 14 beginning of the Saratoga meet, but that has yet to be finalized.
California is funding HISA in a different manner, paying its $1.45 million in HISA fees via in-state advance deposit wagering access fees.
Josh Rubinstein, president and COO of Del Mar, told the California Horse Racing Board last month that the funding comes from monies that "otherwise would be distributed to purses and commissions."
Not all state regulators and racetracks have finalized funding for HISA fees.
Huffman said he is just seeing "some glitches here and there" with regard to HISA registration and other matters related to its initial introduction.
"By and large, I'm not hearing a lot of complaints," he said.
He acknowledged the introduction of HISA has led to more clerical work for the Churchill Downs racing office.
"More phone calls—we're helping, and we have questions, too, but everybody's been understanding," Huffman said. "We're emailing people, trying to get answers for this, that, or the other. They're being responsive.
"It's here—everybody's got to get through it."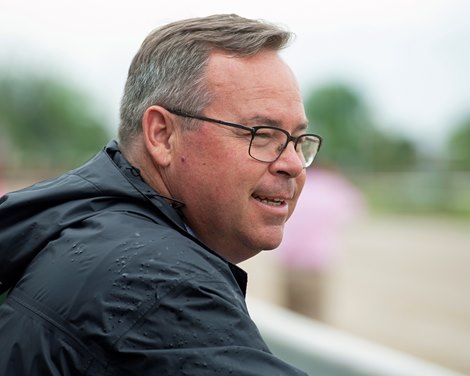 Elsewhere, handle appeared down sharply Saturday in Texas at Lone Star Park after Texas Racing Commission executive director Amy Cook did not approve sending the track's signal out of state this month in defiance of HISA oversight. The decision was backed by Lone Star and the horsemen's group in Texas, Cook previously told BloodHorse.
Without out-of-state and advance deposit wagering betting, handle for numerous exotic wagers on the card totaled less than $300 in specific races, according to Equibase charts. Some multi-race wagers, including a Pick 3 and Daily Double, were not hit in the small pools, generating payoffs to all runners in legs that had large-priced winners.