Owner/trainer Alison Escobar, who was suspended and fined Aug. 12 for continuing to train a horse with a severe tendon injury, has appealed his penalty and requested a stay of his suspension, according to the Delaware Thoroughbred Racing Commission.
Escobar was suspended for 60 days and fined $2,500 for the improper and inhumane treatment of Ashiham, a 5-year-old son of Tapit . According to Sarah Crane, DTRC executive director, the owner/trainer filed his appeal Aug. 15. Crane said she will make a decision on his request to stay the suspension before it is scheduled to start Aug. 19.
The fine and suspension follow DTRC safety steward Eric Coatrieux observing Ashiham Aug. 3 on the main track at Delaware Park lame and with a "significantly bowed left tendon," according to the DTRC ruling. Coatrieux contacted DTRC veterinarian Dr. Annie Renzetti to inspect the horse. Upon observation, Renzetti reported the horse had a lameness score of 4 on a scale of 5 and that his left front flexor tendon was warm and sore on palpation, according to the ruling. The horse was immediately put on the Vet's List and required to undergo diagnostic testing, including ultrasound, and be put on stall rest until he can be reevaluated by commission veterinarians.
Ashiham is still stabled at Delaware Park and under Escobar's care because his suspension has not started, according to Crane. The trainer did not respond to calls or texts from BloodHorse for comment.
Escobar, who races under the name Tres Potrillos Ranch, had been under scrutiny for his management of Ashiham for several months before the horse arrived at Delaware Park.
Ashiham started his racing career with Shadwell Stable, who bought him for $800,000 at the 2018 Keeneland September Yearling Sale. Shadwell raced the colt seven times, first with trainer Kiaran McLaughlin, and then with trainer Todd Pletcher for the remaining six, who got him to the winner's circle Aug. 21, 2020, at Saratoga Race Course. In March 2021, Shadwell owner Sheikh Hamdan bin Rashid Al Maktoum died and the farm went through a subsequent reduction in breeding and racing stock. As part of this reduction, Ashiham was apparently sold to Escobar.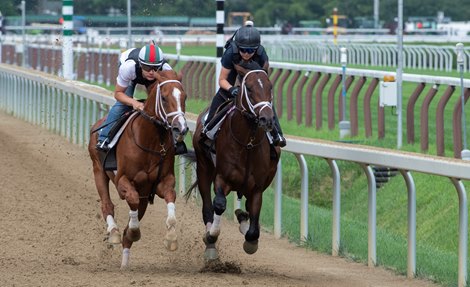 Ashiham made his first start for Escobar at Tampa Bay Downs in a March 11, 2022, allowance optional claiming race in which he finished next-to-last in an eight-horse field as the fourth choice.
Escobar entered the horse next in an April 21 race at Tampa Bay Downs where he was scratched following a pre-race exam. The track vet observed "lameness and heat in the left front flexor tendon and was placed on the Tampa Bay Downs Vets' List," according to the DTRC ruling. In testimony, Escobar reportedly acknowledged Ashiham was sore "but did not want the horse scratched because he was the morning-line favorite."
Ashiham was sent to Palm Meadows Training Center where Florida regulatory veterinarian Dr. Jane Teichner observed the horse lame on his left front while the horse was on the track after a June 9 work. Teichner contacted Escobar's practicing vet, who after an examination reported to Gulfstream Park's chief regulatory vet Dr. Carlos Aponte that "in his medical opinion Ashiham's injury was career ending."
Aponte put Ashiham on the Vet's List and required an ultrasound examination before any workout could be scheduled. According to the Delaware ruling, no ultrasound was taken. Instead, Escobar shipped the horse to Delaware Park July 12. No foal papers had been sent to the Delaware Park racing office by the time the horse arrived, according to the ruling.
Crane said as long as the horse arrived with a current health certificate, it would have been permitted on the backside. Escobar could not have entered the horse in a race, however, until its foal papers had been submitted.
Escobar reportedly testified during the Delaware stewards' inquiry that Ashiham was not under the care of a practicing veterinarian and had not been seen by any veterinarian since arriving at Delaware Park. He was subsequently sanctioned for cruelty to a horse or neglect of a horse entrusted to a permittee's care; failing to follow veterinarian medical recommendations after being placed on two separate Vet's Lists; and, participating in activity which would be inconsistent with the best interest of racing.
If the suspension holds up, Escobar will be suspended from Aug. 19 through Oct. 17 and will be denied access to all grounds under the jurisdiction of the DTRC. Before reinstatement will be considered, Escobar must pass the DTRC Trainers Test.
Equibase trainer's records show Escobar has been a licensed trainer since 2005. He raced primarily at Camarero Race Track in Puerto Rico until 2014, when he started in 47 races at Finger Lakes in New York. He stepped up his participation at U.S. tracks in 2017 and has raced in the U.S. exclusively since 2020. For his career to date, he's campaigned 779 winners, including 12 black-type stakes winners. Of his career starts, 71% have been made in claiming races.