Four years ago, David Crisp was not sure his Goldencents colt would survive.
Three days ago at Fair Grounds Race Course & Slots, that same horse—now a 4-year-old gelding named Beauregard—fought through the New Orleans slop under a barrage of rain to earn the fifth win of his career in an allowance optional claiming race for Louisiana-breds.
Crisp, a native of Arkansas, runs Southern Legacy Thoroughbreds along with his wife, Cynthia, at their farm in Texarkana, Texas, on the border of Texas and Arkansas. He vividly remembers the harrowing days when "Beau" lost his mother, Wave the Colors, only a few weeks after foaling.
"She unfortunately had a bad episode of colic. She was treated at the hospital and came through the surgery great," Crisp said. "The surgeons were really happy and I went home to Texarkana.
"I got a call a few hours later, and it was one of those that you never like to get. They said that while coming out of anesthesia she was thrashing everywhere and wound up breaking her leg."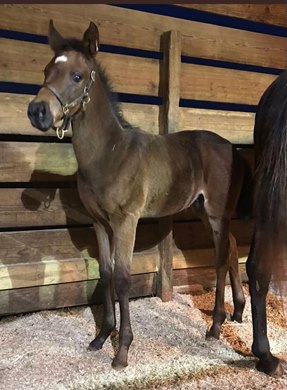 Wave the Colors had been with Crisp since he plucked her from the Fasig-Tipton 2-Year-Olds Sale in 2006. Beau was the last of seven the mare produced, including stakes-winning Private Promise, who now lives at the farm as a broodmare.
Following the dam's passing, Crisp spent the next few days trying everything he could to get Beau to feed, while scouring the neighboring communities for a replacement mare.
"He was doing really poorly at that time. We were exhausted trying different avenues of getting him to nurse from a bucket, from a bottle," Crisp said.
"We couldn't get him to do anything. He was just distraught and was getting very weak. We were having the vets come out and give him intravenous fluids."
After sending a plea for help out on social media, Crisp had multiple people helping him look for a solution. Eventually, a Canadian named Sarah Friesen connected him with Misty Knox, who was located in Dallas. Knox had a Quarter Horse mare named Hope who had recently birthed a stillborn foal.
"It was right in the middle of foaling season and we could not find a mare in that area," Crisp said. "We looked high and low and I started posting some things on Twitter. Believe it or not, that's probably what saved Beauregard's life.
"That nurse mare (Hope) had been saved out of a kill pen just recently before that and (they) did not know she was pregnant. She was an older Quarter Horse mare that had a huge growth on her side. We got her and got them both to Top Step Farm."
Located in Cross Roads, Texas, Top Step took the pair in. Crisp said he received guidance from Weems and Stephens Equine Hospital in Aubrey, Texas, that Jackie Jackson, the owner of Top Step, specialized in the care of orphan foals.
When Beau arrived and was paired with Hope, it seemed as if Crisp was in the clear. Unfortunately, the mare had other plans.
"I literally rode in the back of the trailer with him from Bossier City (La.) to Pilot Point, Texas, in the middle of the night, and we got over there and the lady at Top Step Farm had this Quarter Horse mare in a set of stocks (to restrain movement).
"We got the baby into the barn, and from the baby's standpoint it was great. It was the first time he'd nursed in several days. We thought, 'This is so wonderful.' The Quarter Horse mare did not bond with him. They tried every trick they knew and the only thing that the mare would allow him to nurse was if she was in stocks, so she couldn't kick or bite him."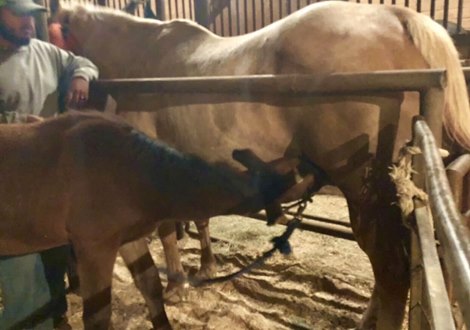 As a week dragged into 10 days of struggling to get the pair to latch onto each other, Crisp knew they needed to look for a replacement. They located a different mare and shipped her to the farm, but Beau was not interested.
"We put them together and now the baby wouldn't have anything to do with that mare and it was just screaming and carrying on," Crisp said. "They had moved Hope to the far end of the barn, 20 stalls down one side away."
To his surprise, Hope began to call back at Beau throughout the course of the night, so they brought the two back together.
"They brought Hope back down there, and they bonded. It was unbelievable. They did really well after that. I don't know if it was the separation or what, but they both decided they needed to be together," Crisp said.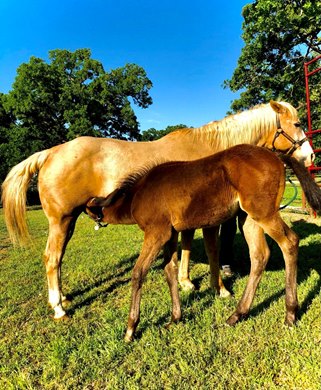 The two were together up until Beau was weaned. Crisp said the mare shipped back to her own farm but died not long after returning.
"That mare had a growth; it kept getting worse and worse. They actually had to put the mare down...It was interesting looking back on it, that the mare had been saved from a kill pen and her name was Hope."
Since his tumultuous early days, Beau has gone on to make 22 starts, including a third-place finish in the 2021 Louisiana Legends Cheval Stakes. He has $111,806 in earnings from a record of 5-3-2.
Last out, not only did he give Crisp another victory, he also earned trainer David Gomez his first win at Fair Grounds. It was the gelding's first start after a two-month layoff.
"This past Saturday, it's not even his running style, usually he runs really close to the lead," Crisp said. "He had kind of a poor break, bumped into the one horse beside him and was further back than he likes to be. It was gutsy going down the stretch on the wrong lead."
Despite the tough trip, Beauregard rallied four-wide for Reylu Gutierrez and got up by a head in the final stride.
"When I talked to David after the race, it was pretty clear that he was choked up about the fact that Beau had come back and won and that it was his first win down there...They're tickled pink that he's developed like this. He went from a foal that we didn't think was going to make it to a little over 17.2 (hands)."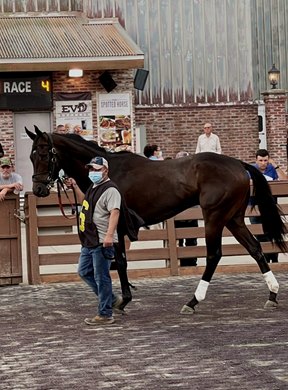 As the strapping dark bay prepares to enter his 5-year-old year, there is no telling what the he can accomplish either on the track and for whatever comes next in his career. That, however, is up to Crisp and his wife.
"Getting him away from the farm would be really tough. Cindy's really invested in him as well because we've been through quite a bit with him," Crisp said. "It would seem to me that he would have the potential to be a really nice jumper. He's big, strong, and sound.
"I say that, but we have quite a few retired racehorses at our farm that we don't seem to be able to part with...Because of his story it makes it even more special, he's just surpassed what we thought. At the (beginning), I literally thought we were losing him."