It was not just the intermittent downpours that had Thoroughbred speculators flooding into the Park Paddocks ring on Day 1 of the Tattersalls December Foal Sale on Wednesday as there was plenty of competition for the better-credentialed lots that came under the hammer.
For the majority of the session the market was led by a daughter of Bated Breath from Carisbrooke Stud who brought 80,000gns (US$101,323) from Tom Goff of Blandford Bloodstock, who signed the docket alongside Wardley Bloodstock.
The filly is out of Naqaawa, a Shadwell-bred daughter of Shamardal who ran fourth in the listed E.B.F. Stallions John Musker Fillies Stakes in the colors of Carisbrooke's Yvonne Jacques.
The dam, a 180,000gns ($241,013) purchase through Brian Grassick Bloodstock, is out of the UPM-Kymmene Cheshire Oaks winner Hammiya and therefore a sibling to the German listed scorer Shaqira and the listed-placed Adhwaa, who is better known as the dam of this year's dual group 3 winner Alflaila.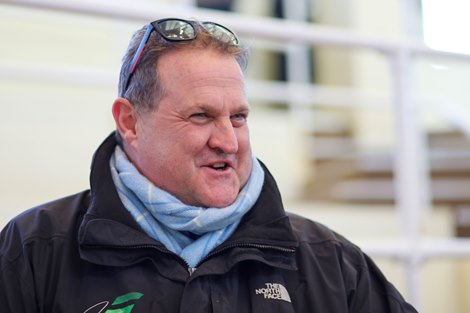 "She's a beautiful filly from a very good farm," said Goff. "It's a lovely back pedigree too and she had loads of class and quality. The stallion has had another good year too. She could be raced or she could come back to the sales next year, we'll see how she progresses through the year."
Goff revealed his purchase had been made on behalf of Rupert Gregson-Williams, the Emmy Award-nominated composer who has written scores for the likes of The Crown, Wonder Woman and Wallace and Gromit: The Curse of the Were-Rabbit.
Foley takes aim at Mohaather
The 80,000gns mark was hit for a second time late in the piece when Joe Foley landed the Mohaather colt out of Lady Freyja from Brook Stud. The dam is yet to field her first racecourse representative but possessed her share of talent and is a winning Mayson half sister to the listed-winning Party Boss and Countrywide Flame, who is best remembered for his victories in the JCB Triumph Hurdle and the Stanjames.com Fighting Fifth Hurdle in 2012.
"He looks a weapon," said Foley. "He's a lovely colt and the mother was good, she was rated 90 and was useful. We bought a Ribchester filly from the same family here in Book 3 (Lot 1,655) and I underbid Mohaather as a yearling—he was a really high-class racehorse and we were very keen to buy one by him.
"This one just looks like a proper Showcasing type of horse. He looks like a racehorse and we will try and make him a racehorse."
Strong support for Sergei
Buyers had plenty of choice when it came to foals from Whitsbury Manor Stud's Sergei Prokofiev and the two priciest first-crop representatives offered on Wednesday were signed for by Charles Shanahan, who was bidding with Ciaran 'Flash' Conroy of Glenvale Stud.
The more expensive of the brace brought 72,000gns ($91,191) when Selwood Bloodstock presented the colt out of Music Lesson, a sibling to three black-type performers, late in the session.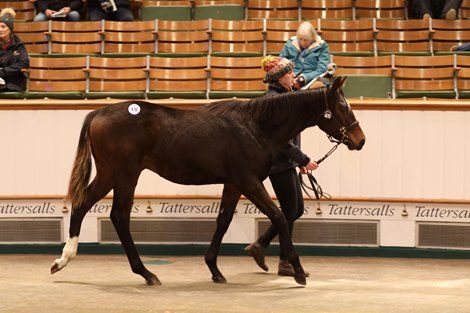 "From the moment this foal came out of the stable you could see he was a great mover, very well balanced, and had a great hind leg and loads of strength," said Shanahan, whose father Paul is a key cog in the Coolmore machine.
"Most of the foals I've seen by the stallion are the same way so he's one I'd be very keen on. I'm thrilled to get him and we'll bring him back to Ireland and then on to the yearling sales next year."
The Glenvale Stud name also appeared on the docket of the 40,000gns ($50,662) colt out of Livella Fella from W.H.R John and Partners. Sergei Prokofiev, a son of Scat Daddy, covered a debut book of 154 mares at a fee of £6,500 ($7,840).
Earthlight in demand
Another first-crop sire to enjoy a promising result was Darley's Kildangan Stud resident Earthlight, who had a colt out of the group 3-placed Some Spirit bring 65,000gns ($82,325) from Yeomanstown Stud.
"He's a cracking colt who was bred at Ladyswood, which is a lovely farm and they're great people, we love selling for them," said Tom Blain of consignor Barton Stud.
"He came here and performed well and we got a good price and I hope Yeomanstown do well with him. I've seen him throughout the year, he has been with us for five or six weeks and has been very straightforward and very professional. He's just a really nice type and I like the stock by Earthlight that I have seen."
Marley on the mark
The strength of trade at last week's Goffs November Foal Sale meant plenty of pinhookers arrived at Park Paddocks with plenty of space in their 2023 yearling sale squad. Among those was Roger Marley, who made a 55,000gns ($69,660) addition when he secured the Iffraaj colt out of La Napoule offered by Baroda Stud.
The dam, a Piccolo sister to VCBet Nunthorpe Stakes (G1) heroine La Cucaracha, has bred four winners from as many runners, with her 2-year-old, the Muhaarar gelding Tyndrum Gold, having made a winning debut since the catalog was released.
"He's been bought for a pinhooking syndicate so he'll come back for resale," said Marley. "I thought he was a nice, square colt and the dam is proven, she's four from four. I thought he was a no-brainer. I didn't buy anything last week, we couldn't get near anything, but we'll be trying again for the rest of this week so we'll see how we get on."
Another foal festival for Woodstock
While pinhookers had a heavy influence on the market they did not have everything their own way as the first foal to break the 40,000gns barrier was knocked down to Julie Wood, who signed the ticket as Woodstock.
The owner, whose colors have been carried by the likes of Olympic Glory, Strong Suit, and Zebedee, went to 46,000gns ($58,261) for the Without Parole colt out of Image of The Moon from Natton House Thoroughbreds.
Not only is the youngster from the debut crop of the Newsells Park Stud stallion but he is also the first foal out of the dam, a two-time scorer by Mukhadram whose siblings include the listed-placed Rabiosa Fiore.
The page has gained some significant updates this season as Rabiosa Fiore's daughter Amalaura landed her third listed contest in the Premio Buontalenta at Capannelle, while the mare's 2-year-old, the Saxon Warrior filly Rage of Bamby, was third behind Commissioning in the Al Basti Equiworld Dubai Rockfel Stakes (G2).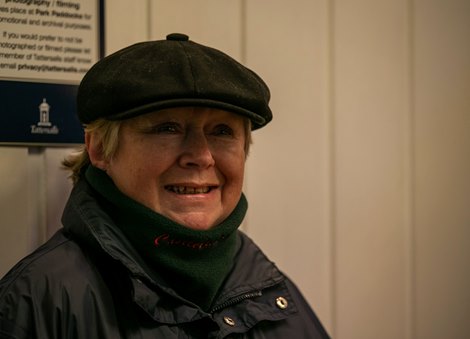 "I always buy foals to race and they all go to Richard Hannon," said Wood. "I've been with him for 22 years. I like the Frankel line, I bought a Cracksman before who I had success with so I thought I'd try to get one of the Without Paroles.
"I thought this colt was a nice make and model. I think he's got a bit of substance, presence and quality. He's got a nice walk too so I think he'll turn into a nice yearling because he's got that frame already. I've only seen a few of the Without Paroles so far, most of them are later in the week, but so far they're likeable."
The session brought turnover of 3,128,300gns ($3,962,115), which was up 19% year-on-year, an average of 16,552gns ($20,964), which was up 8%, and a median of 13,000gns ($16,465), a 30% increase on the corresponding figure of 10,000gns ($14,048) from 12 months ago.
The clearance rate was 70% as 189 lots from an expanding offering of 270 found a buyer.
The December Foal Sale continues on Thursday at 10 a.m. local time.