A blizzard of seven-figure bids blew around an icy Deauville Dec. 3 as seven lots brought €1,000,0000 or more during a drama-filled session at the Arqana Breeding Stock Sale.
The headline offering was the group 2-winning and group 1-placed Malavath, who brought a show-stopping bid of €3.2 million ($3,373,070) from Moyglare Stud after a determined display from the operation's bloodstock advisor Fiona Craig.
The 3-year-old daughter of Mehmas ran eight times for Francis-Henri Graffard and an ownership group comprising Everest Racing, David Redvers, and Barbara Keller, winning three times, including the 2021 Criterium de Maisons-Laffitte (G2).
She finished second to Kinross in this year's Qatar Prix de la Foret (G1) and also when half a length behind Pizza Bianca in last year's Breeders' Cup Juvenile Fillies Turf (G1T). The purchaser revealed Malavath will get the chance to enhance her racing record in the U.S. before heading to the Moyglare paddocks.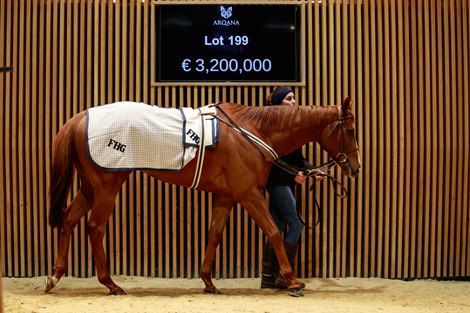 "She will stay in training," Craig said. "She'll go to America and to Christophe Clement, and we'll see if she can actually win a group 1—and she needs to at that price! But she's lovely, and physically she'll make a nice mare for Moyglare down the road. We can breed her to virtually anything, and she brings a bit of speed. We have lots of lovely mares, but they stay a long way, so now we need to inject a bit of speed, and that's what she'll bring us.
"I think America is the place for her, she obviously likes the tracks. She probably struggles to get a full mile here, whereas a mile over there should be within her compass. That's the plan anyway, not that it always works. But Eva (Maria Bucher-Haefner) liked her, and you can't pick many holes in her. We've had a good year so hopefully, it can keep rolling on."
Pedigree updates also look like a distinct possibility as Malavath is a sister to the unbeaten Virgin Bet Horris Hill Stakes (G3) winner Knight. She was making her third appearance at public auction by far her most fruitful as she was signed for by Star Bloodstock at just £29,000 ($38,766) when offered by her breeder Tally-Ho Stud as a yearling before Redvers and Meridian International went to £120,000 ($169,743) at the following year's Arqana Breeze-Up Sale.
Moyglare, which was founded by Swiss businessman and philanthropist Walter Haefner, celebrated its 60th anniversary this year and marked the occasion with a Classic success from Tattersalls Irish One Thousand Guineas (G1) winner Homeless Songs while Kyprios, who is owned in partnership with Coolmore and Westerberg, earned champion stayer status with four group 1 victories.
Reflecting on the operation's 2022, Craig said: "I was sitting here saying to Eva that we've seen some beautiful mares and in any other year we'd be buying lots, but this year we don't need to because we've got lots! We've had a lot of luck this year. I've been through the lulls and now suddenly we've got a bit of luck, so on it goes. I hope!"
Flay Makes a Play for Well-Bred Types
Celebrity chef and Breeders' Cup-winning owner-breeder Bobby Flay got involved at the head of the market on a couple of occasions with two mares secured at €925,000 ($975,028) apiece. The first was the winning and listed-placed Final Gesture from Godolphin. The 3-year-old daughter of Dubawi is out of Middleton Stakes and Oaks runner-up Secret Gesture, a Galileo sister to Japan, Mogul, and Sir Isaac Newton.
"This is the kind of pedigree that I'm really interested in," Flay said. "By Dubawi, she's got some black type, and she's out of a Galileo mare. It's very hard to attain this sort of pedigree. This is something I hope I'll have for a very long time, and my daughter will be breeding out of at some point. She'll stay here in Europe."
When asked if he had a mating plan in mind, Flay added: "Not yet, I need a few minutes! It'll be a top-three proven sire."
Secret Gesture joined the Godolphin broodmare band at a cost of $3.5 million when she was signed for by John Ferguson at the 2016 Keeneland November Breeding Stock Sale.
Later in the session, Flay went to the same price for La Motteraye Consignment's Glinting, a placed Galileo sister to Bondi Beach and Constantinople carrying to Wootton Bassett.
Seven-Figure Strike for Sweet Lady
Around ten lots earlier this year's Qatar Prix Vermeille (G1) heroine Sweet Lady brought another significant sum when hammered down to Bernie Sams of Claiborne Farm at €2.05 million ($2,160,873).
"I think she's probably going to England to get bred," said Sams, who was acting on behalf of an undisclosed client. "The man has a couple of mares in England now and that's where she'll go. Will she come back to Kentucky at some point? Probably. We'll figure out a mating plan in a bit.
"The client wanted to come to Deauville and buy something that had a race record and pedigree, and she fitted the bill. She's a pretty filly too. It's tough to buy group 1 winners whether it's here, at Tatts, or at Keeneland. I thought she'd be expensive."
Sams was unable to reveal the identity of the filly's new owner but added: "The client has a mare in Britain and has a foal by Frankel and a mare in foal to Kingman."
Sweet Lady was making her second appearance at public auction, having previously brought €100,000 ($110,910) from Paul Nataf when offered at the August Sale in 2019. She was bred by Chris Wright's Stratford Place Stud and is out of High Heel Sneakers, a homebred daughter of Dansili, who won the listed River Eden Stakes and finished second in the May Hill Stakes (G2) at 2.
High Heel Sneakers has bred three winners since retiring to the Stratford Place paddocks, as Sweet Lady is a half sister to the listed Lingfield Oaks Trial scorer Toujours L'Amour. Sweet Lady is the third generation of the family Wright has bred as he is also responsible for her grand dam Sundae Girl.
Godolphin Grab Burgarita at €1.7 million
Dual listed winner and Prix de Diane third Burgarita was knocked down to Godolphin at €1.7 million ($1,791,944), although a missed late bid meant the daughter of Sea The Stars ought to have figured higher up the market when offered by Baroda Stud.
The 4-year-old, whose black-type victories came in the Prix de la Seine and Prix Casimir Delamarre - Fonds Europeen de l'Elevage, ran 12 times for Andre Fabre and owner Ecurie Ama Zingteam, with her highest rating achieved when fourth in the 2021 Qatar Prix Vermeille (G1) won by Teona. She will now leave her racing days behind and looks set for a date with the champion sire elect.
"We thought she had the right profile," said Godolphin's Anthony Stroud. "It's a family I know well with the Wildenstein and Dayton connection. She's a good candidate for Dubawi."
Bred by Dayton Investments, Burgarita is the best of three black-type performers out of Angelita, whose brood also includes Aquamarine, winner of the Prix Allez France (G3) and dam of the listed-winning All Rumours.
Angelita is a sibling to dual grade 1 heroine Angara and the Prix Corrida (G2) winner Actrice. The pedigree goes back to Wildenstein-owned stars like Arcangues and Aquarelliste.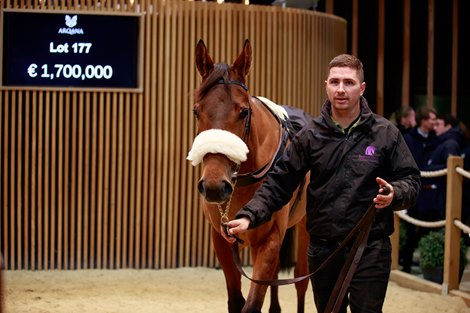 Hello You Goes to Shadai
Amo Racing received a handsome return for their purchase of Hello You for €350,000 ($412,085) at the Select Sale in 2020 as the well-bred Rockfel Stakes winner was sold on to Teruya Yoshida's Japanese powerhouse Shadai Farm for €1.55 million ($1,633,831). Bloodstock agent Patrick Barbe signed the ticket.
Offered through Ecurie des Monceaux, the 3-year-old daughter of Invincible Spirit won one race apiece for Ralph Beckett and then David Loughnane, who saddled her to her group 2 success.
"My first impression when I saw her on the sales ground was really good, and she was my pick of the day," said Shadai representative Takuya Fujita, speaking through translator Naohiro Goda. "Her conformation is perfect, and she has very good race results. More than that she's a very beautiful filly. We haven't decided yet (whether she will race again or not) as we need to talk to my boss.
"European pedigrees have had a big influence on our racing and breeding. Along with the European pedigree I try to pick up the individuals who have speed rather than stamina. This is why I chose this filly."
Earlier in the session Monceaux had offered Hello You's dam, the 13-year-old Lucrece, who went the way of BBA Ireland at €710,000 when presented in foal to Frankel. The mare, a Pivotal half-sister to the group 1-winning Signs Of Blessing, has bred three winners from five foals of racing age.
Another member of the Teruya dynasty made their presence felt during the session when Northern Farm's Katsumi Yoshida, bidding through Emmanuel de Seroux of Narvick International, went to €1.1 million for the Monceaux-consigned Thunder Drum. The Prix de Royaumont (G3)-winning daughter of Dubawi is out of Great Heavens, a group 1-winning Galileo sister to Nathaniel who won the 2012 Irish Oaks.
Times Square Heading Down Under
A strong wildcard offering included the listed-winning and group 1-placed 3-year-old Times Square who will continue her career in the southern hemisphere after selling to Hubie de Burgh for €1.25 million ($1,317,606). The agent signed the ticket alongside the name of leading Australian syndicator James Harron.
She won the listed Prix de Saint-Cyr for Christophe Ferland and was placed in the Prix Marcel Boussac (G1) behind Zellie (FR) and this year's Poule d'Essai des Pouliches won by Mangoustine (FR).
"She's been purchased to go to Australia, and she'll carry on racing down there," De Burgh said. "I can't tell you who will train her yet as the buyer is 35,000 feet up in the air at the moment! We thought the opposition was going to be very strong, so to be quite honest I thought we probably weren't going to get her."
The daughter of Zarak was bred by Times Of Wigan out of the unraced Siyouni mare See You Always, who hails from the Allan Belshaw family of top-level winners Newspaperofrecord and Latrobe, who appear beneath the third dam.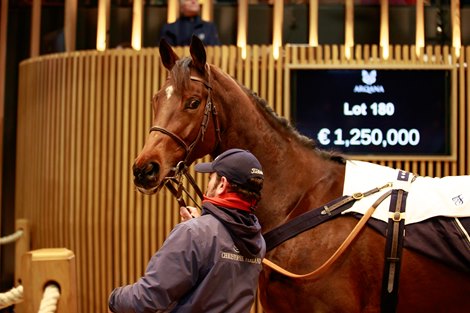 "She's already a group 1-placed two-year-old and a Classic-placed 3-year-old by Zarak out of a Siyouni mare, who are two of the great proven stallions in Europe at the moment," added De Burgh. "The family goes back well too, and the half-sister is already Group placed and won her maiden impressively, so there's lots happening. With all the prize money in Australia, if she's a good miler down there, then she could win her cost back very quickly."
Oscula Off to Support Mishriff
The Sumbe team are busy putting together the debut book of mares set to visit new recruit Mishriff and can add the triple group 3 winner Oscula to the list after Prince Faisal's Nawara Stud landed the daughter of Galileo Gold on a bid of €1 million ($1,054,084).
Consigned by Baroda Stud, Oscula carried the Nick Bradley Racing silks to six victories under the care of George Boughey, with her biggest days coming in the Prix Six Perfections Sky Sports Racing (G3), Whispering Angel Oak Tree Stakes (G3), and Prix de Lieurey (G3).
Prince Faisal's distinctive maroon silks were carried by Mishriff to top-level triumphs in the Prix du Jockey Club (G1), Longines Dubai Sheema Classic (G1), and the Juddmonte International Stakes (G1). The son of Make Believe has been introduced to breeders at a fee of €20,000.
"Prince Faisal selected her," said representative Ted Voute. "He watches all the consignors' videos and looks at all the pictures online, and he chose her to support Mishriff in his first season at stud at Sumbe. She's a bit like Mishriff as they were both tough as nails, so hopefully together they're going to produce something nice for him."
Oscula is out of Bisous Y Besos, a Big Bad Bob half sister to the listed-placed Coeur D'amour. The last time Oscula changed hands at public auction, she fetched just 4,000gns ($5,426) from Michael Aguiar at Book 4 of the Tattersalls October Yearling Sale in 2020.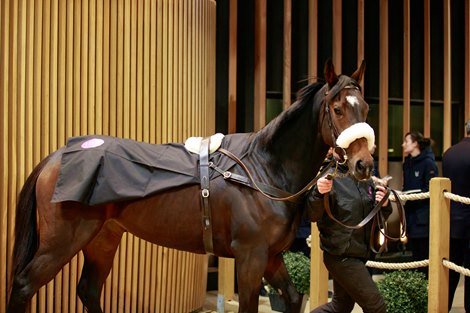 Expanding on plans to support Mishriff in his second career, Voute said: "I suspect the Prince will send half a dozen mares to Mishriff. Final plans are still in the mix, and Prince Faisal will choose the mares in the next few days once all the sales are finished and we know we've got."
Bradley offered a pragmatic reflection on the sale of his syndicate's headline performer, saying: "I don't feel like blowing up balloons or anything like that. It is what it is, it's part of the game. We try and race them at two and three and that's what we've done. We took her to the sales last year but nobody wanted her, so we increased her value significantly and had a lot of fun with her.
"I can't remember how much I paid for her, it was somewhere between 30 and 50 (thousand pounds), so it wasn't a lot of money. I'm pleased for the investors and I hope that they're happy, but she's been absolute superstar and she'll be missed next year. She was a flagship horse and a great horse to have on the team because she took us everywhere we wanted to go. Now I have to find the next one!"
The Arqana Breeding Stock Sale continues on Sunday at 10 a.m. local time (9 a.m. GMT).