Among the freshman sires to be represented in the March 20-22 Ocala Breeders' Sales March 2-Year-Olds in Training Sale, Mitole and Maximus Mischief have the greatest number of entries as of March 17.
They also are among the freshman sires whose progeny are making solid first impressions among the consignors.
"We have seven of the Mitoles between sales horses and racehorses, and they are all training really well," said Tristan de Meric with de Meric Sales. "The more we do with them, they more they are thriving. They are looking quick and early. They are solid, strong individuals with good balance and strong hips. Time will tell how far they want to go."
Mitole is an 8-year-old son of Eskendereya and four-time grade 1 winner, whose best races include winning the 2019 Breeders' Cup Sprint (G1). He was honored as 2019's Eclipse champion male sprinter. The sire is represented by 21 juveniles entered in the OBS March sale, the most among all freshman sires.
Ciaran Dunne with Wavertree Stables said the Mitoles have the look of true dirt runners.
"They are really impressive horses to watch work," he said. "They seem to be laid back, easy-going horses in their slower paces and then when you turn them loose, they really extend.
"We all get goo-goo, ga-ga over free-moving horses but those horses have a harder time on the dirt turning their stride over as quick," Dunne continued. "They're suspended too long in the air, whereas the horses who have a little shorter action, when they get moving, they can get a hold of the dirt and really grab it and drive off of it. I think that is what the Mitoles do. They aren't as impressive in their slower paces because they don't have that big loose action, but they very much have the dirt action and impress me with how they move at speed. They are strong horses with big hind ends on them."
Wavertree has Hip 61, a Mitole colt out of Sophia's Song, and Hip 277, a Mitole filly out of Awesome Figure, that both worked an eighth in :10 during the under tack show.
Maximus Mischief, a 7-year-old son of four-time North American leading sire Into Mischief and a grade 2 winner, has the next-largest group of first-crop juveniles in the sale with 20. Top Line Sales has Hip 421 in its consignment, a colt out of the Colonel John mare Denali Tizadream that was the fastest among the sire's OBS March entrants with a :9 4/5 work.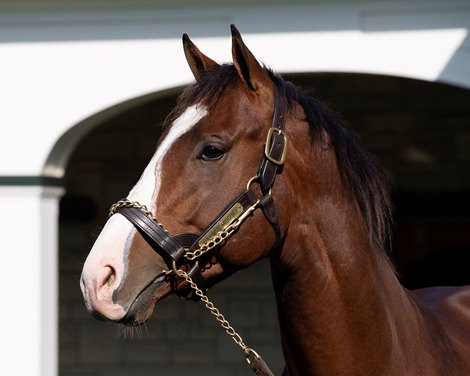 "Maximus Mischief would have to be our sleeper pick," said Torie Gladwell, who runs Top Line Sales with her husband Jimbo. "He's sure stamped them, as all the ones in our barn have that big white blaze. They catch your eye when galloping by. They are good-sized, well-muscled, and remind you of their grandsire."
Both Mitole and Maximus Mischief are part of a strong freshman sire contingent at Spendthrift Farm near Lexington that also includes three-time grade 1 winner Omaha Beach , and 2019 Breeders' Cup Classic (G1) winner and champion older dirt male Vino Rosso .
Spendthrift's general manager Ned Toffey said Omaha Beach and Vino Rosso are "1 and 1A" in terms of the feedback received about the progeny of the four freshmen, but added he is absolutely hearing a bunch of positive comments about Maximus Mischief.
"Maximus Mischief is a big horse, and his progeny are big and athletic," Toffey said. "Despite their size, they are expected to be precocious."
Toffey said Omaha Beach's progeny stood out early because they exude class.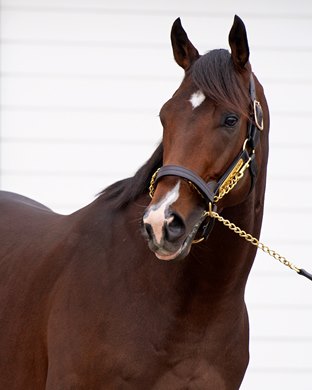 "That is the common denominator among his foals; they look classy. We have heard that from a lot of different sources. It is everything that we could have hoped to hear at this point," he said.
Regarding Vino Rosso, Toffey said the expectation has been that his progeny will get better later, as did the stallion and his sire Curlin , but early reports have been indicating some with early speed.
"They are serious about their jobs," he said. "They get out there and are all business. They bow their necks and they go. He is a good-minded horse, as is the whole group, but these are not overly leggy. They are nice-sized and well put together."
Dunne said he is impressed with the Omaha Beach progeny he has in training.
"I think he's a stallion that takes a lot from the mares. You can see the broodmare sire very much in a lot of them," he said. "We have two in March and they are very different. We have a filly (Hip 752) that is lightning fast out of an Unusual Heat mare. She has that big sprinter hip and shoulder on her. The colt (Hip 383) is as nice a colt as I have had in a long time; he is beautiful to watch training day-to-day. He won't be as quick as her but he'll be plenty quick enough. On the end of a shank, he's as pretty a horse as you'll see."
Hip 752, out of Pacific Heat, proved her speed during the under tack show with a :9 4/5 performance. Hip 383, out of the Empire Maker mare Comme Chez Soi, also produced a brilliant :10 1/5 work.
If Omaha Beach's progeny are strongly influenced by their dams, then positive early results should be expected. The dams of his first crop of 140 foals include 29% that won as 2-year-olds. The son of War Front also leads his sire class by percentage of 2-year-old winners already produced by his first dams at 28% and by percentage of 2-year-old stakes winners already produced at 7.7%, among the freshman sires with more than 35 foals.
Other freshman sires with strong representation in the March sale and getting good early reports are WinStar Farm's Audible and Lane's End's Catalina Cruiser . Both sires have 18 progeny still entered in the sale.
Audible is an 8-year-old son of Into Mischief who won the 2018 Florida Derby (G1) and was third in the Kentucky Derby (G1).
"I was super impressed with them in the fall and I am still liking them, but the way they are shaking up to me is that they might be slightly later developers," said Nick de Meric with de Meric Sales. "The ones I have are stretchier physicals … and I suspect they will be mid-to-late-summer-type horses rather than the first ones out of the box. They are impressive physicals, and they sold accordingly. He was an outstanding racehorse himself, so I have every reason to think he'll be a successful sire."
De Meric Sales has four Audibles in the March sale. Hip 124, a filly out of Texas Gem, and Hip 293, a colt out of Bear, both worked in :10 1/5. Hip 225, a filly out of Afleet Honey, and Hip 561, a colt out of Inspeight of Us, both worked in :10 2/5.
Gladwell said the Audibles they have in training are showing some early speed.
"Audibles would definitely be at the top of our list for freshman stallion picks," she said. "We have a few of them and all seem to be the early type. They have some length over their backs, a great hind leg, and are efficient movers. Plus Into Mischief has passed on his great mental attitude to his sons and their offspring and it shows. They are all lovely to work with."
De Meric also is selling a pair by Catalina Cruiser: Hip 464, a filly out of Favorably that worked in :10 2/5, and Hip 779, a colt out of Private Feeling that worked in :10. Catalina Cruiser is a five-time grade 2 winner by Union Rags that won stakes from 6 1/2 furlongs to 1 1/16 miles.
"I only have these two but I really like them," said Nick de Meric. "They do look precocious. I think they are very balanced, athletic horses. They look to me as if they will come to hand very quickly, and I expect them to make a good showing at the 2-year-old sales."
For the Florida market, the juveniles by Journeyman Stud's St Patrick's Day —a graded-placed full brother to Triple Crown winner American Pharoah —are getting noticed.
"He is a definite sleeper for Florida," said Tristan de Meric. "We have one filly that is doing everything easily, and she has caught a lot of people's eyes out here. She was an $11,000 short yearling, and she is thriving and could be a really nice horse. Both of our fillies are solid, medium-sized horses with good balance. For medium-sized horses, they can cover a ton of ground. I think he's going to be a great sire for Florida."
St Patrick's Day has nine entered in the March sale, including de Meric Sales' Hip 570, a filly out of Jazil's Dream that worked :9 4/5 during the under tack show.