1. Derma Sotogake
I've long admired from afar the Japanese breeding and racing programs as a huge fan of 1989 Horse of the Year Sunday Silence, a breed-shaping Japanese sire, and thus have often backed Japan runners shipping to international events inside or outside the United States with significant bets. The notable exception has been the Kentucky Derby (G1) as I've always favored the more traditional routes to Louisville, Ky., and avoided international runners, specifically those coming out of the UAE Derby (G2). That could change this year as I view Derma Sotogake as a significantly better Japanese win candidate than Crown Pride was a year ago, or Lani in 2016 or Master Fencer in 2019, and one of the most appealing UAE Derby winners to make (or at least planning to make) the trip from the Middle East to Kentucky.
Derma Sotogake led from start to finish in a powerhouse 5 1/2-length win in the $1 million UAE Derby March 25 on the Dubai World Cup undercard. The chestnut colt by Mind Your Biscuits won three straight dirt races in Japan to close out his 2-year-old season, all from off the pace, after starting out his career on turf. The winning streak was capped by a head victory in the Zen-Nippon Nisai Yushun, a Japan Road to the Kentucky Derby points race, when he prevailed in the closing strides after finally switching leads late in the race, something he showed vast improvement with in the UAE Derby. Derma Sotogake finished a nonthreatening third in his 3-year-old debut in the $1.5 million Saudi Derby (G3). Perhaps, he needed that race, or did not relish the surface, because he took a huge step forward in the UAE Derby, albeit against a suspect field, to improve to four wins and two thirds in six races on the dirt. He has three wins at 1 1/8 miles or longer, a terrific foundation, and the versatility to set, press, or stalk the pace. Derma Sotogake looks like a legit win candidate.
2. Kingsbarns
Kingsbarns made his stakes debut in the Louisiana Derby (G2) at Fair Grounds Race Course & Slots after posting a maiden win in January at Gulfstream Park and a 7 3/4-length romp in his second career race at Tampa Bay Downs in February. Both wins, the first at one mile and the second at one mile and 40 yards, were impressive and the Uncle Mo colt generated significant buzz among Kentucky Derby Future Wager bettors.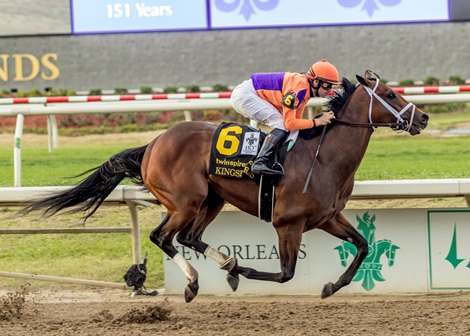 In the Louisiana Derby Kingsbarns was the second-betting favorite at 9-2 odds March 25 despite stretching out to 1 3/16 miles and trying stakes competition for the first time. He aced the exam by leading from start to finish in a 3 1/2-length victory in which he was not really challenged in the stretch. The 100 points Kingsbarns earned guarantee his spot in the Kentucky Derby with an unbeaten 3-for-3 record for Hall of Fame trainer Todd Pletcher. There was much to like and Kingsbarns is sure to gain support leading up to the May 6 first jewel of the Triple Crown, but he also already has his skeptics that argue he was allowed to set a dawdling pace through three-quarters of a mile in 1:14.69 with a slow final time of 1:57.33. He did finish well with a final three-sixteenths of a mile in :18.20, which followed a solid quarter-mile in :24.44. He earned a career-top 95 Beyer Speed Figure (a 10-point improvement) and 98 Brisnet speed rating (a three-point increase), and matched his best Equibase Speed Figure (100 in his previous start), so there is some disparity there. He only needs to stretch out an extra sixteenth of a mile in the Kentucky Derby, although the pace will surely be much faster, and broodmare sire Tapit helps that cause. There is much to like with Kingsbarns but it is very hard to trust the result from a strangely run race with such a slow pace.
3. Two Phil's
Next stop: Louisville and the Kentucky Derby for Two Phil's (after a quick two-week detour to the Hawthorne Race Course base of trainer Larry Rivelli). This Hard Spun colt has seemingly danced every dance with five graded stakes starts since October 2022. He enters the first jewel of the Triple Crown off a career-best race when romping by 5 1/4 lengths in the Jeff Ruby Steaks (G3) March 25 at Turfway Park. He earned career-best speed figures across the board in his Jeff Ruby runaway victory: 101 Beyer (13-point jump), 97 ESF (two-point improvement), and a flashy 107 Brisnet (13 points higher than his previous top). On speed figures alone Two Phil's looks like a top-flight contender for the 1 1/4-mile classic, but the breakout race came on the synthetic Tapeta Footings surface at Turfway and he has not run that fast (or even close to it according to Beyer/Brisnet) in seven previous races on dirt. Two of the past 12 Kentucky Derby winners (Animal Kingdom, 2011; Rich Strike, 2022) came out of this synthetic prep at Turfway and Two Phil's held his own against top 3-year-olds before the Jeff Ruby. He won the Street Sense Stakes (G3) at Churchill Downs and finished second in the Lecomte Stakes (G3) and third in the Risen Star Stakes (G2), both earlier this year at Fair Grounds. I'm typically pretty skeptical of Jeff Ruby runners in the Derby, but I think Two Phil's has a chance to run a big race on the first Saturday in May.