Two Rebel Stakes (G2) participants that came up just short in the 1 1/16-mile race Feb. 25 at Oaklawn Park are looking for a change in fortune April 1 in the $1.25 million Arkansas Derby (G1).
The Southern California-based Reincarnate returns to Oaklawn with his connections hopeful of a better trip in the Arkansas Derby than what he received when third in Rebel, beaten 2 1/2 lengths by Confidence Game, who is sitting out Saturday's race. Late-running Red Route One, meanwhile, looks to stay closer to the leaders after making a belated rally for second in the Rebel.
Reincarnate, a son of champion Good Magic who races for owners SF Racing, Starlight Racing, Madaket Stables, Robert Masterson, Stonestreet Stables, Jay Schoenfarber, Waves Edge Capital, and Catherine Donovan, lost valuable position when shuffled back shortly after the start and then having to check under Hall of Famer John Velazquez when sandwiched by another rival in midstretch. Reincarnate trailed by 11 lengths after the opening quarter—he had been on the early lead throughout most of his career—and was shut off moving toward the leaders in midstretch.
"We didn't have the best of luck last time," said Tim Yakteen, who took over the training of Reincarnate from Bob Baffert in late February. "Hopefully, we'll get a clean break away from there and Johnny will play the break and put himself where he feels the horse is going to be most comfortable. And that's where I would like to see the horse, is where Johnny feels the horse is most comfortable. I'd like to have us make the decision and not have that decision be made for us. I think that is sort of what took place the last time.
"I think the horse has shown versatility in his form, so, hopefully, we'll be able to play it how the break comes up. Obviously, we'd like to be closer to the pace than necessarily be completely out of it like we were the last time."
A start before the Rebel, Reincarnate, then with Baffert, was a front-running neck winner of the $98,500 Sham Stakes (G3) at a mile Jan. 8 at Santa Anita.
Winchell Thoroughbreds' strong-finishing Red Route One opened his 3-year-old campaign with a runner-up finish behind the currently-sidelined Arabian Knight in the $750,000 Southwest Stakes (G3) at 1 1/16 miles Jan. 28 before finishing second in the Rebel for Hall of Fame trainer Steve Asmussen.
Red Route One adds blinkers in the Arkansas Derby after falling far behind early in the Southwest and Rebel.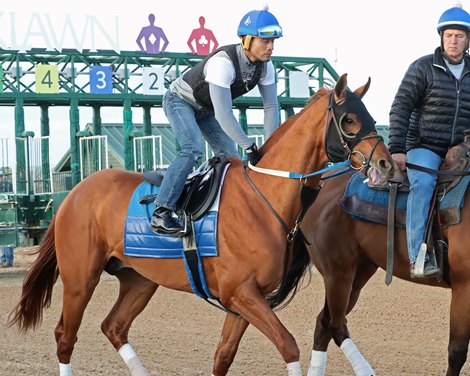 "We want him to stay a little closer early," Asmussen said. "He has given himself too much to do by dropping out the back. With keeping him closer, will it jeopardize some of his late run? We're about to find out."
Asmussen will also start Harlo Stables and Villa Rosa Farm's Harlocap, sixth in the $400,000 Risen Star Stakes (G2) at 1 1/8 miles Feb. 18 at Fair Grounds. Harlocap had previously been with Baffert on the West Coast.
Harlocap should be near the early pace, as should Mach 1 Racing and Scattered Acres' Two Eagles River, who exits a sharp entry-level allowance victory at a mile Feb. 19 at Oaklawn for 2015 local training champion Chris Hartman.
"He's been working up a storm," Hartman said of his trainee.
This press release has been edited for content and style by BloodHorse Staff.