Frank Fletcher still has Derby fever, but it's not the Kentucky kind.
Fletcher was raised in tiny Tamo, Ark., about 80 miles southeast of Hot Springs, attended the University of Arkansas, and later became a highly successful businessman in the state, with interests ranging from furs to restaurants, hotels, and automobile dealerships.
Fletcher, 80, is also a longtime Thoroughbred owner and considers Oaklawn Park, naturally, his home track. It is easy to connect the remaining dots since Oaklawn annually runs the race Fletcher covets more than any—the Arkansas Derby (G1).
Fletcher, who won his first race at Oaklawn in 1989, has started only two horses in the Arkansas Derby, finishing third in 2001 with Son of Rocket and seventh in 2007 with Officer Rocket. Both were trained by the late Bob Holthus, Oaklawn's all-time winningest trainer.
Now the colorful North Little Rock, Ark. owner will have another opportunity Saturday when his Rocket Can, trained by Hall of Famer Bill Mott, starts in the $1.25 million race. The 1 1/8-mile Arkansas Derby is Oaklawn's fourth and final Kentucky Derby (G1) points race.
"I love the Arkansas Derby," Fletcher said moments after the March 26 draw in the Larry Snyder Winner's Circle. "We love this race. I told Wally Hall (longtime Arkansas Democrat-Gazette sports editor) all my life that my whole life's dream was to win the Arkansas Derby. And if I did that, I didn't care if I ever got in the Kentucky Derby. If I were to win the Arkansas Derby, I would just probably tell Mott to go ahead and do whatever he wants to. I'm just going to stay here and get on top of this statue out front and sit there for about a week."
Rocket Can represents Fletcher's best Arkansas Derby chance to date after winning the $250,000 Holy Bull Stakes (G3) Feb. 4 and finishing second behind champion Forte in the $400,000 Fountain of Youth Stakes (G2) March 4. Both 1 1/16-mile races were at Gulfstream Park.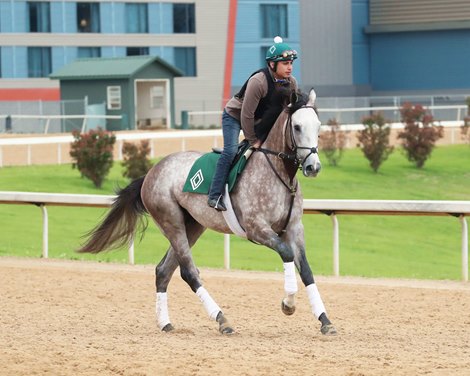 By super sire Into Mischief out of the Tapit mare Tension, Rocket Can has flourished since moving to two turns last fall. Rocket Can broke his maiden Oct. 30 at Churchill Downs, then finished second, beaten a half-length by Confidence Game, in a first-level allowance optional claimer Nov. 26 at Churchill Downs. Both races were 1 1/16 miles. Confidence Game returned to win the $1 million Rebel Stakes (G2), Oaklawn's final major prep for the Arkansas Derby, Feb. 25.
After winning the Holy Bull by three-quarters of a length, Rocket Can, in his last start, was beaten 4 1/2 lengths by Forte in the Fountain of Youth. Forte, an Eclipse Award winner at 2, is favored in Kentucky Derby future-book wagering.
"Forte was faster than us, there's no question," Fletcher said. "But he had the best trip in the world in the Fountain of Youth. He's a very fast runner, but he never got banged or hit or anything. He's going to be one of the top two or three favorites in the Kentucky Derby. But our horse is built, I like to say, more like a linebacker than a running back. He's strong and he can take a bump in that first turn and he'll keep on going."
Rocket Can, like Forte, has been based this winter and early spring in South Florida. Mott opted for a road trip after it was announced Forte would stay home and run in the $1 million Florida Derby (G1) Saturday at Gulfstream Park.
The Arkansas Derby will offer 200 points to the top-five finishers (100-40-30-20-10, respectively) toward starting eligibility for the Kentucky Derby. Rocket Can (40 points) ranks 13th on the latest Kentucky Derby leaderboard released by Churchill Downs. The Kentucky Derby is limited to 20 starters.
Fletcher and Mott have already enjoyed considerable success since reuniting several years ago, campaigning, among others, millionaire multiple graded stakes-winning female sprinter Frank's Rockette and grade 3 winner Candy Man Rocket. Fletcher said he has never pressured Mott to run one of the owner's horses in the Arkansas Derby. Mott, for example, ran Candy Man Rocket in major Kentucky Derby preps in Florida and New York—not Arkansas— in 2021. Rocket Can, a gray, is the 4-1 third choice in the program for the Arkansas Derby.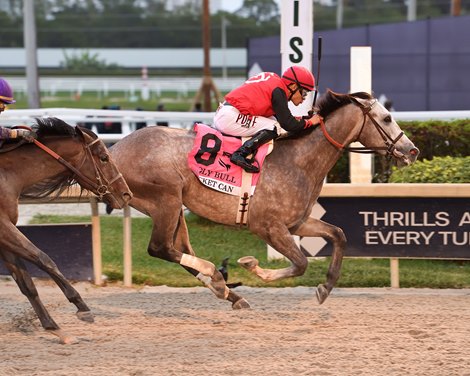 "We were looking at this race and the (April 8) Blue Grass Stakes (G1) and wanted to see who was in each," Fletcher said. "I told him I'd give anything to be in the Arkansas Derby, but if there's a better field for us in Kentucky, I'm not going to tell you not to race there. So, it turned out OK. This is my home state. This is the track I've always wanted to win on. But I felt strongly that the horse needed to have every opportunity that Mott thought he could get."
An Arkansas Derby victory would fall on the 34th anniversary of Fletcher's first overall at Oaklawn. Fletcher co-owned Fast Fan, winner of the 11th race April 1, 1989, with Holthus.
"I won't have anything to do with what they do or how they do it Saturday," Fletcher said. "I'll just be the cheerleader for it. Really, that's our position as owners. It's to step up to the line and write a check and then we become nothing but a cheerleader. I don't try to get into Mr. Mott's business. I really like him. He would never do anything that wasn't absolutely best for the horse."
This press release has been edited for content and style by BloodHorse Staff.