In a way, breeder Peter Blum predicted National Treasure's 2023 Preakness Stakes (G1) win some seven years ago.
After starting his homebred daughter of Medaglia d'Oro , Treasure, a couple of times from 2014-2016, Blum opted to retire the mare to the care of Bridie Harrison at Hurricane Place farm near Cynthiana, Ky.
"I had a feeling," Blum said. "I remember telling Bridie years ago, 'This is the one.' A few minutes after the Preakness, Bridie called to congratulate me and we recalled that conversation."
As it would turn out, there would be another "one" for Blum following that conversation as his Mr. Greeley mare, Flawless, would produce Authentic in 2017, who would go on to win the 2020 Kentucky Derby (G1) and Breeders' Cup Classic (G1) along with Horse of the Year honors.
Lightning would strike again as Blum's Treasure would produce National Treasure in 2020 and on the track the colt would share the same trainer, Bob Baffert; jockey, John Velazquez; and several owners—including Madaket Stables and Starlight Racing. Other owners of National Treasure include SF Racing, Robert Masterson, Stonestreet Stables, Jay Schoenfarber, Waves Edge Capital, and Catherine Donovan.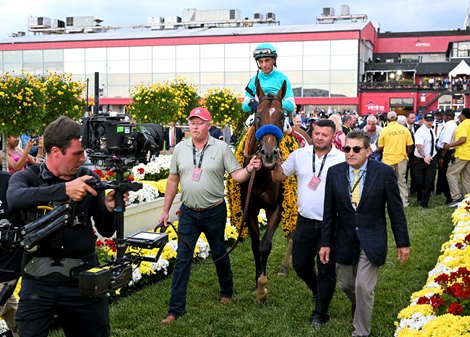 "A horse like Authentic is once in a lifetime; I never thought I was going to get a horse that good; then to have another classic winner come along," said Blum, who was recognized by the Thoroughbred Owners and Breeders Association as the 2020 National Breeder of the Year.
Blum is glad the colt he bred provided trainer Bob Baffert a Preakness win in the Hall of Famer's first Triple Crown start since the 2021 Preakness. He said Baffert and Velazquez teamed to get the best out of National Treasure.
"I was hoping for Bob's sake that the horse would win. He's a great trainer," Blum said. "We got to see this horse give 100%-plus and you have to give credit where credit is due for something like that. Bob and John Velazquez did a great job and they deserve the credit. It's an emotional win for me because I know Bob's been through a lot."
While the connections provided key finishing touches, National Treasure has been decades in the making as the son of Quality Road hails from a family Blum has nurtured. He is the sixth generation of the family that traces to the King Ranch mare Mono, who boasted a female family that traced back to Man o' War. Mono's dam was a full sister to Triple Crown winner Assault.
Blum is the breeder of Mine Only, a 1981 daughter of Mr. Prospector—Mono, by Better Self. In the case of the ties to National Treasure, Mine Only would produce a maiden daughter of Secretariat, Chosen Lady; who would produce a maiden daughter of Storm Bird, Lady of Choice; who would produce two-time winner Proposal, a daughter of Mt. Livermore. Proposal would deliver Treasure, a maiden daughter of Medaglia d'Oro. While that's three wins combined for the mares involved, the family has regularly produced graded stakes winners.
Blum raced Treasure and after she finished a close second in her Saratoga Race Course debut, he recalls pundits noting her potential to challenge for top races such as the Kentucky Oaks (G1). But he said minor physical setbacks and some bad racing luck prevented that bright racing future from taking shape. She placed in six of seven starts without a win. Between her family and what he saw on the track, Blum had faith that she could pass along those talents as a broodmare.
Blum liked Quality Road as a racehorse and he credits adviser Doug Cauthen with suggesting the sire would be a good match for Treasure (a match that would first produce a 2019 filly, Quality). Blum credited Harrison, who he has worked with for 39 years, as well as her sons Daniel and Jonathon.
In 2020 Harrison and Cauthen told BloodHorse the familiarity with the family provides many advantages.
"They're a very strong, muscular family," Harrison noted of the Mono descendants. "They have big hips, and they're nice to be around. They all have good minds; no crazies or cribbers. Over the years, we've gotten to know them so well that if we have a mare that needs more neck or more leg, we can breed them accordingly knowing what the family produces and what they're going to throw."
"We lean on Peter with regard to the tendencies of the Mono family because he really does add a wealth of knowledge there," Cauthen said. "He and Bridie have so much historical knowledge, and I'm kind of the outsider looking in trying to add currency. I get to see a lot of yearlings and 2-year-olds at sales, so I know what stallions are producing and what their tendencies are. We work hard to catch onto those and get up-and-coming sires on the rise."
Blum is campaigning the full 4-year-old sister to National Treasure, Quality, who is conditioned by Wayne Mackey and figures to join Blum's broodmare band when she finishes racing. Blum recently visited the farm and said Treasure's yearling Authentic filly, Renoir, looks spectacular. Treasure was sent back to Quality Road this season.