Following at least a dozen equine fatalities at Churchill Downs since April 27, the track announced it would suspend its spring meet beginning June 7 and shift the meet's race dates to Ellis Park starting June 10. The ongoing meet at Churchill Downs had been scheduled to run through July 3.
Ellis Park traditionally hosts a summer race meet in Kentucky that follows the Churchill spring-summer meet, typically beginning in early July and running through late August or early September.
The move comes after a review and concurrent investigations conducted by the Kentucky Horse Racing Commission and Horseracing Integrity and Safety Authority found no single factor as a potential cause and no discernable pattern linking the fatalities. Yet the track announced in a release that "in an abundance of caution, and in alignment with a recommendation from HISA" it would "relocate the meet in order to conduct a top-to-bottom review of all safety and surface protocols and integrity measures in collaboration and consultation with nationwide experts."
A release from HISA said it recommended to Churchill Downs Incorporated that racing at Churchill Downs be temporarily suspended to allow for additional comprehensive investigations into the cause of recent equine fatalities at the track. CDI agreed with and accepted this recommendation, HISA added.
"The team at Churchill Downs takes great pride in our commitment to safety and strives to set the highest standard in racing, consistently going above and beyond the regulations and policies that are required," said CDI CEO Bill Carstanjen in a release. "What has happened at our track is deeply upsetting and absolutely unacceptable. Despite our best efforts to identify a cause for the recent horse injuries, and though no issues have been linked to our racing surfaces or environment at Churchill Downs, we need to take more time to conduct a top-to-bottom review of all of the details and circumstances so that we can further strengthen our surface, safety and integrity protocols."
"In addition to our commitment to providing the safest racing environment for our participants, we have an immense responsibility as the economic engine of the Thoroughbred industry in Kentucky which provides jobs and income for thousands of families every day," Carstanjen continued. "By relocating the remainder of the meet to Ellis Park, we are able to maintain this industry ecosystem with only minor disruption. We are grateful to the Kentucky horsemen for their support, resiliency and continued partnership as we collectively work to find answers during this time."
Such changes to racing dates need to be approved by the Kentucky Horse Racing Commission. A spokeswoman for the regulator said the KHRC approved the request Friday.
"Today, Churchill Downs requested a voluntary move of their operations to Ellis Park for the remainder of their spring meet," said Kristin Voskuhl on behalf of the KHRC. "Out of an abundance of caution for the safety of all racing participants, the KHRC approved the move. The KHRC is working closely with Churchill Downs and the Horseracing Integrity & Safety Authority (HISA) on continuing investigations into the recent equine fatalities."
In its release the track did not state why it chose to race through the weekend, nor did it immediately announce a purse and stakes program for Ellis Park.
"Even as an owner who just ran a horse at Churchill Downs and hopes/believes the track is likely ok, I absolutely can't support running this weekend after a decision to move has been made public," owner Justin Nicholson tweeted in response to plans for scheduled racing June 3-4. "Let's make the best of a bad moment and just call the weekend off please."
The track has numerous stakes races scheduled Saturday.
Churchill Downs Inc. purchased Ellis Park last year for $79 million. The Henderson, Ky., track traditionally runs during the summer for smaller purses than those offered at Churchill Downs, though its purses have grown from historical horse racing gaming revenue and purse funds transferred there from tracks with even more profitable HHR gaming.
Attendance and betting at Ellis Park are typically much lower than at Churchill Downs.
Ellis and Churchill employ some of the same individuals within their racing departments, though other seasonal employees at Churchill Downs could be affected by its suspension of operations, such as those involved in customer-service positions.
Earlier this week in a media teleconference, HISA CEO Lisa Lazarus said she would not take lightly the decision to possibly suspend racing, mentioning individuals whose livelihoods come from the sport.
"HISA's highest priority is the safety and well-being of equine and human athletes competing under our jurisdiction," she said in a Friday release. "Given that we have been so far unable to draw conclusions about the cause of the recent equine fatalities at Churchill Downs, and therefore have been unable to recommend or require interventions that we felt would adequately ensure the safety of the horses running there, we made the decision to recommend to CDI that they temporarily suspend racing at Churchill Downs while additional reviews continue. We know that CDI and the KHRC share our goal of ensuring safety above all else, and we appreciate their thoughtfulness and cooperation through these challenging moments. We will continue to seek answers and work with everyone involved to ensure that horses are running safely at Churchill Downs again in the near future."
The high number of equine fatalities this spring at Churchill led veterinarians from HISA, Churchill Downs, and the Kentucky Horse Racing Commission to convene a veterinary summit this week and have an independent racetrack evaluation completed by West Coast track superintendent Dennis Moore.
According to HISA, Moore reported no primary areas for concern with his analysis of the Churchill Downs surface and has verified that the various track metrics analyzed are consistent with previous years.
The track and HISA announced changes June 1 meant to improve equine safety. Churchill's safety initiatives will remain in effect for the remainder of this meet at Ellis Park.
The fatalities at Churchill Downs occurred on the dirt track and turf course, in racing and during training. One accident occurred in the paddock. At least three of the equine fatalities are not breakdowns—the paddock accident and two sudden deaths during or shortly after races on the turf course.
Churchill Downs' fatality numbers still have the potential to grow in the coming weeks despite the current meet moving to Ellis Park, owing to many horses stabling at the Louisville, Ky., track and training there. The track is among the most popular training bases utilized by horsemen. Traditionally during the summer months, many horsemen have opted to remain to train their horses at Churchill Downs before vanning them approximately two hours to race at Ellis Park in the northwestern part of the state.
In a June 1 meeting between horsemen and track officials, horsemen expressed concerns about rocks found this spring within the surface of the Churchill Downs main track. Churchill Downs officials informed them they were addressing those concerns.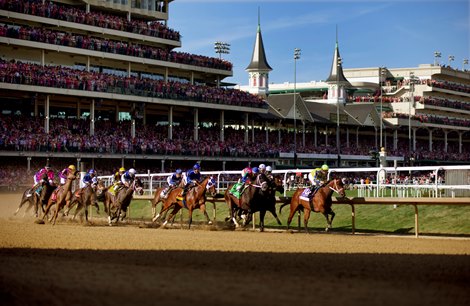 Immediate reaction from horsemen to the Churchill Downs meet moving to Ellis Park was mixed, with the Kentucky Horsemen's Benevolent and Protective Association doubting the necessity for the move.
"Horsemen question the purpose of this unprecedented step, especially without conclusive evidence that there is a problem with the racetrack at Churchill Downs," said Kentucky HBPA president Rick Hiles. "We all want to find solutions that will improve safety for horses. However, we need to discuss allowing trainers and veterinarians to use therapeutic medications that greatly lessen the risk of breakdowns. Drastic steps, such as relocating an active race meet, should only be considered when it is certain to make a difference."
Trainer Neil Pessin wondered how many trainers will ship their horses to Ellis.
"I'd prefer it stay at Churchill. I don't think too many of the trainers are going to be in favor of it going to Ellis," Pessin said. "There's nothing we can do about it. If that's what management wants to do, that's what we'll do, but I'd prefer not to ship."
Asked about his thoughts on the ongoing situation at Churchill Downs, Pessin said, "I think it has been unfortunate incidents that have happened here and they're bowing to public pressure."
Trainer Mike Maker called the move "better than canceling. It's a good alternative."
Jason Barkley, who has 12 starts at the Churchill Downs meet, is already primarily stabled at Ellis with 27 stalls and also has 10 stalls at Churchill's Trackside Training Center.
"I have no real qualms with (moving the meet)," Barkley said. "It gives them more time to do whatever they want to do to the Churchill surface.
"We're going to have an option to race, it's close, we've got everything at our disposal. It should work pretty seamlessly."
Barkley is a member of the Kentucky HBPA's Board of Directors. He had no complaints about the Churchill Downs surfaces and has found the main track "consistent" in the afternoons for his runners.
"Everyone came back in good order and a few of them may have come back better," he said.
Barkley is a fan of Ellis's main track and has been training on it since early May. "It's been really safe, really good, horses are getting over it really well," he said. "This has always been one of the kinder surfaces in Kentucky so hopefully it stays that way."
Frank Angst and Jim Mulvihill contributed to this story.