The Thoroughbred racing industry suffered a big loss Nov. 14 when long-time owner/breeder, prominent Midwest business leader, enormously successful entrepreneur, and philanthropist Robert Lothenbach died in his sleep. He was 64.
"You just can't replace a person like Bob—businesswise and or personally," said trainer Neil Pessin, who most recently raced Lothenbach's five-time graded stakes winner, grade 1 winner, and multimillionaire Bell's the One. "He was good for the industry in that he bought horses at the sales, he owned mares, and he raced. He was involved in every facet."
Pessin said Lothenbach's breeding and racing operations include around 200 head, with approximately 40 of those broodmares. Just this year, Lothenbach had purchased 21 yearlings at auction for more than $3.8 million.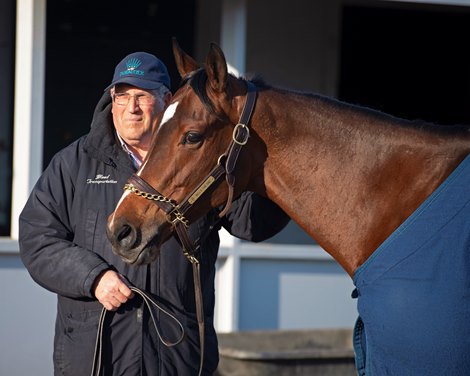 Equibase shows the Lothenbach Stables since 2000 and through Nov. 15 won 793 races and banked nearly $30.29 million in purses. Since 1992, Lothenbach celebrated the feats of 37 black-type winners that included 12 graded stakes winners. His graded stakes winners won 19 graded stakes for Pessin and trainers Chris Block, Ian Wilkes, and Carl Nafzger.
As a breeder, Lothenbach's mares produced 21 black-type winners, of which 13 were raced as homebreds.
"He was the best owner a trainer could ever ask for," said Chris Block, who raced for Lothenbach more than 25 years. "Bob regularly supplied us with quality horses he either bred or bought at the sales and never questioned how a horse was brought a long or where it was placed to race. He took the good news with the bad and was tremendously loyal to all his trainers. It is a crushing blow to me personally but also to the industry."
Driven by a fascination with horses since he was a teenager, the Minnesota native found an opening to get involved when Canterbury Park—only minutes from his home—opened in the mid-1980s. Lothenbach and three friends pooled $1,000 each and claimed a horse that he recalled "did pretty well." He claimed a few more with friends and then decided to make his own way.
Saint Ballado gave Lothenbach his first taste of big-time racing in 1992. Trainer Clint Goodrich found the colt as part of a two-horse package. Lothenbach bought 40%, Steve Herold bought 40%, and Goodrich took 20%. The full brother to grade 1 winners Glorious Song and Devil's Bag appeared he'd be a good allowance horse early in his 3-year-old year, and then he earned an eye-popping Equibase Speed Figure of 120 in winning a 1 1/16-mile allowance race at Gulfstream Park. The colt would go on to win the Sheridan Stakes (G3) and Arlington Classic Stakes (G2) at Arlington International Race Course and finish fourth in the Haskell Invitational Handicap (G1). The partners eventually sold him as a stallion prospect for $7 million.
"Saint Ballado was something I had never experienced before—that level of racing," Lothenbach told BloodHorse in 2021. "That horse was so damn talented. He was the first one that took me to the big races, rubbing elbows with people I never thought I'd be in a room with, so it was fun. That was the eye-opener to what it could be like."
Lothenbach's participation in racing changed after he'd started a printing company in his garage in 1988 with $1,800, a borrowed 25-year-old press, and bottomless drive and determination. The company, initially called Challenge Printing Solutions, had annual revenues of $12.8 million by 1994, according to a 2016, article in the Minneapolis/St. Paul Business Journal. Lothenbach eventually renamed the business Imagine! Print Solutions and developed one of the fastest-growing, full-service visual communications companies in the United States. By 2015, Imagine! ranked as the 14th-largest printer in the nation with $303 million in revenue, according to data published by the trade magazine Printing Impressions. He sold the company in 2016.
Lothenbach began his breeding venture in 1995 with Drew Nardiello's Chesapeake Farm, where he started with a couple of mares and then steadily built up the quality of his stock. By 2001, he'd bred his first stakes winner in Lindsay Jean and raced his first homebred grade 1 winner with Mayo On the Side, a daughter of French Deputy out of Slewveau, who won the 2004 Humana Distaff Handicap (G1) at Churchill Downs with trainer Carl Nafzger. Lothenbach also bred and raced grade 1 winner Vacare, by Lear Fan out of Appealing Storm, who he bought back when she failed to meet a $27,000 reserve at the 2004 Keeneland September Yearling Sale. Vacare began racing at 3 for Lothenbach, going four-for-four and winning the Queen Elizabeth II Challenge Cup Stakes (G1) at Keeneland with Block. She earned $466,000 before Lothenbach sold her for $2.8 million to Jon and Sarah Kelly at the 2006 Fasig-Tipton November Sale.
The stable that would rank among the top 10 leading North American owners in 2020 with 54 wins and $2,469,686 in purses and in 2022 with 87 wins and $4,142,340 in purses.
Lothenbach was particularly committed to supporting breeding and racing in Minnesota. The resident of Eden Prairie, Minn., was recognized by the Thoroughbred Owners and Breeders Association in 2019 and 2022 as Minnesota's outstanding breeder of the year.
In 2020, trainer Joel Berndt made a big contribution toward Lothenbach's top-10 ranking by helping the stable lead Canterbury Park's owner standings with 32 wins, which were 19 more than second-placed owner Danny Caldwell. The stable finished with a 32-34-27 record from 147 starts and $603,869 in purses.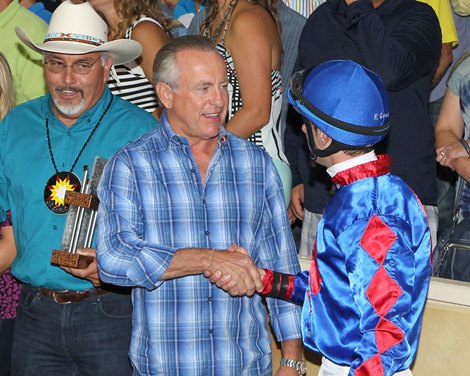 "He put everything into his stable and was a major cog in Minnesota racing because that was his home," said Nardiello, Lothenbach Stables' former racing manager. "I'm sure if he lived near Belmont Park, he would have put everything into New York racing.
"Bob was the kind of owner the industry needs," he continued. "He was adamant about doing everything right. He wanted to win but he wanted to win the right way and do right by the horse."
Pessin also remembered Lothenbach for his loyalty and commitment to the team supporting his breeding and racing operation.
"In this industry, there are always ups and downs, and Bob showed a loyalty you don't see as much," he said. "He and Bell's the One have a lot in common; both are going to be hard to replace, and maybe impossible to replace."