TrueNicks Enhanced Stallion Subscription
TrueNicks will help you attract more broodmare owners – and the right broodmares – to your stallion program. Add TrueNicks links to your website and your stallion's Stallion Register page to reach the largest audience of broodmare owners.
The TrueNicks Enhanced Stallion Subscription
With other nicking products to choose from, you might ask "Why TrueNicks?" Here are some good reasons to try it:
Calculation includes all regional black-type stakes winners, making TrueNicks an invaluable tool for regional, national, and international markets
Calculation considers all international starters and racing results, providing the most accurate nick ratings
Enhanced TrueNicks reports is a two page report that adds auction results, surface performance, win and stakes win percentages, average winning distances, colts/fillies comparisons, and the top 15 runners bred on the cross
TrueNicks ratings are recalculated in real time with up-to-date results from around the world, providing the most accurate and relevant ratings possible
Subscribed stallions are linked to The Blood-Horse Stallion Register Online and are cross-referenced to Weatherbys and the Global Stallions App
TrueNicks ratings for the top three finishers are included in The Blood-Horse Stakes Winners section
What will I get when I enroll my stallions with the Enhanced Report?
The TrueNicks Enhanced Subscription is a two page hypothetical mating of your stallion with any mare. The output includes the top 15 horses bred on the rated cross along with surface, auction and other data. It allows you to take a close look at the success of the mating at hand (see the sample report to your right)
Subscriptions run for a full year from time of enrolment and you have unlimited reports
Use of TrueNicks links and graphics on your web site — link your full roster of TrueNicks stallions from your web home page or to individual stallions from their own pages.
Promotion on Stallion Register Online — reach the largest audience of broodmare owners with enhanced stallion listings on The Blood-Horse Stallion Register Online.
Utilization analytics — every monday you will recieve a usage report that will show you which of your stallions are getting the most views and what mares are being mated to your stallion, making it easy to manage your stallion marketing.
View a Sample Report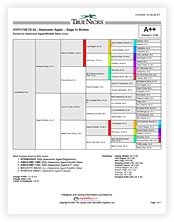 Help
Need help completing the 12-Month Enhanced Stallion Subscription ordering process? Contact us.