Tony Lacy will be mixing business with pleasure and pride through his responsibilities at the Aug. 6 Keeneland Phoenix Stakes (G1) at the Curragh.
The Irish expatriate worked his way up through the American bloodstock industry and last year was appointed the vice president of sales at Keeneland.
He would have returned home in any event for ceremonial and networking duties but has even greater impetus as one of the six declared runners, Persian Force, was bred by his family.
Lacy's father Tom and brother Barry produced the Mehmas colt from their Ballyheashill Stud in County Offaly. The second foal out of the unraced Lope de Vega mare Vida Amorosa was bought by Tally-Ho Stud for €75,000 ($92,026) as a foal from the Goffs November Foal Sale and pinhooked onwards for €225,000 ($262,878) to Peter and Ross Doyle at the Orby.
There was an immediate return from Persian Force as he appeared in the Brocklesby Stakes at Doncaster, streaking almost five lengths clear. Second for Richard Hannon and Amo Racing to Bradsell in the Coventry Stakes (G2) at Royal Ascot, he will take that rival on again fresh from a smooth victory in the Close Brothers July Stakes (G2) at Newmarket.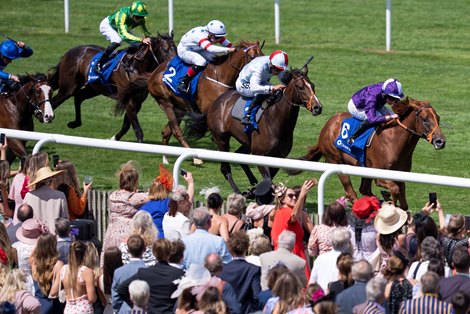 "Having a connection with a runner in a group 1 is always exciting, but having this double-tiered connection is especially exciting this year," said Lacy.
"I'm very privileged to be able to do this and excited for my brother and father to be cheering on a horse that has been very progressive this year. My father is 86 and this is brilliant for him.
"Richard Hannon has been very excited about the horse's prospects from a very early stage and, this time last year when I came home, I actually saw Persian Force at Tally-Ho when he was being prepped for the yearling sales."
The moment is quite a notable one for the whole family, as Lacy explained.
"Our first connection came when we won the Keeneland Phoenix Sprint Stakes back in 1988," he said. "It was a fillies' sprint back then but my father trained a filly called Ingabelle, who was the granddam of Chriselliam, who won the 2013 Breeders' Cup Juvenile Fillies Turf (G1T) for (co-owner) Willie Carson.
"I think that was Keeneland's first or second year to do that, back at the old Phoenix Park. It's been a long relationship and the European market is extremely important to Keeneland, so (sponsorship) is a way of giving back. Shannon Arvin (Keeneland president and CEO) was at Ascot for the race we sponsored recently; she had an excellent time and we're going to be entertaining a large group of people there.
"So it's all interconnecting for me. Certainly being a head of sales is a huge privilege, and now to have a connection in a much different way, with a 2-year-old that's running in a group 1, that we have bred and has a great chance in it, is very exciting."
Lacy was planning to fit in another brief visit to Tally-Ho to have a look at the next yearling from Vida Amorosa, an Inns of Court colt who was bought by the O'Callaghan family at €80,000 ($90,939) and is also penciled in for the Orby. Her first foal, Persian Force's full brother Gubbass, won last year's Weatherbys Super Sprint for the Hannon stable and finished third in the Unibet Richmond Stakes (G2).
"Since my father retired from training he's been focusing on breeding with a small number of mares with my brother," he said. "It's always tough to breed a high-class horse on any level but it's certainly exciting with a young mare like this, with two foals and two black type.
"Tally-Ho have been supportive from the get-go, they bought Gubbass, and then because they felt good about what happened there, they came back and were adamant they wanted to buy her third foal, and he's seemingly a very nice colt as well.
"My family have also been supportive of the Tally-Ho stallions over the years and they've bought our foals. We're friends but it's been a good business and personal relationship for many years."
As soon as duties at the Curragh are over, Lacy must return to Kentucky as there are only a few weeks before the first lot goes under the hammer at the 2022 Keeneland September Yearling Sale, the first of a frantic spell of auctions.
"We've been working on the September Sale from, honestly, February or March with planning, inspections once the entry process is done, then placement, book creation," he says. "Now we're really in the operational aspect of it for the next few weeks, making sure everything is tied down.
"Without travel restrictions, it's more or less business as usual; last year it was very complicated for international travelers and it made it very frustrating.
"We've had very positive feedback from a lot of international buyers who want to come, both for September and the November Breeding Stock Sale, and we're very much in the planning stages for that as well, gathering up all the final entries.
"That's held immediately after the Breeders' Cup, also at Keeneland, so it's a very busy year for us. We projected we'll have approximately 11,000 horses rotate through the grounds over about two and a half months between September, October, and November. The logistics are pretty incredible but we've got an amazing team.
"Time certainly flies, so thankfully this was a nice little opportunity to get home for a long weekend and catch up with everybody here."